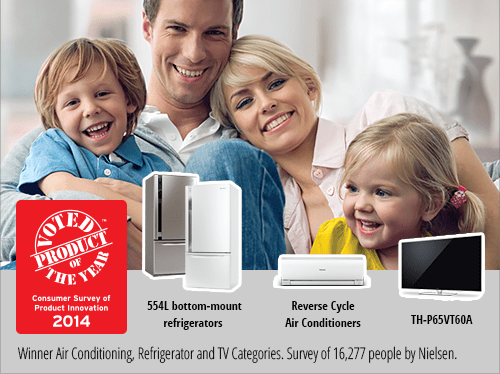 Panasonic cleaned up in three categories at the Product of the Year Awards 2014, taking out the top spots for Air Conditioning Product of the Year 2014, Refrigerator Product of the Year 2014 and TV Product of the Year 2014.
Product of the Year (POY) is the only consumer product award that rewards innovation and is 100% voted only by consumers. POY partners with the leading global research company Nielsen, to survey a nationally representative sample of 16,000+ Australian shoppers. The survey is designed to assess consumer opinions on innovation, use, satisfaction and purchase intent of the competing products, with innovation being the strongest factor.
Winning in such important categories is a huge coup for Panasonic as Product of the Year is the world's largest consumer-voted award for product innovation; guiding consumers to the best products in their market and rewarding manufacturers for quality and innovation.
Richard Tassone, Director, Panasonic Consumer Electronics Group, said: "We're very proud to receive this recognition in key categories. Panasonic has a growing Whitegoods lineup, with our Air Conditioners and Refrigerators both featuring the company's unique ECONAVI technology, which matches the consumer's lifestyle patterns to save energy and provide efficient performance.
2014 WINNERS AS VOTED BY AUSTRALIAN CONSUMERS
Panasonic Reverse Cycle Air Conditioner.
Panasonic 554L Stainless Colour Bottom Mount Refrigerator.
Panasonic 554L White Colour Bottom Mount Refrigerator.
TH-P65VT60A FHD 3D Neo Plasma TV.