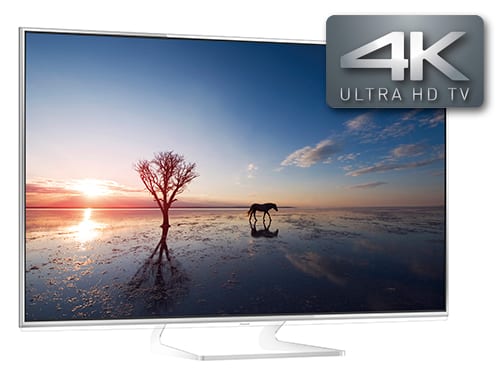 "The TX-L65WT600* is an excellent 4K/Ultra-HD outing from Panasonic. To borrow a phrase, 'it just works'. The colours are accurate, the scaling clean, and there is no unwanted video processing opted into on the viewer's behalf. Everything we can think of is controllable, and the display's ability to eek out every fine pixel of coloured detail even from a 4K source indicates a high level of attention to detail." – HDTVtest – Verdict: Highly Recommended.
Welcome to the ultimate in Ultra-HD image quality. The TH-L65WT600A features an LED LCD panel with Ultra-HD picture quality in 2D, Full-HD picture quality in active 3D and it's capable of upscaling the picture quality from any source – from USBs and web videos to TV broadcasts – by turning content into highly detailed, high-definition 4K Ultra-HD TV images.
In addition, the TH-L65WT600A ensures great image quality even for fast moving action as it detects and analyses motion in the vertical, horizontal and diagonal directions. Perfect for sports or action films!
And it's not just the sensational picture quality that makes this TV such a stand-out: it also features a full suite of extra luxuries such as HDMI 2.0, its own built-in HTML5 web browser for 4K web pages, VIERA Connect, smartphone control and web browser, built-in Wi-Fi, voice control and a built-in camera with face recognition. You can even watch two programs at once – one on the TV, and one transmitted via LAN to a tablet or other device (feature available on all Smart VIERA TVs).
It doesn't stop here. If you're also looking for style, this Smart VIERA is simply futuristic and elegant. No wonder the critics are being swept off their feet!
*The product code of this model in Australia is TH-L65WT600A.
Find out more about the TH-L65WT600A.
Read the full HDTVtest review.