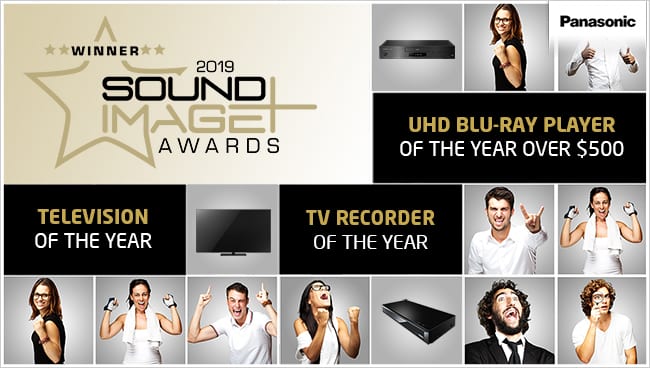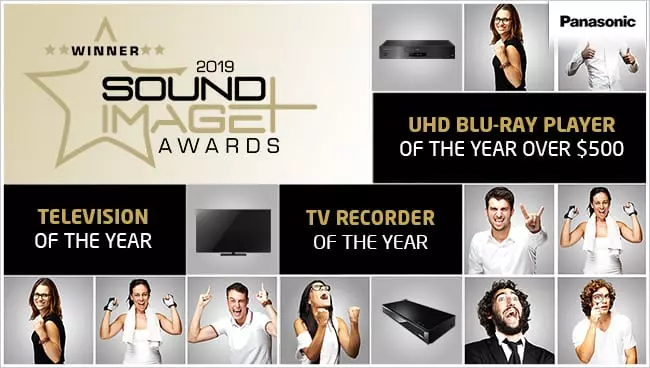 Panasonic has scored a hat-trick at the respected 2019 Sound + Image Awards, announced this week. The industry awards were announced at a prestigious evening event in Melbourne following the Australian Hi-Fi and AV Show. Panasonic took home three Product of the Year awards in the TV, Blu-ray and TV Recorder categories. Products are ranked on the basis of sound and/or image quality, value for money, features, build quality, appearance, ease of use and ergonomics.
"We are very proud to be recognised by Sound and Image, in particular for our TH-65FZ950U OLED TV, which is 'Television of the Year'. Panasonic believes its picture quality and other capabilities are 'best in class' and this award reinforces that."
– Richard Tassone, Director, Consumer Electronics
The DP-UB9000 reference-class Blu-ray player also received a Product of the Year award, adding to its list of accolades, which include a European Imaging Sound Association (EISA) award in recognition of Panasonic's commitment to performance and design.
Winner | Television of the Year: TH-65FZ950U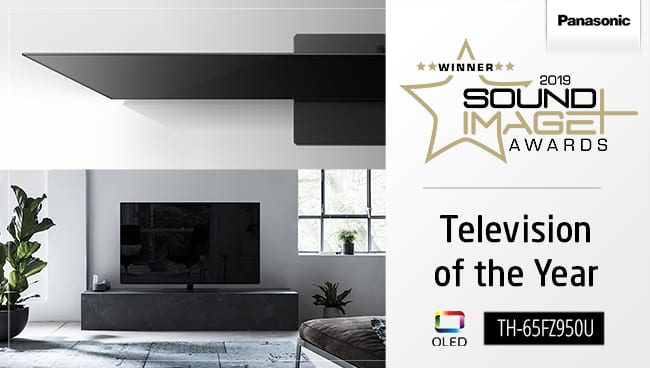 The stunning TH-65FZ950U delivers Hollywood-grade pictures in an elegant design. Panasonic OLED displays combine a powerful mix of our professional-grade TV technology and Hollywood know-how to deliver picture quality that is true to the filmmaker's vision. These beautiful images are enhanced by an exceptionally slim panel and pedestal design, finished with premium materials.
Panasonic TH-65FZ950U OLED TV
Winner | UHD Blu-ray Player of the Year over $500: DP-UB9000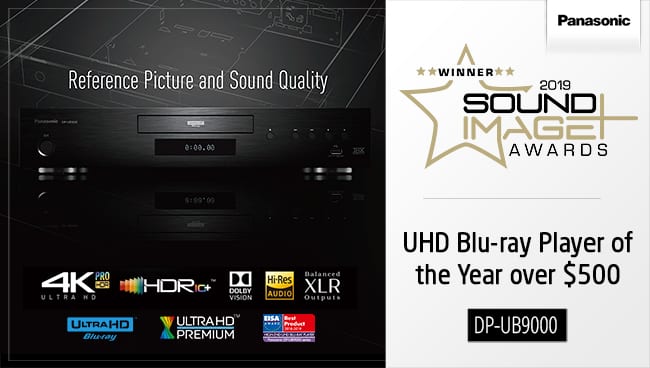 The DP-UB9000 is the benchmark in Blu-ray home entertainment for the discerning enthusiast. HDR10+ and Dolby Vision technology deliver outstanding picture quality, while THX® certification replicates the finely nuanced colours and rich, detailed images required to precisely reproduce the filmmaker's intentions. The UB9000 is highly engineered for unparalleled sound with a dedicated audio power supply and a vibration-reducing chassis.
Panasonic DP-UB9000 4K Ultra HD Blu-ray Player
Winner | TV Recorder of the Year: DMR-UBT1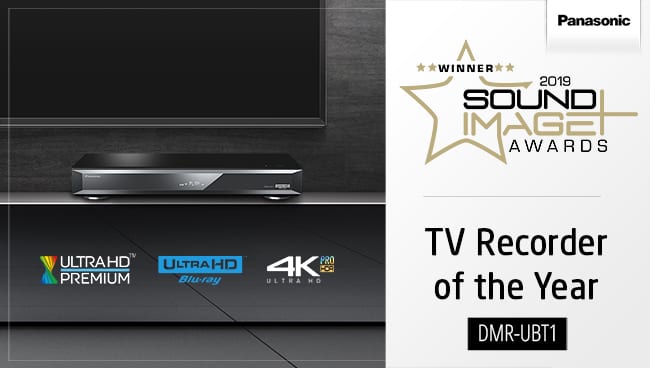 This 4K Ultra HD Premium Blu-ray player and Full HD recorder delivers 4K UHD Blu-ray disc playback; a versatile Twin HD Tuner; plus a huge two terabyte hard disk drive with Full HD recording. Naturally the UBT1 is also equipped with fully-fledged networking features for easy access online streaming and the ability to enjoy live and recorded content via a smartphone/tablet.
Panasonic DMR-UBT1 4K UHD Blu-ray Player & Full HD Recorder
'Sound+Image Ultimate 30' recognises Panasonic recorders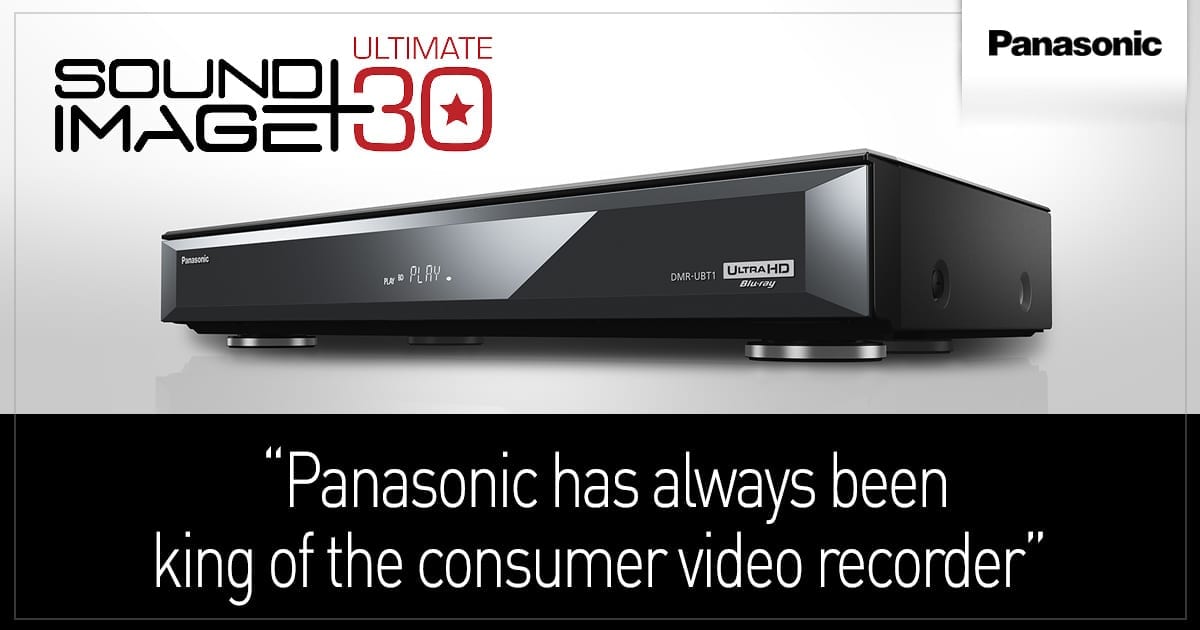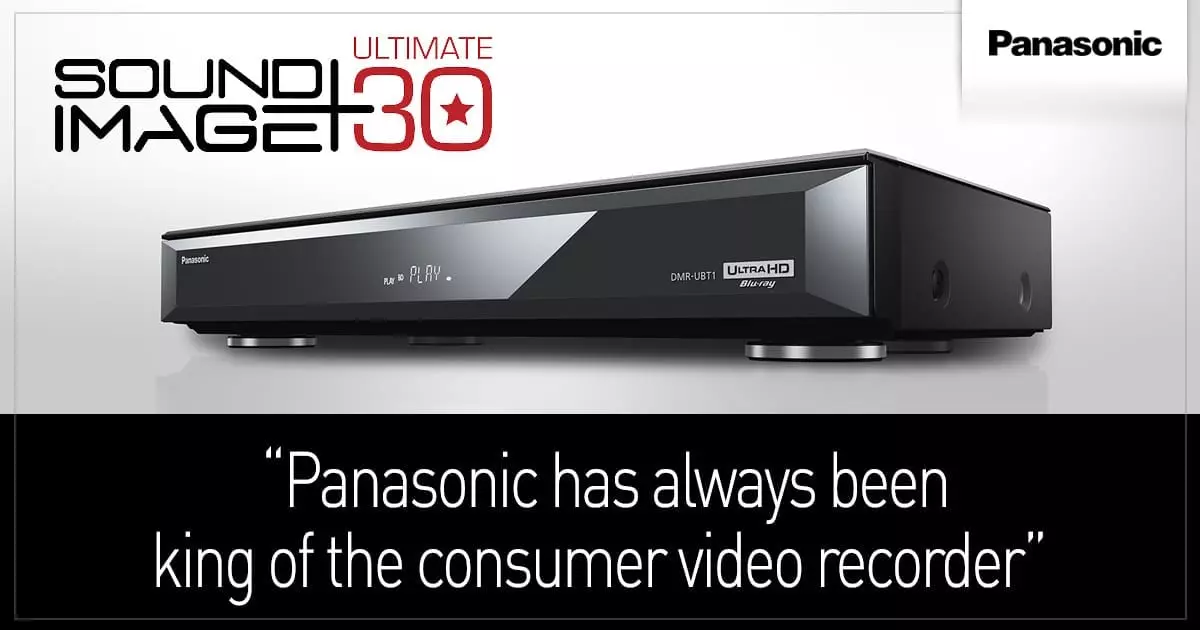 Sound+Image recently celebrated their 30th anniversary by diving into the magazine's back issues to present their pick of 30 'wow' moments from the last three decades of audio and AV. We're delighted to say that Panasonic recorders made it onto the elite list
"We're recognising all of them – from VHS to Blu-ray recorders and PVR timeshifters, somehow Panasonic has always been king of the consumer video recorder, winning for so many years in the Sound+Image Awards that we decided we should put them in the Ultimate 30 as a job lot, to recognise such consistently high standards. Even today they remain the only company in the Australian market to offer Blu-ray disc recording in cahoots with a personal video recorder."
– Sound+Image 30th Anniversary Issue
READ MORE:
'Sound+Image Ultimate 30' recognises Panasonic recorders