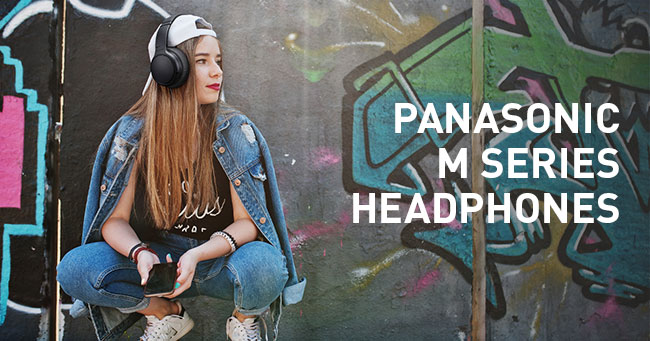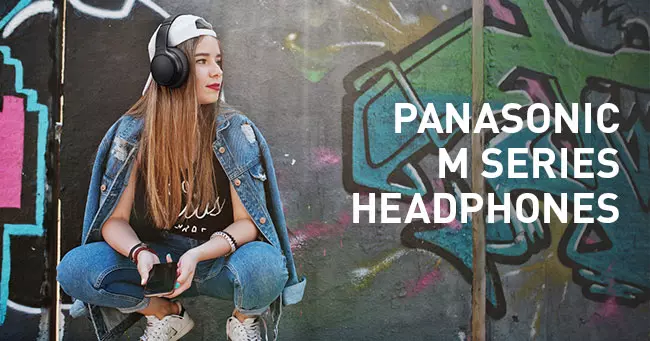 The Panasonic M Series range of Bluetooth Wireless headphones consists of 3 models, the M300, M500 and M700. The range is geared towards casual listeners who appreciate their music with a heavier bass line and want an added level of cinematic-style immersion from their movies or mobile gaming content.
At a glance, it is virtually impossible to tell the 3 models apart. They all feature a design that offers a subdued, yet elegant look.
They are designed to be worn for extended periods of time without uncomfortable pressure or ear fatigue. They sport the same generously padded ear-cups and headband, incorporating Side Pressure Dispersion technology which successfully balances the lateral pressure between both sides to allow you to wear them confidently all day long.
Also shared across all 3 models is the latest generation Bluetooth 5.0 wireless connectivity which delivers a rock solid, interference-free listening experience, and the freedom to dance or move about without interrupting your listening pleasure.
They are also equipped with a built-in microphone for hands-free calls and zoom meetings, plus built-in controls for volume which double as track forward and track back shortcuts, plus the on/off button which doubles as your media play/pause controls.
A 3.5mm input is located at the base of the left ear cup and works with the included detachable cord to support older devices.
It is here that the similarities between the M300, M500 and M700 Headphones end, and audio features and battery life come into play to differentiate each model.
The M300 Headphones feature Panasonic's XBS DEEP Extra Bass system with Bass Enhancer to improve the clarity of the low frequency range and deliver a satisfyingly deep bass sound profile. The end result gives your music, movies and gaming content a more dramatic feel.
Our M500 and M700 Headphones take the immersion obsession even deeper with the built-in Bass Reactor feature. Akin to putting a powerful sub-woofer in each earcup, the Bass Reactor supercharges the low frequencies with actual vibrations, resulting in a bass response you can actually feel.
The Bass Reactor transforms the feeling of being in the front row at a concert or on the dance floor at a night club into a personal listening experience. Feel the music and action of your favourite games reverberate through your body, and experience the impact of every punch, kick and explosion in your favourite action movie.
It's hard to describe, but immediately recognisable from the first listen that the Bass Reactor goes beyond adding a bit more bass to the lower frequency range of your favourite songs. It adds another dimension to your content, offering a new way to enjoy your free time by going beyond listening, and actually 'feeling' the songs, movies and games you love.
Our flagship M700 Headphones maximise immersion by combining the Bass Reactor technology with Active Noise Cancellation to block out noise from the outside world. The end result is a pure, captivating auditory experience, perfect for use in the comfort of your own home, and while travelling or commuting.
| | | | | |
| --- | --- | --- | --- | --- |
| Model | XBS Deep | Bass Reactor | Active Noise Cancelling | Battery Life |
| RB-M300 | ✓ | | | 50 Hours |
| RB-M500 | ✓ | ✓ | | 30 Hours |
| RB-M700 | ✓ | ✓ | ✓ | 20 Hours* |
The Panasonic M Series Headphone range is available in black or sand beige. Visit our website for more info on our wireless headphone range, and for links to your most convenient consumer electronics retailer.
*With active noise cancelling enabled