Panasonic has expanded its mobile camera line-up to include two new easy-to-hold Full High Definition vertical camcorders that let you point, shoot and share – in virtually any situation.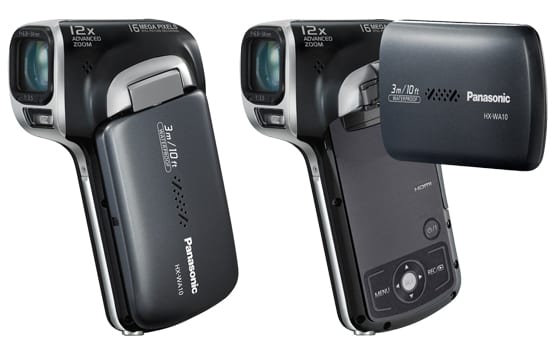 The waterproof HX-WA10 and the HX-DC1 are designed for keen movie-makers on-the-go. The HX-WA10 sports a waterproof design down to three metres, making it ideal for shooting action footage outdoors – from snorkeling on that tropical holiday to skiing in the mountains.
"These new models have a vertical design for stable, easy shooting and combine fun, attractive styling with high quality imaging – plus versatile shooting features that allow you to create videos you'll be proud to share. The design is perfect for left-handed users, and the waterproof exterior of the WA10 means this mobile camera can go where traditional models can't," says Aurelie Hayon, Product Marketing Manager, Camcorders, Panasonic Australia.
You can capture quality video footage on both models thanks to Full HD 1920 x 1080 resolution as well as high quality still images at 16 megapixels on the WA10 and 14 megapixels on the DC1.
Twin shutter buttons on the back of the camcorder make it easy to flick with your thumb between taking photos and grabbing video footage. So they're perfect for capturing those impromptu moments you wouldn't want to miss.
Plus, to make sure you don't spoil those special moments with blurred images or footage, both models have an Electrical Image Stabiliser (EIS). The WA10 also features Intelligent Auto (iA) mode with Intelligent Scene Selector and Face Detection, making it easier to capture brilliant stills and minimising miss-shots. Just point and shoot for stunning picture quality.
These exciting new camcorders also record in the MPEG-4 AVC file format (MP4) for ease of file transfer, plus HD Writer VE 1.0 software is included, making it easy to upload to social networking platforms, YouTube and Facebook.
Clearly designed with the active social networker in mind, the WA10 and DC1 are the ideal solution for capturing, uploading, editing and sharing content.
The Panasonic HX-WA10 and HX-DC1 will be available from consumer electronics retailers and photographic specialists from August 2011. For more information call Panasonic on 132 600 or visit www.panasonic.com.au.
Pricing
HX-WA10 $499 RRP
HX-DC1 $299 RRP
i Waterproof to a depth of three metres. IEC60529 IPX8. This does not guarantee no destruction, no malfunction, or waterproofing in all conditions.
ii'Full HD videos with 1920 x 1080 pixels' refers to video recordings with 1920 pixels in the horizontal direction and 1080 pixels in the vertical direction.
iiiResolution varies depending on the video mode used for shooting. Photos taken while shooting a Full HD video will have a two megapixel resolution.
iiiiResolution varies depending on the video mode used for shooting. Photos taken while shooting a Full HD video will have a two megapixel resolution.