Following last month's AV launch in Melbourne Panasonic are now offering a range of new Blu Ray Disc Players and Recorders, both featuring enhanced picture and sound quality as well as a host of other features.
httpv://www.youtube.com/watch?v=9Y5yhwbVlaU
Blu Ray Disc Players
Three new player models have been released – the DMP-BD85, DMP-BD65 and DMP-BD45 – all creating an outstanding Blu-Ray cinema experience, all with easy operation and versatile networking capabilities.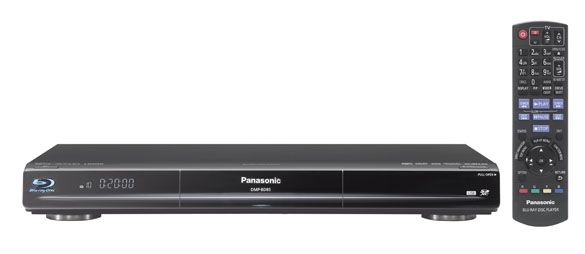 Panasonic continues to build on its already established Blu-ray product range. With improved picture and sound quality, you get the full Home Theatre experience in your living room.

Sophie Barton, Group Marketing Manager AV, Panasonic Australia
Details of the new features are as follows:
Increased Networking Capabilities
The DMP-BD85 and DMP-BD65 offer advanced networking capabilities and Wireless LAN functionality, and the DMP-BD85 offers integrated DLNA capability to ensure seamless integration into the user's home network, so recorded content can be watched in different rooms. VIERA CAST is incorporated in the DMP-BD85 and DMP-BD65, enabling users to access and view a wide variety of content, such as YouTube videos, Picasa photo albums, stock information on Bloomberg and weather forecasts. BD-Live compatibility on these two models allows users to connect to the Internet to download images, subtitles and other data, and take part in interactive activities and multi-player games linked to bonus cinema content found on Blu-ray discs.
Enhanced Picture Quality and Sound
All the models also boast PHL Reference Chroma Processor Plus for cinema-like picture quality. Developed at the Panasonic Hollywood Laboratory, this processing technology reproduces clear, vibrant colours that are extremely faithful to the original film. In addition, the DMP-BD85 also incorporates Adaptive Chroma Upsampling, which enhances colour reproduction in even the finest details. For incredible sound, the DMP-BD85 and DMP-BD65 feature a high-definition Audio Decoder (Dolby TrueHD, and DTS-HD Master Audio Essential) to take advantage of the exceptionally high-quality 7.1-channel surround sound now incorporated in Blu-ray Discs. Additionally, the DMP-BD85 features the HDMI Jitter Purifier to deliver clear and robust bass and allows for smoother transmission, for the best possible reproduction of Blu-ray sound.
Ease Of Use
When the TV is on, the VIERA Link function lets you switch to Blu-ray Disc player mode using just the Panasonic VIERA TV remote control. Simply press the VIERA Link button on the TV's remote control and select "Player" on the VIERA Link Menu screen. The Blu-ray DiscTM Player's menu will display on the TV screen, and you can begin playback of a Blu-Ray Disc or select from the Blu-Ray Disc menu.
Portability
Panasonic will also additionally offer two portable Blu-ray players, the DMP-B500 and DMP-B100, so users can enjoy High Definition content wherever they go. The DMP-B500 features a 25.7cm (10.1-inch) LCD screen so users can comfortably enjoy Blu-Ray movies or view still images on the go, as well as DLNA capability and a wireless LAN adaptor. The DMP-B100 incorporates a 22.6cm (8.9-inch) LCD screen and comes standard with a car bracket and car DC adaptor which simplifies power supply on long car trips.
Blu Ray Disc Recorders
Panasonic has also released a range of Blu Ray Disc recorders which are leading the way in Blu-Ray technology, the Panasonic DMR-BW880 and DMR-BW780 feature twin HD tuners, DLNA Home Networking and easy to use connectivity features such as VIERA CAST.

"Panasonic continues to lead the way in Blu-Ray innovation, bringing two advanced Blu-ray Recorders to the Australian market. With extended features such as DLNA Home Networking and easy to use connectivity features such as VIERA CAST, we are taking home entertainment into the next generation."

Sophie Barton, Group Marketing Manager, AV, Panasonic Australia
Key features of both models of the players include:
Convenient Networking and Connectivity
The DMR-BW880 and DMR-BW780 are equipped with the new DLNA server functionality for amazing convenience and versatility. Using your LAN connection, recorded programs, AVCHD video and JPEG files archived on the HDD can be viewed and enjoyed in a separate room via a compatible DLNA client device.The twin HD tuners allow users to record two digital broadcasts simultaneously, even while watching a Blu-ray movie. With a 500GB HDD, the DMR-BW880 offers incredible storage space, offering a maximum of 350 hours recording capacity in HM mode, and The DMR-BW880 and DMR-BW780 offer 500GB and 250GB HDD recording respectively.
Enhanced Picture and Sound Quality
Thanks to PHL Reference Chroma Processor Plus – a combination of Panasonic Hollywood Laboratory (PHL) software encoding technology and Panasonic's decoding technology – users will enjoy the highest quality images with colours that are exceptionally faithful to the original. Users can also access the internet in their loungeroom with Panasonic's VIERA Cast. YouTube, Web-based photos on Picasa, stock information on Bloomberg and weather forecasts are currently available, while BD-Live also allows Blu-ray Disc bonus content to be downloaded and Internet games to be played.
Ease of Use
Consumers will find these new models even easier to use, with an improved graphical user interface (GUI) allowing functions to be accessed from the top menu. There is also a 60 second skip forward and 10 second skip back button for faster, simpler navigation, while VIERA Link also allows easy operation of connected Panasonic AV components with a single remote control. In addition, the latest 7-day EPG functionality allows TV programs to be archived and displayed by genre – such as Sport or Drama. They offer a number of convenient recording and archiving features. As well as recording content on the high-capacity HDD, they allow recording to dual-layer Blu-ray Disc, and offer an SD Memory Card slot so stunning Full-HD images can be saved from an SD Card onto the HDD or a Blu-Ray Disc. DivX playback means users can play their downloaded movie and TV content via the Recorder's USB port or DVD disc.
Model Release Dates and Pricing
Blue Ray Disc Players
DMP – BD85 April – $499
DMP – BD65 April – $299
DMP – BD45 April – $269
DMP – B500 June – $999
DMP – B100 June – $699
Blue Ray Disc Recorders
DMR – BW880 April – $1,499
DMR – BW780 April – $1,299