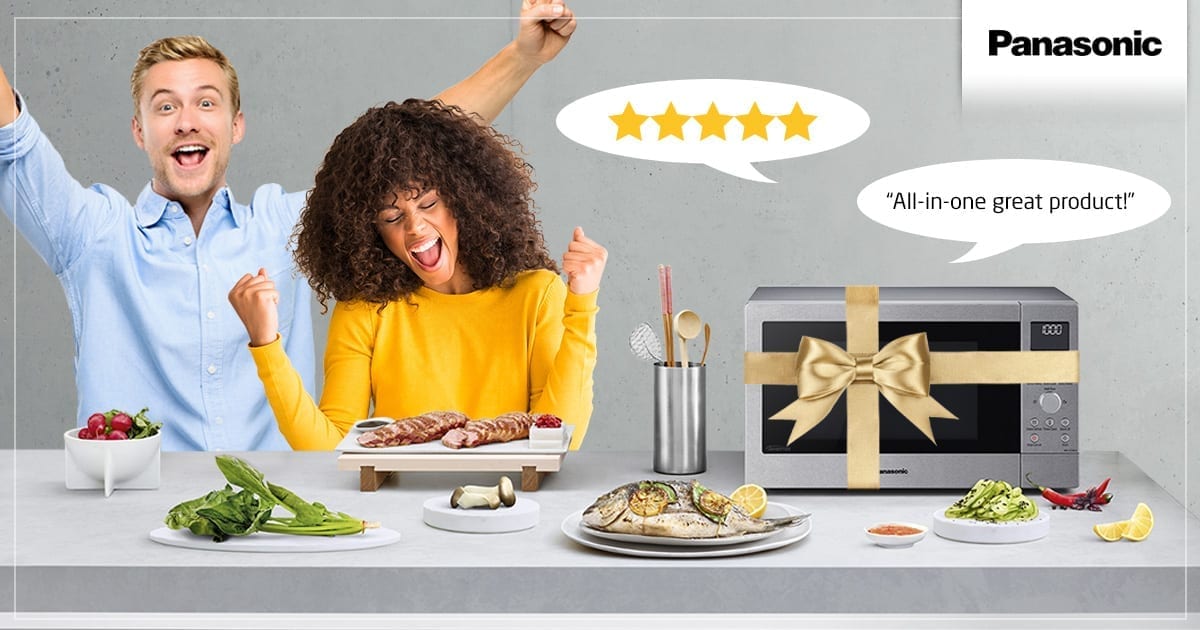 Panasonic put a call out for keen chefs who wanted to take our new NN-CD58JS 3-in-1 microwave through its paces, whip up some meals and report back on the delicious results. In return for their honest opinion, five lucky fans were chosen from the avalanche of applications to review and keep this versatile convection, grill and combination kitchen hero.
So what did our product reviewers think? It turns out the NN-CD58JS microwave is very easy to love…

Lisa | Western Australia
I recommend this microwave to EVERYONE
"Take what you think you know about microwave cookery and throw that information away because the game has changed now for good. I can't even imagine what could possibly come next from Panasonic but if it's as incredibly innovative as this microwave I'm excited for the future!"
READ FULL REVIEW

Stephanie | Victoria
Excellent kitchen appliance
"Overall functionality is great. Recently pushed this machine to create an afternoon tea cake, and then a roast dinner beginning with defrosting. It managed without missing a beat. I'm impressed with the grill function, having had the perfect roast… Thanks Panasonic! Definitely released a great addition to any kitchen."
READ FULL REVIEW

Kath | New South Wales
All-in-one great product
"I am impressed. After owning Panasonic Microwaves for the past 20 years, this would be the first convection oven that I have used and I won't go back. The combination features are fantastic; being able to cook a dish fast in a microwave and still have the crisp finish an oven gives is so convenient… Even my 10 year old son enjoys making meals! Highly recommended."
READ FULL REVIEW

John | New South Wales
Solid product, has many uses and is compact but big
"Great even micro output power, quite powerful and spacious inside- more so than the equivalent micro-only models. Convection is easy to use and heats up SUPER fast. 1 min preheat is plenty to do chips. Grill works just like a grill. It has replaced our 80cm oven for most things, and I assume because of the relative smaller size, the temperature seems more accurate and stable… Would I/should I buy one? Absolutely."
READ FULL REVIEW

Kazcook | Queensland
Excited NN-CD58JS Panasonic reviewer
"I cooked the yearly pavlova for Christmas eve and it turned out a treat all without having to heat up my kitchen using my large 70cm oven. We have grilled ham and cheese and defrosted chicken all very easily and with great results. Also cooked a quiche which was very evenly cooked. We have only used the NN-CD58JS for the last two weeks as it has been so handy and doesn't heat up the kitchen. Love it."
READ FULL REVIEW
Panasonic NN-CD58JS 3-in-1 Microwave
This 27L slimline microwave offers convection, grill and combination cooking for the versatility to create a range of meals. The 34cm turntable and spacious interior fits larger plates and dishes. A Junior Menu creates tasty treats from pureed fruit and vegetables for babies, to junior pasta bakes and vegetable fries, to replace less healthy alternatives.
NN-CD58JS