Get even closer to the action with two new compact camcorders from Panasonic, featuring 78x Advanced Optical Zoom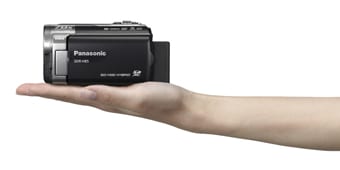 Panasonic Australia are launching two new compact high zoom camcorders – the SDR-S50 SD Memory Card camcorder and SDR-H85 80-GB HDD/SD Card hybrid camcorder – designed for new camcorder users who are looking for exceptional image quality, ease of use and compactness in a feature-rich package.
Both models offer a powerful 78x Advanced Optical Zoom lens and wide-angle 33mm lens – ideal for landscapes – as well as Advanced Optical Image Stabiliser (O.I.S) with new Active Mode. Easy-to-use features include Panasonic's renowned Intelligent Auto (iA) now with a new AF/AE Tracking function to lock on to a subject for beautifully crisp, clear recording.
The lightweight and robust design of the SDR-H85 and SDR-S50 offer trouble-free portability and their flexible recording formats provide added convenience for users who want to shoot, share and store video anytime, anywhere.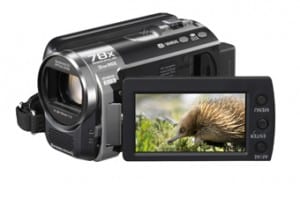 SDR-H85
The SDR-H85 is a hybrid camcorder which records large volumes of data onto an 80-GB hard disk drive or an SDXC, SDHC, or SD Memory Card, making it ideal for long events or when travelling on extended trips.
The built-in 80-GB HDD stores up to 74.5 hours (in LP mode) and when combined with a 64-GB SDXC Memory Card (optional), the camcorder provides an additional recording time of up to 60.5 hours (in LP mode). The SDR-H85 has exceptional reliability, made possible by the SDXC/SDHC/SD Memory Card (sold seperately) which requires no drive mechanism, combined with an Anti-Shock Shield that helps protect the built-in HDD from the effects of external impact. With its extended recording times and rugged design, this model is ideal for shooting lengthy events or for taking on the road.
It available in Black and set to be in stores in February 2010 at a RRP of $649.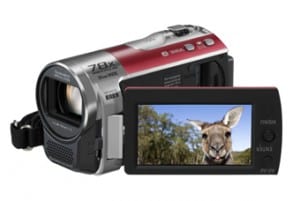 SDR-S50
The SDR-S50 is a Memory Card camcorder which records to SDXC, SDHC, or SD format cards, and has no drive mechanism allowing greater durability and compact size.
The SDR-S50 records onto SDXC/SDHC/SD Memory Cards (sold separately) so has fewer moving parts, making it highly resilient to external impact. With its small size and lightweight design, the SDR-S50 is ultra-portable for take-anywhere convenience to capture your memories anytime, anywhere. With VIERA Image Viewer, you can play back video recordings simply by inserting a SDHC/SD memory card into a Panasonic VIERA TV for dynamic, large screen viewing, without a PC or external playback device.

The SDR-S50, available in February 2010, will come in Red, Blue and Black. It has a RRP of $449.
Intelligent Auto with new AF/AE Tracking and Intelligent Contrast Control
The Intelligent Auto (iA) function, which automatically selects the most suitable shooting mode, has evolved even further.
It now includes an AF/AE Tracking feature that tracks a moving subject to ensure that it continues to be recorded in optimal focus and exposure settings, even if the subject moves or turns to one side. This keeps the AF/AE settings constantly optimised for sharp, clear images of a moving subject.
Alongside the new iA AF/AE Tracking, a new Intelligent Contrast Control feature that automatically adjusts brightness to maintain the best possible contrast, has also been added to the five advanced functions from previous models, including Face Detection, Advanced O.I.S., and Intelligent Scene Selector. Each is activated as required by simply pressing the iA button to capture beautiful images under virtually all shooting situations.
New Wind Noise Canceller feature
A new feature in 2010, Wind Noise Canceller automatically isolates and suppresses wind noise only, to help ensure natural ambient sounds and voices are still recorded.