Panasonic Australia launches two new 3MOS Camcorders designed to deliver outstanding recordings
Adding to our 2010 range two new Full High Definition (FHD) camcorders – the HDC-HS700 with an impressive 240GB Hard Disk recording capability and the HDC-SD700 – both featuring an advanced, high-sensitivity 3MOS system designed to give the video enthusiast outstanding results.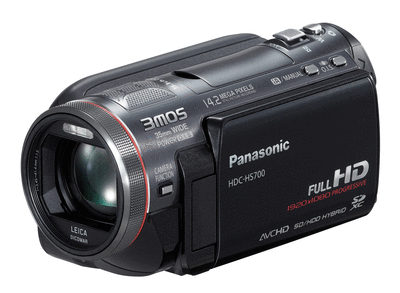 Panasonic's latest 3MOS sensor technology – similar to that used in professional camcorders – processes red, green and blue independently for vivid colour, detail and gradation. Combined with the large-diameter F1.5 Leica lens and newly-developed Crystal Engine Pro, this ensures more efficient light gathering, increased sensitivity and lower noise for excellent recording results even in low lighting.
SD/HDD Hybrid Recording – HS700
The HDC-HS700 is a hybrid camcorder with a 240-GB HDD for around 102 hours of recording. When used with a 64-GB SDXC Memory Card, the camcorder provides an additional recording time of up to 27.5 hours.

Memory Card Recording – SD700
The HDC-SD700 is highly resistant to knocks and bumps because it records onto SDXC, SDHC or SD Memory Card and so has no drive mechanism. This high level of durability, combined with the compact size and lightweight body (weighing only 375g) makes the HDC-SD700 ideal for travel or simply shooting on the go.
New wide-angle Leica Dicomar Lens
Both the HDC-HS700 and HDC-SD700 feature a F.1.5 Leica lens. This 35mm wide angle lens provides superb imaging, and combined with an impressive 12x optical zoom, is ideal for recording landscapes or self-portraits and group photos indoors. It makes it possible to shoot at a close distance from the subject while fitting both the subject and the surrounding area into the frame.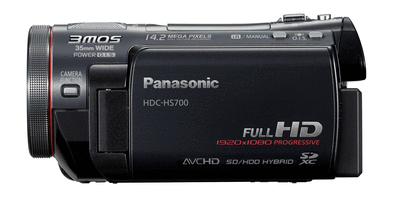 New 12x optical zoom / 18x Intelligent Zoom
Despite the compact size of these camcorders, the lens covers a wide shooting range from 35mm wide angle to 12x optical zoom. In addition, the Intelligent Zoom, which is made possible by Intelligent Resolution Technology, provides a super-powerful 18x zooming capability.
New POWER O.I.S. (Optical Image Stabiliser)
The O.I.S. – which uses gyrosensors to detect hand-shake and moves a corrective lens to adjust the optical axis and eliminate blurring – has further evolved. When a camcorder is handheld, it moves slowly at low frequency due to the breathing or other movement of the operator, no matter how hard the person tries to hold the camcorder steady. While the conventional O.I.S. system could not sufficiently eliminate this low-frequency hand-shake, the new POWER O.I.S. is able to correct it about five times more effectively. The new O.I.S. also features an Active mode to ensure steady images across the entire range from wide angle to telephoto.

New Wind Noise Cancelling feature
A new feature in 2010, Wind Noise Canceller automatically isolates and suppresses wind noise only, so natural ambient sounds and voices are still recorded.
Touch-Screen Operation
Touch-screen icons displayed on the LCD let the user operate a variety of functions intuitively without taking their eyes off of the subject they are recording.
Auto Power LCD
The Auto Power LCD automatically adjusts the brightness of the LCD screen according to the shooting environment.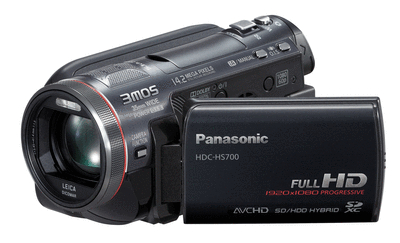 60 Frames/Sec High Speed Burst Shooting
This function is designed for capturing fast motion and allows the camcorder to snap up to 60 consecutive 2.1-megapixel still images per second for a total of 180 continuous images in about three seconds.
New HD Writer AE 2.1 Editing Software for PC
Data can easily be edited on a PC using the included HD Writer AE 2.1 editing software (for Windows OS). The software features a "smart wizard" that starts up to provide an easy on-screen guide as soon as the camcorder is connected to a PC. The camcorders can also transfer video data to a Mac computer so they may be edited in HD image quality using iMovie software.
HD Writer AE 2.1 allows easy uploading of video clips to the YouTube website. After shooting, simply connect the camcorder to a PC via a USB cable, to easily upload your favourite video clips to YouTube.
Pricing and Availability
HDC- SD700 SD Card memory $1699 RRP Available April, 2010
Available in Black
HDC- HS700 240GB HDD $2499 RRP Available April, 2010
Available in Black