Two-time champion Tokai University Solar Car Team are back for another shot at glory, hoping to take home the top spot at the 2013 World Solar Challenge (WSC 2013). Their 3,021km race across the desert from Darwin to Adelaide will be backed by Panasonic technological support once again, fitting out the Tokai team car with high-efficiency HIT®1 solar cells and high capacity lithium-ion batteries.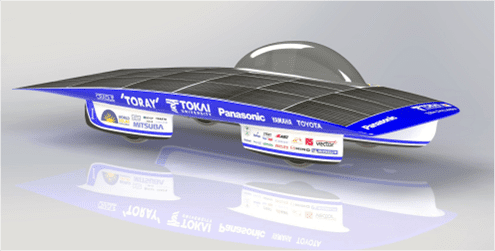 Held in Australia, the biennial WSC is one of the world's biggest races for solar cars, and will take place over the course of eight days from October 6 to 13, 2013. Having won the previous two events, the team from Tokai will have a target on their backs, with other competitors looking to break their winning streak.
However, with Panasonic energy products backing up this outstanding team, the other racers may just end up eating Tokai dust. Our HIT® solar cells offer top-class electricity output and our high-capacity and lightweight battery cells store excess power generated by the solar cells so that the car is able to continue running even on overcast days.
We have no doubt that Tokai University will maintain their impressive track record and emerge from the dust onto the winners podium again this year.
1 HIT is a registered trademark and an original technology of the Panasonic Group.