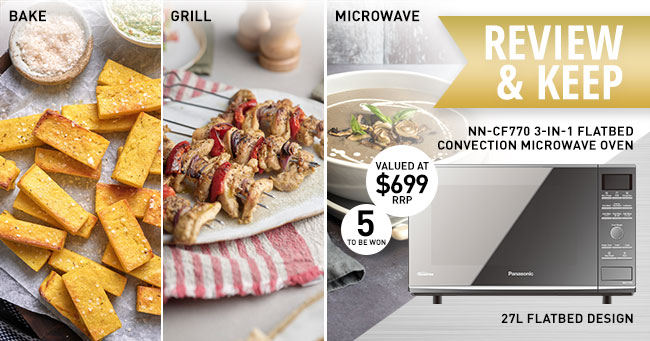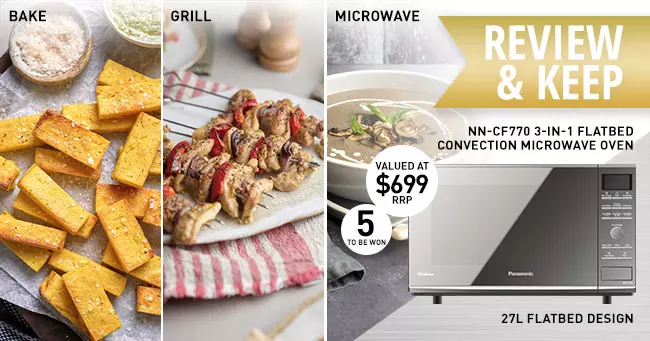 Now is a great time to expand your kitchen creativity at home! With the Panasonic NN-CF770 3-in-1 Flatbed Convection Microwave Oven, you can bake, grill and microwave to create fast, delicious meals the whole family will enjoy!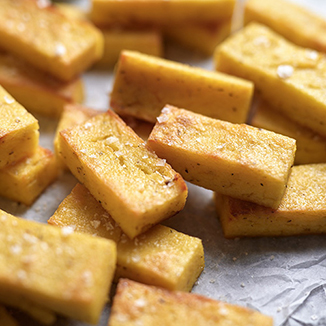 3-in-1 bake, grill, and microwave from the one appliance! Ideal for space conscious kitchens, the CF770 combines microwave and grill functions to cook or reheat quickly without sacrificing texture or presentation.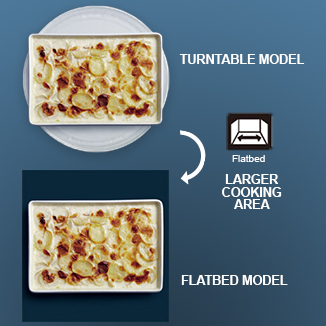 The unique flatbed design is combined with our inverter technology to ensure your food is cooked, quickly and evenly while supporting larger square baking trays & casserole dishes to expand your culinary capabilities.
Don't let the compact size and simple interface of the CF770 fool you! You can get some phenomenal results from it, just like you would from a traditional oven. Check out these delicious Spicy Chicken Kebabs from Chef Shellie Froidevaux which uses the combination Grill + Microwave cooking mode for juicy, tender results.
Ready to win one for your household? We're looking for FIVE passionate home cooks to put a NN-CF770 3-in-1 Convection Microwave Oven through its paces and leave us a review of their experiences using it in their kitchen.
Looking for more info?
Check out our Stylish Kitchen Appliance Range