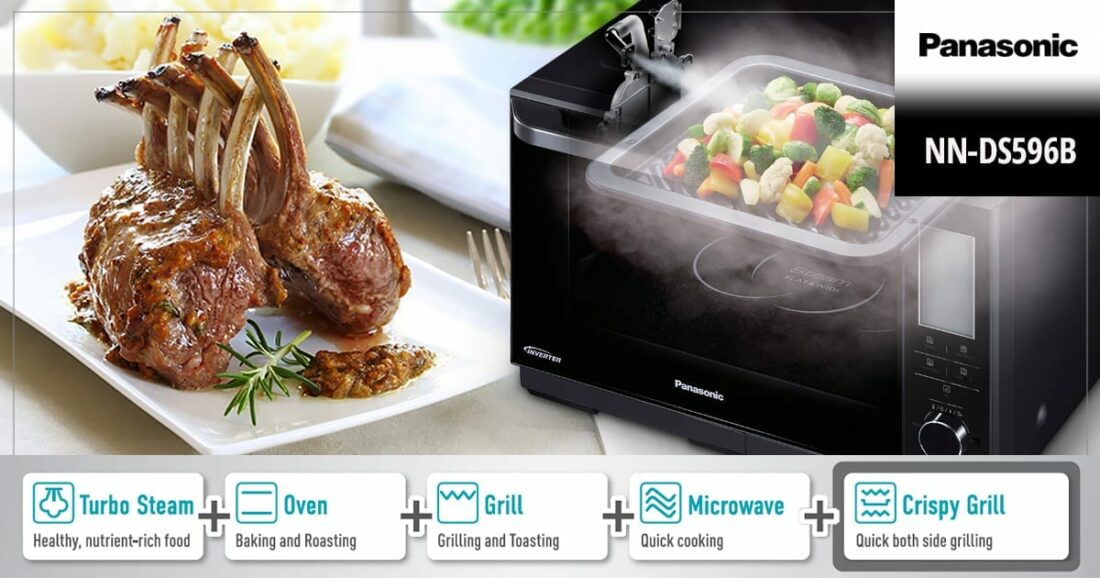 You can cook super healthy, gourmet meals with very little effort using the Panasonic NN-DS596B steam combination microwave oven. With Turbo Steam and Crispy Grill technology and simultaneous 4-in-1 (steam, oven, grill and microwave) cooking, this 27L combination microwave makes it easy to quickly prepare everything from crispy pizza, to mouth-watering desserts, tasty fish or a even a juicy roast. Even better, this model is a real space-saver thanks to its compact body with a pull-down door and a flatbed design to maximise the internal cooking area.
Fast and fresh with Turbo Steam

Powerful steam injected into the microwave's sealed cavity maintains the moist texture and rich nutrients of your fresh ingredients. This Turbo Steam feature can be used by itself or simultaneously with the microwave, grill and oven modes to cook (or reheat) a wide range of delicious meals. The best part is that by adding steam, you can reduce traditional oven cooking times without impacting on the quality and taste of your favourite meals.
Crunchy yet juicy with Crispy Grill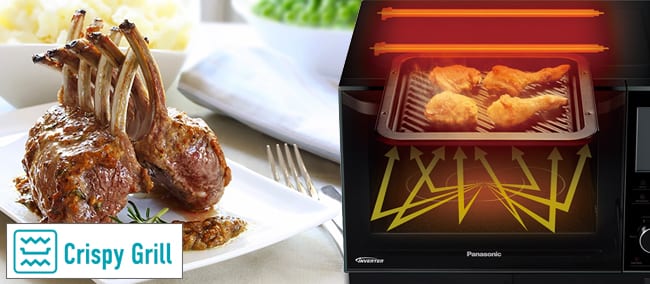 With the upper heating element to grill from the top and the microwave-heated Crispy Grill tray to warm from the bottom, food cooks quickly and evenly without the need to turn midway. During cooking, excess fat is drained away by the pan's grooves to maintain a crunchy outside and a juicy inside for fast food without any of the guilt.
Perfect combos with Simultaneous Cooking

This 4-in1 wonder lets you use a combination of the steam, oven, grill and microwave cooking modes for fast and fabulous results. For example, simultaneous use of the oven and steam settings will keep meat succulent when roasting, while combining the grill and microwave modes will speed up cooking time and retain crispiness.
Zero guesswork with Auto Cook/Steam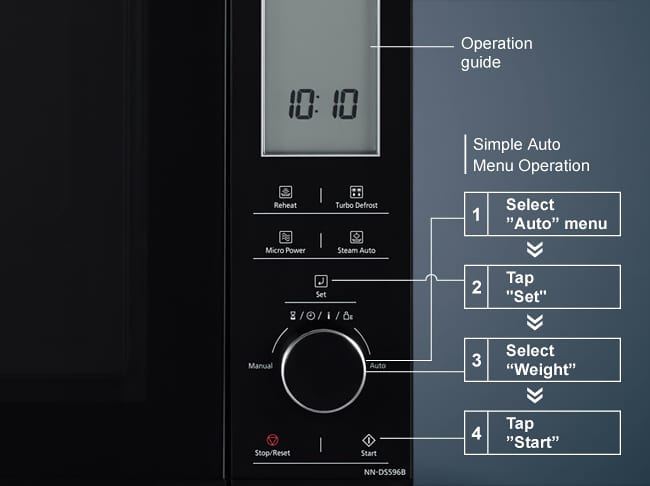 The Auto Cook and Auto Steam features give you gourmet results at the touch of a button. Simply select Auto from the menu, set the weight of the food and then press start. That's all it takes, as the NN-DS596B will automatically adjust the power level and cooking time to suit. No guesswork required!
29% more space with Flatbed Design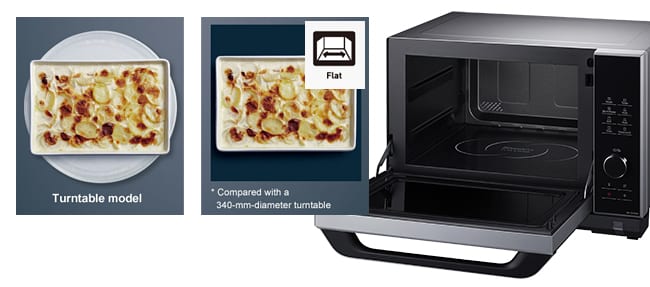 The compact NN-DS596B steam combination microwave oven incorporates a Flatbed design, doing away with the need for a turntable. This gives you a 29% larger cooking area compared to conventional models and the freedom to place dishes of all shapes and sizes inside the oven.
LEARN MORE