Our flagship soundbar has been developed to bring a cinema-like audio experience to your living room while looking subtle and stylish beneath the television. The ALL70T provides wireless networking, allowing it to connect to other speakers from the Panasonic ALL Connected Audio family, so you can share your favourite songs with multiple networked speakers around the house. Plus, this clever soundbar can be paired with speakers from the ALL audio range to create the ultimate 5.1ch surround sound.
The ALL70T uses premium technology to deliver cinema-worthy audio
Our high-end soundbar brings both films and music to life, using three integrated speaker drivers and separate wireless subwoofer. The three speakers are newly designed and shaped to reduce distortion and make higher frequencies crisp and clear. The central speaker focuses on dialogue to make sure you can hear every last word of either song or film. A new digital amp keeps sound stable at high volume, while the ALL70T subwoofer uses a down firing driver for more powerful and rounded bass, giving you those ground-shuddering film moments or party-starting dance music magic.
With the ALL70T, you can take your TV's audio wherever you go


Let's say there's a live concert on the TV in the living room, but you've got to cook dinner. With the ALL70T soundbar you can simply stream the concert's sound to an ALL Connected speaker in your kitchen. So easy!
Pair the ALL70T with ALL2 speakers for the ultimate in surround sound


If you want to turn the 3.1-channel sound of your ALL70T soundbar and subwoofer combination into a full wireless 5.1-channel surround sound system, all you have to do is add two ALL2 speakers to deliver the rear channel sound.
The ALL70T is a part of the ALL Connected family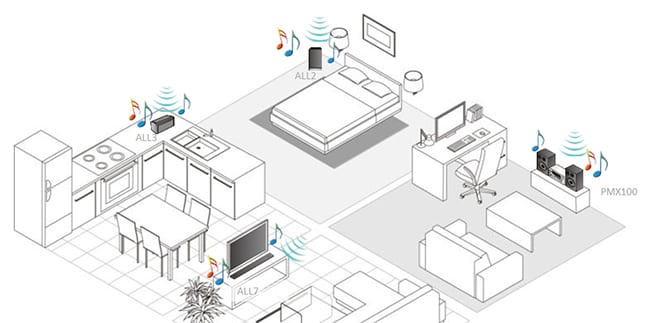 The 2015 range really is an audio family in the most connected sense, comprising the ALL70T home cinema soundbar, ALL2 speaker, ALL5CD all-in-one hi-fi and PMX100 high-resolution hi-fi. Each model can stand alone as a sensational audio unit, or connect with other products in the lineup to create a dynamic sound system.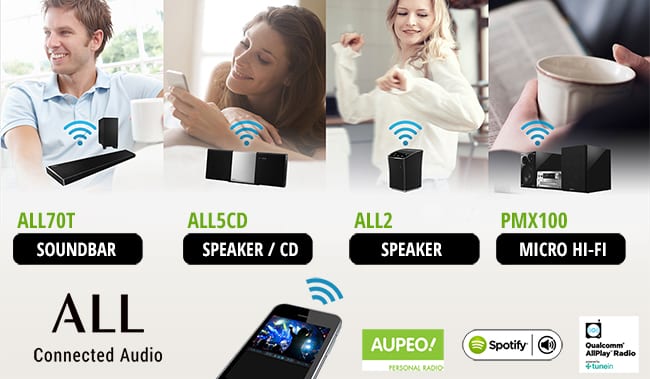 READ MORE
ALL Connected Audio evolves with exciting product pair-ups.
Check out the SC-ALL70T product page.