The latest models to join the Panasonic Blu-ray recorder and player range each offer a diverse set of recording and smart networking features, designed to seamlessly integrate with the way you prefer to access your favourite content. You can record TV programs while watching Netflix, access programs at home or away and watch your content via your TV, smartphone or tablet. You also have the flexibility of choosing the model that suits your needs, whether you want to record to disc or HDD (or both), access online smart features or you simply want the convenience of easy playback without all the bells and whistles.
Recorders
---
Blu-ray and DVD Players
---
DMP-BDT380GN
DMP-BDT280GN
DMP-BD84GN
---
Great features packed in Panasonic Blu-ray players and recorders
4K Blu-ray upscaling for Ultra HD resolution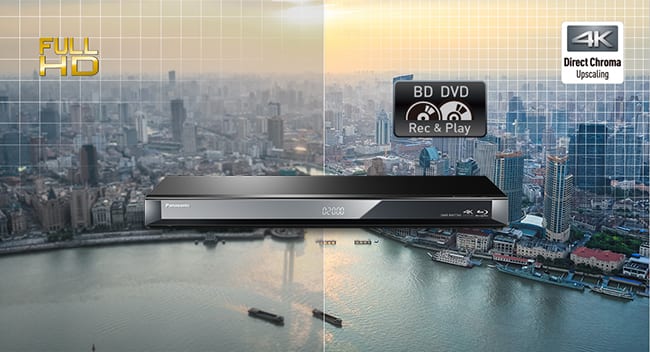 New Panasonic Blu-ray models offer an outstanding viewing experience with built-in 4K upscaling. Our advanced image processing technology analyses the colour and luminance of every pixel and boosts the input signal to generate an ultra-high quality 4K video signal that complements Panasonic's 4K panels. In addition, withK JPEG playback mode, you can view your holiday photos in 4K on a big screen.
Available with DMR-BWT760, DMR-PWT560, DMR-HWT260, DMP-BDT380, DMP-BDT280
Record and store so much more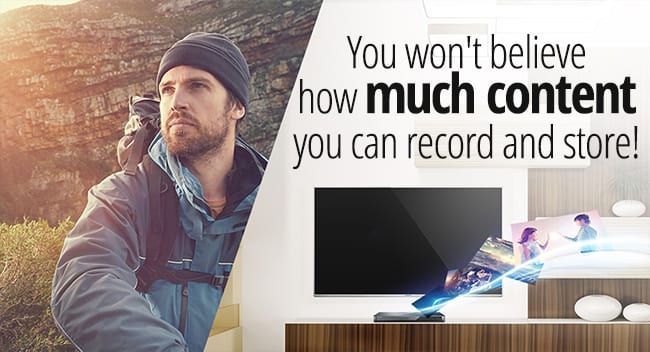 The new Panasonic recorder range is a binge-watcher's dream come true, offering long recording times and large-capacity hard disc drives (HDD). The flagship DMR-BWT760 Blu-ray recorder and player boasts a huge 1 terabyte Hard Disc Drive (HDD) and can record five times more content than the ordinary DR (Direct Record) mode, with up to 684 hours (HM Mode) HD recording.
DMR-BWT760 1TB hard drive, 684hrs of HD recording
DMR-PWT560 500GB hard drive, 341hrs of HD recording
DMR-BWT460 500GB hard drive, 341hrs of HD recording
DMR-HWT260 1TB hard drive, 684hrs of HD recording
A Twin HD Tuner doubles your viewing pleasure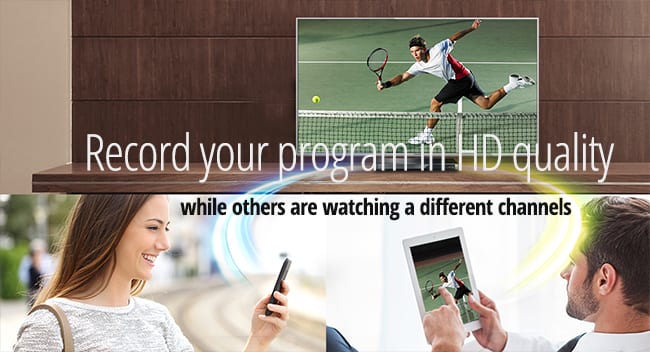 The Twin HD Tuner lets you record a program in HD quality while other members of the household are watching a different channels allows you to record two programs simultaneously.
Available with DMR-BWT760, DMR-PWT560, DMR-BWT460, DMR-HWT260
Record live TV while watching Netflix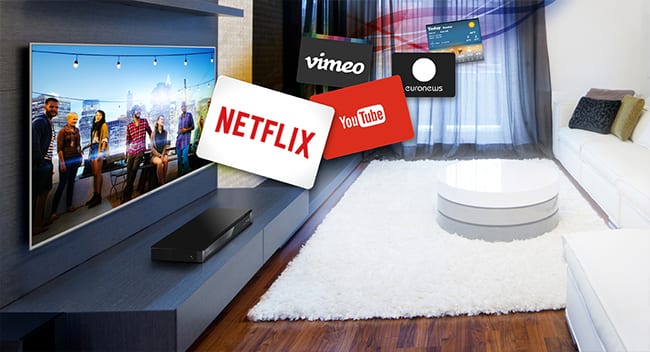 Use the recorder's Twin HD Tuner to watch your favourite shows while recording another channel. Thanks to a new processor, you can even record live TV while you're watching Netflix at the same time. Panasonic's DMP-BDT380 and DMP-BDT280 Blu-ray players also support Netflix viewing.
Available with DMR-BWT760, DMR-PWT560, DMR-HWT260
TV Anytime puts TV in your hands

You can use TV Anytime* on our new Blu-ray models to stream live TV shows or movies to your tablet or smartphone wherever you are in the world. For example, if you are travelling, TV Anytime lets you start watching a movie at home, set the recording before you leave the house, and then continue to watch from where you left off when you reach your hotel.
*Download the Panasonic Media Centre app to access TV Anytime.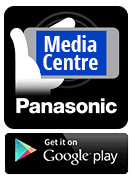 Available with DMR-BWT760, DMR-PWT560, DMR-HWT260
Record by keyword or by a whole series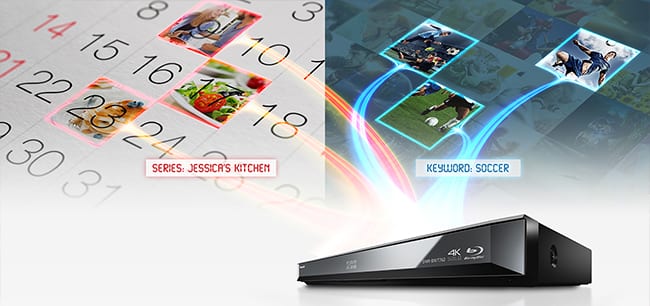 'Keyword Recording' provides a convenient and quick way of automatically recording programs by selecting a keyword. For example, enter your favourite sport and the recorder will search the electronic program guide and capture all programs with this keyword. You'll also never need to miss an episode of your favourite series again, as the 'Series Recording' function can record and store them each time they are broadcasted.
Available with DMR-BWT760, DMR-PWT560, DMR-BWT460, DMR-HWT260
Explore the full range of Panasonic home entertainment products