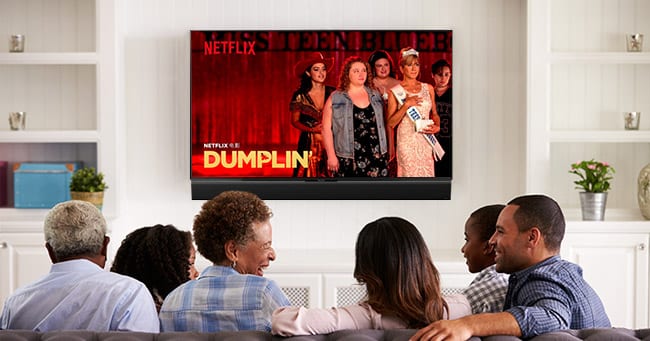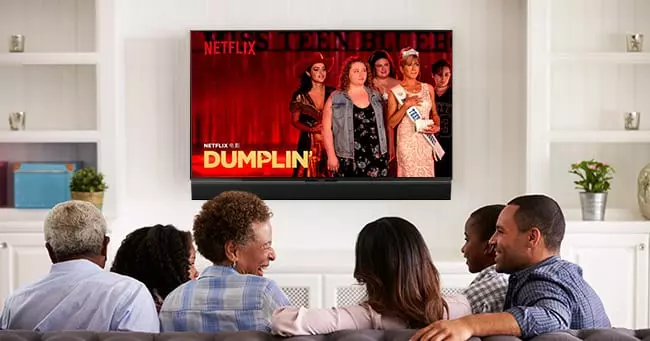 Settle in for your very own Supermum Sunday because we've curated the ultimate mother's day movie marathon. From 'laugh so hard you spill your popcorn' to 'cry your way through a family-size box of tissues', here are the 9 best movies to binge-watch with Mum.
1. Dumplin'
Streaming Now on Netflix
Dumplin' is the plus-size, teenage daughter of a former beauty queen, who signs up for her mum's pageant as a protest that escalates when other contestants follow her footsteps, revolutionising the pageant and their small Texas town. You'll weep, you'll laugh and you will definitely sing along to the film's irresistible soundtrack, featuring new collaborations and original music from Dolly Parton. Starring Danielle Macdonald, Jennifer Aniston and Odeya Rush.
2. Juanita
Streaming Now on Netflix
Fed up with her deadbeat grown kids and marginal urban existence, Juanita takes a Greyhound bus up to Paper Moon, Montana where she reinvents herself and finds her mojo. Based on the book by Sheila Williams, this indie comedy will immerse you in a sweet and quirky twist on the reinvention film genre. Starring Alfre Woodard, Adam Beach and LaTanya Richardson Jackson.
3. Amy Schumer Growing
Streaming Now on Netflix
In her new comedy special (filmed in front of a packed house at the Chicago Theatre), Amy Schumer spills on her new marriage, personal growth, making a baby and her mum's misguided advice in a special that's both provocative and sincere. As the title suggests, Schumer is pregnant with her first child so you can expect a lot of laughs as she details her journey from party girl to motherhood! Starring Amy Schumer.
4. Mamma Mia! Here We Go Again
Rent/Buy Now on Bigpond Movies
Five years after the events of Mamma Mia! (2008), Sophie prepares for the grand reopening of the Hotel Bella Donna as she learns more about her mother's past. Prepare yourself for a feel-good ABBA-tacular singalong with Mum of epic proportions. Starring Meryl Streep, Julie Walters, Christine Baranski and Amanda Seyfried.
5. Crazy Rich Asians
Rent/Buy Now on Bigpond Movies
Native New Yorker, Rachel accompanies her long-time boyfriend, Nick to his best friend's wedding in Singapore. While excited about meeting his family, she soon learns that Nick has neglected to mention a few key details about his life… and the rather terrifying matriarchs she'll have to impress. But every family has its crazy, right? Starring Constance Wu, Henry Golding and Michelle Yeoh.
6. Freaky Friday
Rent/Buy Now on Bigpond Movies
Dr. Tess Coleman and her teenage daughter Anna have one thing in common – they don't relate to each other on anything. Hmmmm, sounds familiar! This classic comedy somehow never gets old once you're swept up in the mystic mayhem of Tess and Anna's body swap as they're literally forced to walk in each other's shoes and gain respect for the other's point of view. Starring Jamie Lee Curtis and Lindsay Lohan.
7. I, Tonya
Streaming Now on Stan
Based on virtually unbelievable but true events, I, Tonya will propel you through a darkly comedic tale of American figure skater, Tonya Harding, and one of the most sensational scandals in sports history. Why did we include it? Monster 'momager' LaVona Harding adds the perfect amount of spice to our otherwise sweet Mother's Day movie marathon. Starring Margot Robbie, Sebastian Stan and Allison Janney.
8. Bad Moms
Streaming Now on Stan
When three overworked and under-appreciated moms are pushed beyond their limits, they ditch their conventional responsibilities for a jolt of long overdue freedom, fun, and comedic self-indulgence. You know your mum is going to relate… and you just might too! Starring Mila Kunis, Kristen Bell and Kathryn Hahn.
9. Bad Moms 2
Streaming Now on Stan
Your marathon wouldn't be complete without the hilarious follow-up to Bad Moms, following our three loveable, under-appreciated and over-burdened women as they rebel against the challenges and expectations of the high-pressure holiday that is Christmas! Starring Mila Kunis, Kristen Bell and Kathryn Hahn.
Streaming Made Easy with Panasonic
The latest Panasonic My Home Screen platform not only makes it easy to stream shows and clips from Stan*1, Netflix, Amazon Instant Video, FreeviewPlus, ABC iview, SBS On Demand, YouTube, Bigpond Movies (and more!) but also lets you watch content from those key sources in both 4K Ultra HD and High Dynamic Range quality*2
DISCLAIMERS
*1 Stan-compatible Panasonic Smart TV models:

TH-65FZ1000U
TH-55FZ1000U
TH-65FZ950U
TH-55FZ950U
TH-65FX800A
TH-55FX800A
TH-75FX780A
TH-65FX700A
TH-55FX700A
TH-65FX600A
TH-55FX600A
TH-49FX600A
TH-43FX600A
TH-40FS500A
TH-32FS500A
TH-77EZ1000U
TH-65EZ1000U
TH-65EZ950U
TH-55EZ950U
TH-75EX780A
TH-65EX780A
TH-58EX780A
TH-65EX600A
TH-55EX600A
TH-49EX600A
TH-43EX600A
TH-55ES500A
TH-49ES500A
TH-40ES500A
*2 Depending on availability and broadband speed