We've been testing (well, okay, playing) the SC-MAX8000 quite extensively here at Panasonic HQ and it is no exaggeration that this little baby has the power to make the walls shake. After a particularly fun session with the volume turned almost to maximum capacity, we were amused to find that this Hi-Fi had managed to loosen dust from the ceiling and deposit it in a fine carpet around our testing area. That's what 4,000W of extreme power, a 4-way speaker box, triple amp and Airquake Bass can do!
In addition to its ability to almost warp the very fabric of reality, the SC-MAX8000 features the very best of our clear sound technologies, advanced smart networking and ridiculously fun disco lights for those times when you just need to recreate the club in your living room. Oh yeah, there's even a DJ jog wheel so you can mix, sample and scratch like a pro.
The speaker's gonna blow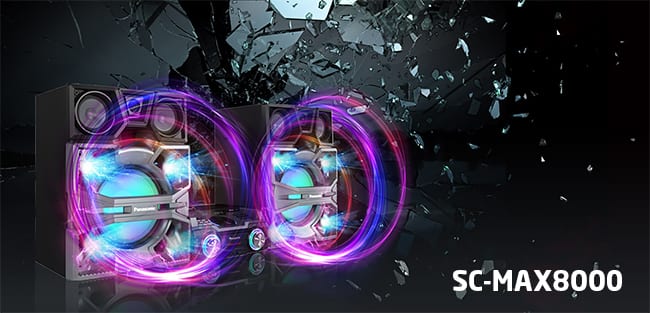 At the heart of this 4000W beast is an impressive Giant Speaker Box with 3-way 4 speakers, a 38 cm ultra super woofer, triple amplifiers and a hard press corrugation super woofer. But the story doesn't end with the hardware. The MAX8000 has produces incredible bass and resonance thanks our Airquake Bass technology – a system that features eight ports to push sounds forward without losing the resonance of sounds generated from behind the woofer unit. With great power, also comes great clarity. Separated amplifiers enhance the clarity of sound at each frequency range, so that vocals stay crisp and clear and bass becomes even more powerful.
Check out the Panasonic SC-MAX8000.
This DJ takes requests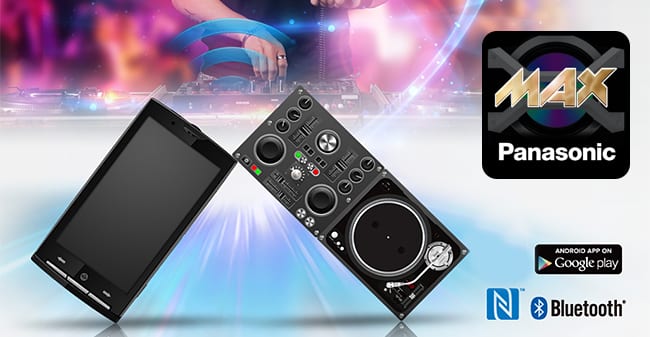 When it comes to a house party, there is nothing better than rocking tunes that everybody loves! The easiest way to get that mood is by sharing playlists and letting your party guests to get their DJ on. With Panasonic MAX8000 you can really bring your music loving friends together and get them dancing to the same tune, thanks to the Panasonic MAX Juke App.
Download the app to your smartphone or tablet and your partygoers will thank you. You'll be able to play songs stored on your smart devices via Bluetooth, request and play songs from the internal or USB memory on mini systems and even share the request playlist with your friends at the same time. You can even handle the disco lights and scratch pad from your phone.
Download the Panasonic MAX Juke App for Andriod (IOS version not available).