Panasonic's range of cutting-edge Home Appliances
In this hectic time-poor age, we're all looking for ways to make life easier – and save money. Look no further than Panasonic's comprehensive range of cutting-edge Home Appliances. From state of the art washing machines that save energy and money – to air conditioners that sense people in the room – and a new generation of rice cookers that make perfect rice and the curry to go with it!
In addition to sporting sleek looks, the Panasonic VG series washing machines are smart, quiet and eco-friendly.


Across the range, the clever ECONAVI sensor technology ensures the perfect wash every time with less waste. Plus, the specially engineered Silent Arch acoustic body and Inverter brushless motor reduce noise and make it so quiet you could easily use this washing machine at night without disturbing the family or neighbours.

These washing machines are able to measure the temperature of the water and reduce the time of the wash cycle accordingly. A shorter running time will mean less electricity consumed and you get your clothes cleaned more quickly. The amazing active sensors mean that the Eco-Wash options use 50% less power and 30% less water. In fact, the new VX Series features market leading 4.5 star energy ratings.
The ECONAVI technology also spins the drum a few times to check the mass of the clothes in order to determine how much water to inject into the drum – again reducing water usage and the energy used to warm the water.
As if that wasn't enough, the advanced 'Stain Master' technology feature has 23 stain treatments to choose from. These remove the toughest common stains – like lipstick, coffee, juice, oil or wine – by automatically selecting the optimum temperature, rotation power and soaking required.
Discover more about the Panasonic's cutting-edge Washing Machines with ECONAVI right here.

Panasonic Air Conditioners now use revolutionary ECONAVI intelligent eco sensors to moderate the temperature according to room usage.
This smart technology senses when there are people in the room and how much activity is occurring, then automatically adjusts the temperature so that less energy is used. The 'low activity detection' mode monitors the room, decreasing cooling when there is less movement, while the 'absence detection' feature switches to a slightly less powerful cooling mode when there is no one in the room at all. With an energy saving of up to 40% during heating and 30% during cooling*, that makes Panasonic Air Conditioners both environment friendly and power bill friendly – as well as an elegant addition to your household.
More on Panasonic Air Conditioners here
–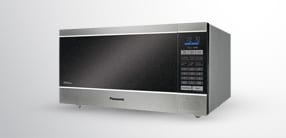 Microwave Ovens with Panasonic's Inverter Technology
Panasonic microwave ovens offer yet more ways to take the strain out of life – and add more flexibility to your cooking repertoire.
Panasonic's ingenious Flatbed Cooking Technology removes the need for a conventional cooking turntable. This gives you more room to be creative in the kitchen and greater flexibility for cooking with larger dishes by giving you twenty 20% more workspace.
Our Inverter Cooking Technology also delivers more evenly cooked food, through graduated power sequences. This accurate cooking control preserves texture and flavour, in addition to preventing food spill-over, burnt edges and uneven cooking. The Inverter Turbo Defrost system dramatically reduces defrosting times, allowing you to cook on the fly.
Want to know more about these pioneering microwave ovens?
–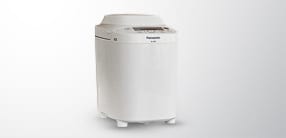 Better than a bakery – the Panasonic Bread Maker
Such was the demand for this highly regarded bread maker from both retailers and public alike that we had to bring it back onto the market.  We listened to the demands and requests and re-launched the SD-257 Bread Maker with a host of new and innovative features, including 10 versatile baking programs and a 13 hour timer.
Our unique and durable Diamond Fluro Coated pan ensures that that your dough does not stick to the pan, making it easier to remove and clean.
The new SD-2501 breadmaker caters for all tastes and dietary needs with a variety of bread programs, including Gluten Free and Rye Bread modes. This new Specialty mode also allows users to bake bread with ease using a range of cereals and flours, including spelt flour. You will also love the new Jam and Compote Mode which lets you prepare delicious fruit jam or compote at home, with eight jam and six compote recipes available.
Take a look at this versatile Bread Maker here.
–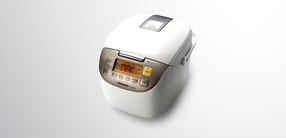 Panasonic Rice Cookers – So Much More Than Perfect Rice
When is a rice cooker not just a rice cooker? When it not only delivers perfect rice but also creates porridge, cakes, slow-cooked curries and soup – using automatic menu programs.
The Panasonic Rice Cookers' advanced Fuzzy Logic technology controls temperatures based on the ingredients you're using and the cooking environment, ensuring you get the best possible results every time. Both the SR-MS183WST and the SR-DE183WST cook up to 20 cups of rice at a time – perfectly. Then, when cooking is finished, the unit automatically switches to Warm Mode so the rice is maintained at the perfect serving temperature.
Intrigued? Find out more about these remarkable Rice Cookers here.
Whatever your household needs might be – Panasonic's ground-breaking Home Appliance range has so many innovative ways to help you save time, effort and money.