The LUMIX S1H full-frame mirrorless camera is the latest in the growing S Series portfolio, and is setting new benchmarks in what cinematographers can achieve from a mirrorless system.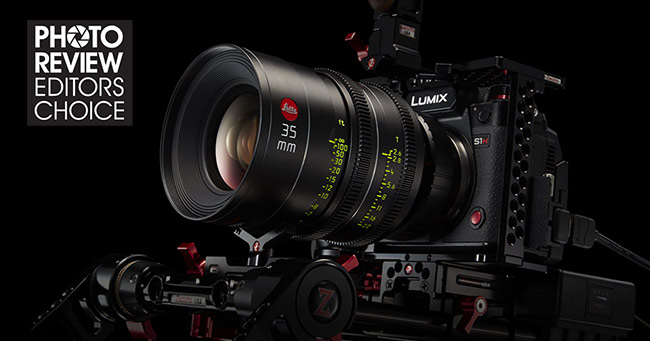 The camera's extraordinary features include 6K full-frame capture and  Cinema 4K/4K 60p/50p recording in 10-bit internally; Dual Native ISO for amazing low-light performance;  Dual I.S. (Image Stabilisation) 2 up to 6.5 stops, for powerful stabilisation correction; and V-Log/V-Gamut with 14+ stops of dynamic range, delivering impressively rich gradation.
We've put the S1H in the hands of Australia's leading reviewers, with not one but two 'Editor's Choice' Awards, receiving an unbeatable 5 star review in Tech Radar, and an impressive overall score of 9/10 in Photo Review.
Here's what they had to say.
Tech Radar was excited by the S1H's Netflix approval, rugged sealing for work in all conditions, and ability to cover cine work and vlogging.  Coming in for praise were the 'almost flawless' video quality, 6K 10-bit full-frame capture, brilliant low-light performance, Dual I.S with 6.5 stops and anamorphic support. Also popular were the well-designed menu interface and 'best on market' EVF.
"Panasonic's Lumix GH5, GH5S and G9 are among our favourite video cameras, but Lumix S1H takes it up more than a single notch to offer stupendous performance. 6K video with 10-bit colour offers picture quality that is sharp as a tack, with superb low-light performance as well. It's also the small things that count, from a cooling vent that lets you shoot for hours without worrying about overheating, to an impressive EVF and a flip-out rear display – Panasonic has put a lot of thought into the S1H."

– Sharmista Sarkar
Photo Review extolled the cameras' video capabilities while acknowledging that it was no slouch either when it came to still shooting. Features that impressed were the breadth of video options with 3 recording formats, and a wide range of resolutions, frame rates and data rates. Also praised were the in-body stabilisation which steadies the field for view for greater ease when shooting handheld.
"Following its success in manufacturing mirrorless cameras with serious video capabilities for the M4/3 format, Panasonic has added this capability to its 'full-frame' camera line-up with the S1H. Consequently, the main target market for this camera is professional multimedia content creators. And it's priced accordingly at the highest level in the S1 camera range. The S1H provides an unmatched suite of stills and video recording functions. There's nothing on the market so far that offers the same capabilities."

– Margaret Brown
LEARN MORE