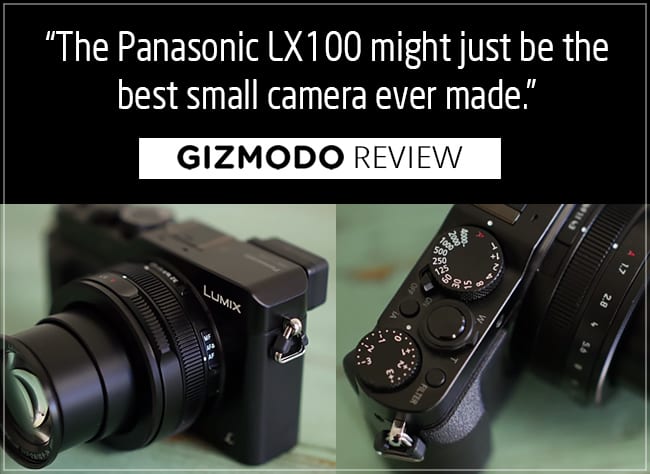 The folks over at Gizmodo are known for having very exacting standards when it comes to camera reviews, which is why we are absolutely chuffed to receive two outstanding reviews from them for the LUMIX LX100. Review number one sees Gizmodo calling the LX100 "A Small Camera So Good At So Many Things", while the second labels this little beauty "The Best Camera for Every Parent".
"It's one of the best options for taking great pics and video in a compact package. Whether you're a pro looking for a companion cam, an ardent traveler, or just a parent looking to beautify your kid pics, this is one of the best you can buy."
Gizmodo – A Small Camera So Good At So Many Things
The powerful LUMIX DMC-LX100 is a creative compact with an outstanding feature set for the enthusiast: including a multi-aspect 4/3-inch high sensitivity MOS Sensor; a newly developed LEICA DC VARIO-SUMMILUX lens; and 4K video recording.
This sixth-generation model is designed in line with the LX Series philosophy of providing high quality imaging, superior responsiveness and creative ease. It's been crafted with the most exacting photographers in mind, which is why it also features a 2.7 million-dot Live View Finder (LVF) and a 4K Photo mode allowing 8-megapixel still images to be captured from 4K video images.
"I liked being able to shoot 4K video with theLX100. 4K is the future standard for video resolution, so it's great knowing that when I show my home videos to my daughter when she is older, they won't seem so ancient."
Gizmodo – The Best Camera for Every Parent
Enthusiasts will also appreciate the intuitive manual control options, with dedicated rings and dials, including aperture ring, control ring, aspect ratio switch, shutter speed dial and exposure compensation dial.
Want to know more about the superb LX100?
You can read the full press release.
Check out the official product page.
Take a closer look at the ePHOTOzine review.
YouTube Videos
Core features of the new Panasonic Lumix LX100 by Scott Mellish (Business Manager, LUMIX G, Panasonic Australia).
Introducing Panasonic LUMIX DMC-LX100.
The all new Panasonic Lumix LX100… Designed to inspire creativity.
The city of Berlin in 4K with the new LUMIX LX100 by Benjamin Todd.
LUMIX LX100 | Behind the scenes of a photo shoot on the streets of Berlin.