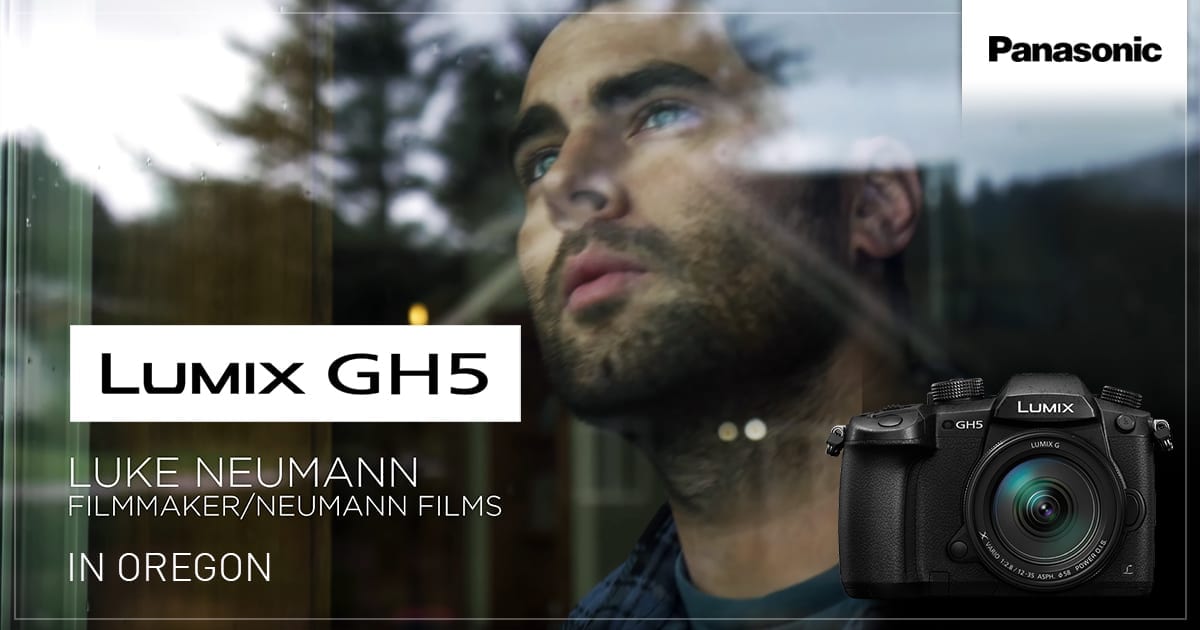 Neumann Films is a production company located in the Pacific Northwest. With over 110,000 subscribers, their YouTube channel is known for producing high quality visual content. Their broad range showcases a passion for both narrative and travel/documentary work. Filmmaker Luke Neumann got to put our new flagship LUMIX DC-GH5 mirrorless camera through its paces to create one of four official launch videos for the new camera.
"The LUMIX GH5 opened up so many creative possibilities with the Dual Image Stabilisation and 10bit 4:2:2 colour space. We were able to move freely, sometimes forgoing a tripod, and capture shots with little to no movement. The extra colour information allowed us to push our grade in post production and tell the story the way we felt it should be told. Working in an 8bit colour space can be limiting if you are trying to do a creative grade, and the difference between 8bit colour and 10bit colour is like night and day."
– Luke Neumann, Filmmaker/Neumann Films
Short Film "BEYOND THE GRID" by Luke Neumann
"Beyond The Grid" is our thoughts behind the value in reconnecting with nature. We live in the Pacific Northwest and beautiful landscapes are around every corner. It's never something we are ever too far removed from here. Day to day life in the modern world can cause us to forget the natural beauty that is all around us. Unplugging for a while can be rejuvenating and bring a sense of unity, not only with our planet, but with each other."
"The story of a blogger receiving an assignment to find a good "New Year's Resolution", seemed like a logical scenario for this kind of realization. She lives and works in Seattle and decides to travel outside of her comfort zone to find something fresh to write about. We wanted to tell this story because it's important to us, in our own day to day lives."
– Luke Neumann – Filmmaker/Neumann Films
BEHIND-THE-SCENES
The Story of Beyond the Grid by Neumann Films
"The 4K/60p function came in handy when using Lumix lenses to achieve Dual Image Stabilisation (5-axis Dual I.S.2) slow-mo. Several shots in "Beyond The Grid" appear to have been captured with a gimbal or crane, but many of them were handheld. That's how impressive the stabilisation is when combined with 4K/60p."
– Luke Neumann, Filmmaker/Newlmann Films

READ THE FULL FEATURE: LUMIX GH5 Impressions by Luke Neumann
About the LUMIX GH5
The new LUMIX DC-GH5 mirrorless camera truly sets the gold standard in professional 4K video shooting performance and hybrid photography, introducing a trio of world-firsts that make it an undisputed leader in its class. It is the first consumer digital camera to offer 4K 10-bit 4:2:2 25/30p video recording to SD Card*1; has the distinction of offering 4K quality video at 50/60 frames per second (fps)*2; and has evolved its original 4K Photo to the stunning 6K Photo*3.
The GH5 is set to hit Aussie shores in April 2017. Be the first to experience our flagship mirrorless camera by pre-ordering the LUMIX GH5 in-store before 31st March 2017 and you'll also receive BONUS V-log profile upgrade.
GH5 LEICA Kit
GH5 PRO Kit
GH5 Body Only
Read more about the new LUMIX GH5 on Panasonic Australia Blog.

*1 4:2:0 8-bit in 4K 50p/60p on an SD Memory Card.
*2 For a Digital Single Lens Mirrorless camera as of 4 January, 2017.
*3 6K PHOTO' is a high speed burst shooting function that cuts a still image out of a 4:3 or 3:2 video footage with approx.18-megapixel (approx. 6000 x 3000 effective pixel count) that the 6K image manages.