Sharing is caring and it's also super simple with our LUMIX GF7 hands-free selfie camera, featuring streamlined Wi-Fi connection. Fast image sharing, remote shooting and even geotagging are all so easy.
Social Media Superstar
Download the Panasonic Image App for fast and easy image sharing and remote shooting. We've also streamlined the Wi-Fi connection process – just press the Fn1/Wi-Fi* button, connect to the GF7's network, start the app on your tablet or phone and you're ready to go.
* The Fn1/Wi-Fi button works as a shutter button when the rear monitor is flipped up in Self-shot mode.
Jump Snap Shots
The GF7 offers the new remote control 'Jump Snap' feature for fun group shots where the acceleration sensor on your smartphone detects the highest point of a jump, and releases the camera shutter via Wi-Fi and the Panasonic Image App.
Smart Remote Shooting
You can also control almost every setting remotely via your smartphone – focus, aperture, shutter speed and ISO – before capturing your shot and then checking the results with 'Remote View'.
Map Your Memories
We've also made it easy to embed geotags in GF7 images using your smartphone, so this information can be viewed when images are uploaded to your social media.
Make Mini Movies
The GF7's 'snap movie mode' even makes it simple to quickly capture and share a creative video across Vine, Instagram and Facebook. You can tell your story by automatically setting the camera to record bite-size videos of 2-8 seconds, using rack focusing and fade effects. Then with the Panasonic Image App, videos can be assembled in any order with music in a short, snappy format before being shared using Wi-Fi.
Check out the GF7: Single Lens Kit and Twin Lens Kit.
Tag your bestie in a moment made to share and win a LUMIX GF7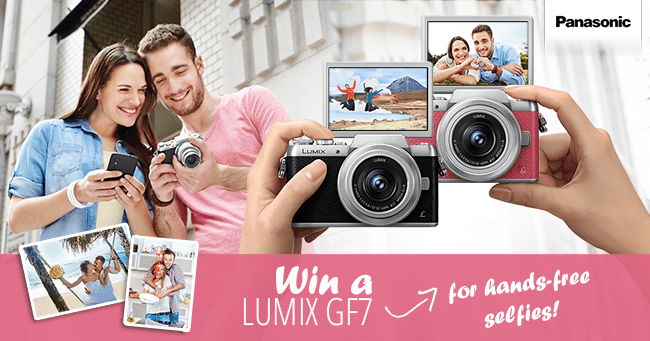 Calling all best buddies, babes and BFFs! When you post an "usie" (that's a duo selfie) just made to share and tag your partner-in-crime, you could both win a LUMIX GF7 – the camera that makes selfies hands-free.
From 05/May/2015 to 31/May/2015, we are giving away 2x LUMIX GF7 interchangeable lens cameras every week to the most creative buddies in this usie comp. Entering is pretty simple: check out the theme on our Facebook page, post an usie with your buddy (don't forget to tag!) and answer the 'question of the week'. Impress us and you could both be the proud owners of our latest G Series baby worth $699RRP (terms and conditions apply).
ENTER NOW!