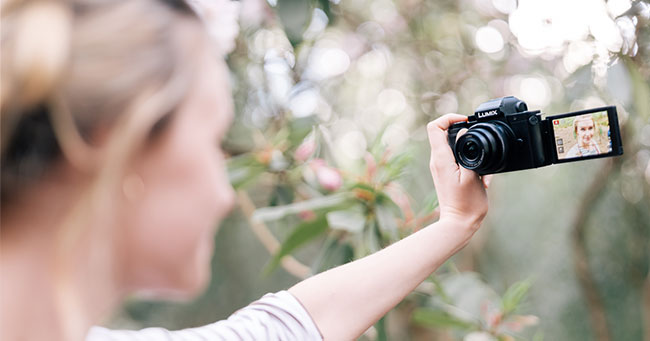 The Panasonic Lumix G100 is aimed at beginner and intermediate users. It's a camera for people who want to be empowered creatively, while being compact and lightweight enough to document their everyday lives.
Its 20.3 megapixel sensor is great for photos and video, equipping vloggers and content creators with the ability to shoot high-resolution images and ultra-high definition 4K video.
The other big advantage of the G100 is its OZO Audio recording capability. Audio is one of the last things people think about when filming. They tend to focus on hair, makeup and lighting, but often it's not until they play back the footage that they realise the importance of good, clear audio.
This is where OZO Audio comes into its own. Developed by Nokia, OZO uses an innovative 3-microphone array discreetly built into the camera body to deliver rich, vibrant audio recording across a wide-range of shooting scenarios.
Setting a new benchmark for built-in microphones, it delivers outstanding quality audio straight from the camera, eliminating the need for serious content creators to invest in a bulky external microphone or complicated external audio recorder.
The standard on-camera microphone featured in most modern cameras use an omni-directional pickup pattern that records sound equally from every direction. This is good for reproducing the sounds of nature or the buzz at a live sporting event, but is terrible for capturing speech.
OZO Audio solves this problem by using the 3-microphone array, enabling you to customise the range and direction of the microphones to match your shooting circumstances and significantly improve the production value of your next shoot. Here is an explanation of the 5 modes you can choose from.
| | |
| --- | --- |
| | Surround: The Surround mode mimics the behaviour of a standard on-camera microphone to give you a 360° surround sound experience, perfect for conveying the ambience of the scene to your audience. |
| | Front: The Front mode is great for capturing sound in front of the camera while suppressing any noise behind the lens. It's ideal for isolating voices in interviews or recording live performance such as concerts, theatre shows and corporate presentations. |
| | Back: Back recording is perfect for solo travellers and independent content creators. Generally not practical with an external microphone, the back recording mode opens up new creative opportunities by empowering the camera operator to directly narrate the scene they're shooting, giving their audience real-time insight into what is happening, as it happens. |
| | Tracking: The Tracking mode is an industry first and a real game changer for vloggers and on-camera presenters. It works in conjunction with Face and Eye Detect Auto Focus to analyse the scene and automatically adjust the recording range and direction of the 3 microphones to converge on the location of presenter. The end result is clear, intelligible voice recording with consistent levels, even when recording in crowds or locations with considerable ambient noise. |
| | Auto: The auto mode is best for those unpredictable scenes and general recording situations. It automatically switches between tracking and surround sound modes, allowing the camera operator behind the camera to interact with a presenter in front of the camera, or seamlessly combining the 360° soundscape of a scene with real-time narration while eliminating the complex task of having to edit audio from multiple sources in post-production. |
For your convenience, the G100 still features a hot-shoe and 3.5mm mic socket, supporting external microphones and wireless audio receivers to ensure you're equipped to handle more specialised audio requirements.
Ready to take your content and your social media channels to the next level? Check out the other features of the Lumix DC-G100 on our website.
LUMIX DC-G100