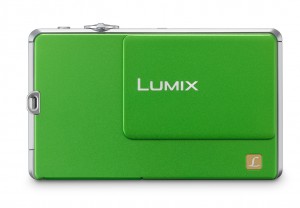 Panasonic Australia combines style and superior image quality with new LUMIX ultra-slim models.
We're proud to reveal the new FP Series range: a 14.1 megapixel LUMIX DMC-FP3 and 12.1 megapixel LUMIX DMC-FP1 – two new, ultra-slim digital still cameras that boast the winning combination of high-quality optics, great performance and an exquisite streamlined design for the discerning and style-conscious user.
Both models are equipped with a 4x optical zoom (35mm camera equivalent: 35-140mm) made possible through innovative folded optics that deliver crisp detail and exceptional image quality while enabling the camera's stunning, slim design. The newly-designed sliding lens cover doubles as both lens protection and sophisticated power switch.
Users can capture both still photos and high definition (HD) movies in 720p motion jpeg at a smooth 30 fps, offering great versatility for spontaneous moments.

The LUMIX FP series will be available in February 2010 with the DMC-FP3 having a RRP of $329 and the DMC-FP1 $279 RRP.
Making Photography Easy
Panasonic's renowned Intelligent Auto (iA) makes photography easy and produces beautiful photos, regardless of the shooting situation, without fuss or the need to select complex settings.
Simply select iA mode and the camera determines the precise setting to capture the scene and subject perfectly, combining clever functions such as MEGA O.I.S. (Optical Image Stabiliser) for hand-shake, Intelligent ISO Control for subject movement, Face Detection and Intelligent Scene Selector. A newly added Intelligent Scene Selector mode is Sunset mode, which ensures those challenging dusk lighting shots are perfectly exposed and captured. Additional Baby, Pet and Sports modes take advantage of Intelligent ISO Control.
Another important feature is Quick AF, which allows the camera to focus on the subject even before the button is pressed half way down, so users never miss a shot of fast moving subjects, such as sporting events or those spur of the moment shots.
Making Photography Fun



Photo Frame mode lets the user put attractive borders around an image. When printed, the photos make ideal postcards.
Each camera also comes with PHOTOfunSTUDIO 5.0, which makes it easy to sort and organise your photo library. Using your PC, you can create a slideshow of photos and movies with transition effects and music, and burn it onto a DVD disc as a MPEG2 file, or easily upload it to YouTube.?PHOTOfunSTUDIO 5.0 is compatible with Windows 7.
Both models are available in a range of colours. The DMC-FP3 is available in red, light pink, grey and black, while the DMC-FP1 comes in silver, blue, green, pink and black.
Intelligent LCD Screens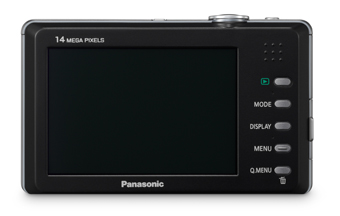 Both models feature a high resolution 230,000-dot Intelligent LCD (DMC-FP3 – 3 inches, DMC-FP1 2.7 inches) that adjusts to lighting conditions and controls the brightness level automatically so it is always easy to view.
The DMC-FP3 features touch screen functionality using a static sensor so the user can control menu options and playback with intuitive touch control. The DMC-FP3's touch operation is free and smooth and works together with button controls for easy operation. In recording mode, use your finger to touch the focus area before pressing the shutter button. In playback mode, you can drag the image across the screen with a finger to browse your photos as if turning the pages of a book.