It's your life. Your adventures deserve to be captured in the crisp clarity of Full-HD and here is one camcorder that's well and truly up to the task. Dynamic and powerful, the HX-WA2 camcorder is designed for the adventurer in you.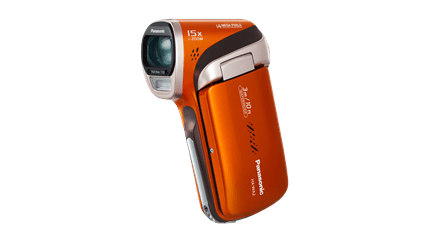 Next time you hit the great outdoors, this waterproof, vertical camcorder will be ready and willing to record the view. It features simple controls and a rotating screen to make it easy to shoot video and stills with just one hand, so it's ideal for your next escapade.
Most technology works great when the weather conditions are fair, but if a drop of rain falls, the show is all over. That's not the case with this Panasonic camcorder. Shoot underwater, out in the rain, or even in the snow – there's no need to fear with the HX-WA2.
The waterproof design allows for submersion up to three metres in the ocean or a pool. So the HX-WA2 camcorder can take you from kayaking in the rapids to shooting the vivid colours of coral wildlife, all without a missing a beat.
For professional results without the effort, the camcorder's Intelligent Auto (iA) feature has got you covered. This powerful function automatically adjusts the settings to suit the outside conditions. Whether you're shooting motion or still images, iA makes it easy to capture beautiful, well-focused images.
However, seeing is believing. Take a look at this video to see the HX-WA2 in all its glory.