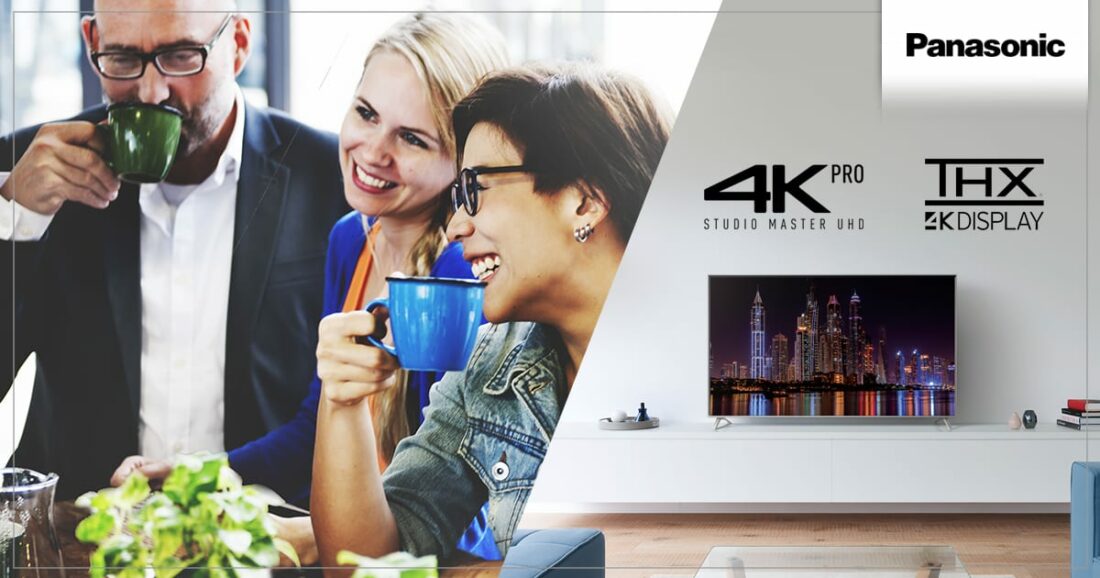 The latest range of Panasonic VIERA 4K Ultra HD LED LCD TVs have been fine-tuned by Panasonic Hollywood Labs to provide a spectacular visual performance that matches the filmmaker's original vision. That fine tuning incorporates a number of new panel technologies designed to deliver spectacular colour range with stunning accuracy and incredible detail in light and dark. So far, so good, right? But how do you talk about these advances in the real world and sound like a pro? We've untangled all the 4K tech talk for you and created a cheat sheet that will give you expert status in any 4K Ultra HD conversation.
4K PRO ULTRA HD
What you say:
"4K Pro brings together cutting edge LED LCD panel technology and powerful picture processing to create the most realistic TV pictures ever seen."
What you mean:
Panasonic's VIERA 4K Pro TVs are designed from the bottom up and tuned in Hollywood to deliver picture quality accurate to the filmmaker's original vision. Equipped with professional-grade processors and super bright cinema display panels, VIERA 4K Pro TVs offer incredibly accurate pictures that provide all the stunning cinematic spectacle they contained at the moment they were originally filmed.
Where you'll find it:
VIERA DX900U VIERA DX740U VIERA DX700A
4K THX CERTIFICATION
What you say:
"4K certification from the renowned THX quality assurance group is a recognition of picture quality and accuracy that few TVs achieve."
What you mean:
THX was founded by legendary filmmaker George Lucas with the goal of improving the entertainment experience in the cinema and at home. Only televisions that pass 400 THX lab tests within 30 testing categories receive THX 4K Display certification. That means THX-certified VIERA 4K Ultra HD TVs meet the most rigorous performance standards and offer uncompromised picture quality.
Where you'll find it:
STUDIO MASTER HCX PROCESSOR
What you say:
"The super accurate Studio Master HCX chipset works with the new LCD panel to deliver outstanding 4K UHD picture quality."
What you mean:
The Studio Master Processor HCX (Hollywood Cinema Experience) represents the pinnacle of VIERA 4K UItra HD image processing. Built on colour, black level and brightness know-how learned from Panasonic's reference-quality plasma TVs and professional broadcast equipment, the system provides the flexibility to achieve great colour accuracy even with content that hasn't been made in HDR.
Where you'll find it:
HIGH DYNAMIC RANGE (HDR)
What you say:
"HDR expands contrast ratio and colour accuracy to give images more depth to show more shades so that true colour is depicted on the screen as it is in real life."
What you mean:
High Dynamic Range (HDR) content on HDR enabled TVs delivers images much closer to the way your eyes see the real world. Deep blacks are combined with very bright highlights to produce a level of reality not previously possible on a television – especially on Panasonic's Premium HDR screens with their industry-leading brightness.
Where you'll find it:
HEXA CHROMA DRIVE
What you say:
"A wider gamut maximises colour reproduction to give you reference picture quality."
What you mean:
VIERA 4K Ultra HD TVs deliver colour that is 80 times more accurate than that of a conventional TV, thanks to the incredibly precise colour reproduction of the Hexa Chroma Drive. Using technology developed by Panasonic's professional screen division, Hexa Chroma Drive creates its colours from a 3D Lookup Table that processes 6 colours rather than the usual 3 and can access a remarkable 8,000 reference points versus a conventional TV's 100.
Where you'll find it:
BRIGHT PANEL TECHNOLOGY
What you say:
"Super-transmissive LCD cells achieve much greater brightness without a significant increase in power requirements."
What you mean:
Images explode off the screen with stunning vibrancy and intensity, as new VIERA 4K Ultra HD panels produce much more brightness than conventional LED LCD screens (without using significantly more power) to let you enjoy images that are closer to the way your eyes see the real world.
Where you'll find it:
LOCAL DIMMING
What you say:
"Individually controlled LED lights behind the screen greatly enhance contrast, so that dozens of picture zones are analysed and adjusted separately to boost detail."
What you mean:
LED LCD TVs usually struggle to produce really bright whites and deep black colours within the same frame. VIERA 4K Ultra HD local dimming solves this problem, by placing a high performance LED backlight equipped with a high number of local dimming zones directly behind LCD panel. This enables separate segments of the LEDs that illuminate pictures to produce their own brightness levels independent of the rest, allowing the screen can bring out delicate details and highly nuanced expressions which might otherwise have been lost.
Where you'll find it: