On the first of November, the Panasonic offices were fairly bursting with clean-shaven men showing off their smooth faces. But before too long, Movember fever will transform these clean-cut guys into hairy creatures sporting everything from handlebar trucker moustaches, to dandy curled-edge affairs and maybe even a rock star 'stache or two.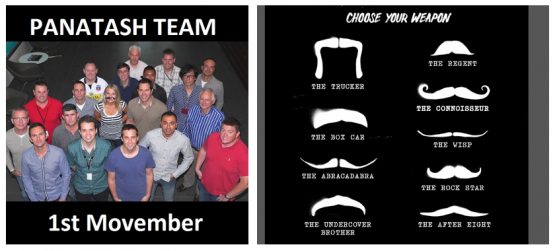 That's because we are putting forward Team Panatash; a 30 strong crew of Mo Bros across the country who are committing their top lip for 30 hairy to become walking, talking billboards and through their Mo growing efforts, raise vital funds and awareness for prostate cancer, testicular cancer and mental health.
It is only day 4 and Panatash have already managed to raise over $1,500 for the cause! They don't look wild and wooly yet but we'll keep you posted as the 'staches sprout over the next few weeks.
Check out Team Panatash.
The Trucker, The Wisp, The Rock Star? Pick your style.
Know the rules.
Check the official Movember13 website.