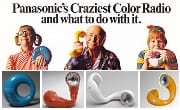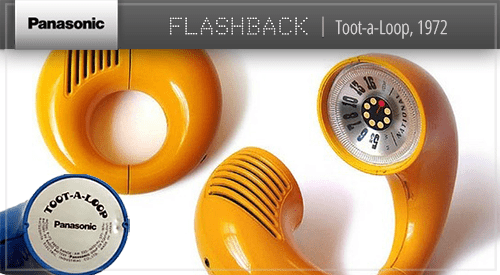 Before iPods … before Walkmans … there was the Toot-a-Loop
When the 1970s rolled around, Panasonic was ready for fun and we expressed this desire in the form of bright, kitschy products (especially personal radios) that became instant cult hits. Today we are flashing back to the fabulous Toot-a-Loop radio – a product still has legions of fans and has become a collectible.
Created in the early 70s and marketed as "Panasonic's craziest colour radio" this donut-shaped AM radio opened up into an "S" shape and was available in a number of funky colours.
In addition to using the "It's an S it's an O, it's a crazy radio! Toot a loop!" jingle, the 'adorkable' advertising campaign told consumers the Toot-a-Loop could be worn as a bracelet, twisted open to make the world's craziest hearing device, shared with a friend or even used a pacifier. Oh yeah, and it also played music!
"Our Craziest Crazy Color AM Portable Yet ! Wear it Swing It. Twist it. You can even listen to it ! In 4 colors." – Advertising from the 70s.