Enjoy creative photography with touch-control with the LUMIX DMC-GH2
We're pleased to announce the LUMIX DMC-GH2 – the latest member of the LUMIX G Micro System of new generation interchangeable lens system cameras – with all the creativity and versatility the G Series has to offer, including a downsized body, intuitive touch control, the world's fastest Light Speed AF1, Full HD movie recording, and compatibility with Panasonic's new interchangeable 3D lens.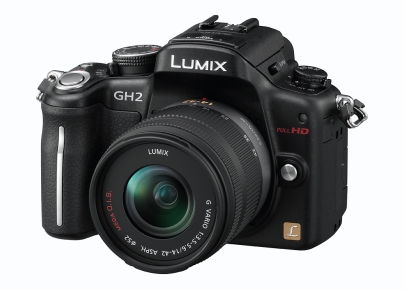 Fully compliant with the Micro Four Thirds System standard, the DMC-GH2 combines a compact body with advanced functions that achieve both high performance and operational ease. The new camera boasts the world's fastest level Light Speed AF of approx. 0.1 second to capture spur-of-the-moment opportunities in sharp focus. The key components including the sensor and the image processing engine are enhanced to achieve even higher performance and render stunning images with high resolution, beautiful gradation and high sensitivity.
"The LUMIX DMC-GH2 realises all the latest innovations of the G Series and adds exciting new functionality – such as Light Speed AF and 3D lens compatibility, to offer outstanding performance, ease of use and creativity."
Richard Phillips, Product Marketing Manager, LUMIX, Panasonic Australia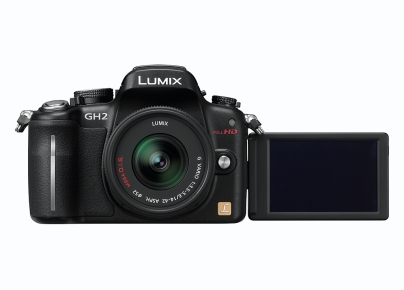 The DMC-GH2 is designed for even more impressive and imaginative AVCHD movie recording. It features Full HD 1920 x 10802 movie recording in smooth 50i, with a sensor output of 50p, and supports 1080/24p native mode with 24Mbps – all adding up to outstanding image quality. The new Cinema mode can be selected to create rich, cinema-like gradation, and Variable Movie mode makes it possible to record at a variable frame rate. The Extra Tele Conversion extends the zoom range up to 2.6x.
The camera offers outstanding usability with the newly developed Multi Aspect Wide Screen LVF (Live View Finder) and the easy-to-see free-angle Intelligent LCD. The ever-expanding range of interchangeable lenses is another advantage of the LUMIX G Micro System which now boasts a total of 11 exclusive lenses including the newly-announced single focal length lens LUMIX G 14mm / F2.5 ASPH (H-H014), telephoto zoom lens LUMIX G VARIO 100-300mm / F4.0-5.6 / MEGA O.I.S. (H-FS100300) and 3D lens LUMIX G 12.5mm / F12 (H-FT012).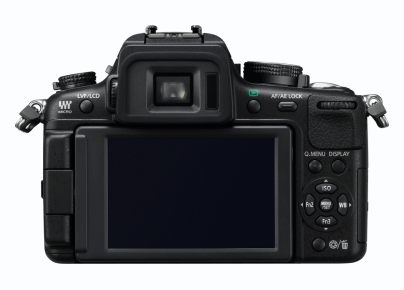 Key Features
Advanced technologies to push the boundaries of creative expression
The DMC-GH2 features the world's fastest Light Speed AF of approx. 0.1 second which is achieved by reducing the detection time for focusing by doubling the drive speed from 60 fps to 120 fps. As well as improved accuracy, the DMC-GH2 also boasts speed exceeding that of high-end DSLRs that use phase difference AF; due to the advanced contrast AF system. These enhancements, combined with the convenience of Touch AF control, make settings and focusing on the subject incredibly easy and quick.
Elevating the potential of movie recording for a 'true-hybrid' digital camera
The DMC-GH2 features Full HD 1920 x 1080 movie recording in smooth 50i, with a sensor output of 50p, and supports 1080/24p native mode with 24Mbps.
A dedicated button on the top of the camera lets the user instantly start recording movies while shooting photos without having to make any extra settings. The new Cinema mode can be selected to create rich, cinema-like gradation; and Variable Movie mode makes it possible to record at a variable frame rate selecting from 80%, 160%, 200% and 300%. Touch AF in movie recording lets the user enjoy professional-style rack focusing – simply touch the desired subject on the LCD and focus shifts to it automatically.
Intuitive Touch-Control Shooting
The DMC-GH2 adopts the intuitive touch-control shooting first adopted in the DMC-G2. Just touch the 460,000- dot LCD to indicate the subject, and the camera focuses on it instantly.
Touch Control Features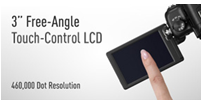 AF Tracking : Touch the screen, and the DMC-GH2 locks on and automatically "tracks" the subject as it moves, adjusting the focus and exposure settings for the best results.
1-Area AF : This mode lets you focus on the subject in any part of the LCD – just touch the screen to direct the focus point. You can also freely change the size of the AF frame.
1-area AF in Face Detection : This mode lets you focus on the subject in any part of the LCD while still detecting faces in the image – just touch the screen to direct the focus point. It lets you capture creative shots, for example, focusing on a flower in front of a person, or directing the focus to a person's eyes.
Multi-Area AF : The camera divides the 23 AF areas into nine groups. Just touch one of the groups and the camera automatically selects the optimal area from within that group. The cursor lets you display only the part that is within the selected range.
Touch Operation in iA Mode : In iA (Intelligent Auto) mode, simply touch the subject on the LCD and the camera automatically selects the optimal scene mode.
Moveable MF Assist : When you're in manual focus mode, touch a section of an image on the LCD and the camera shows you a zoomed view of that area – 1x, 5x or 10x – instantly. This makes it easier to check that focus is sharp.
Touch-Operated Playback : A variety of touch-control operations make playback quick, easy and more fun. For example, you simply slide your finger across the LCD to scroll through images, or touch a part of the image to enlarge it to as much as 16x.
Multi-aspect wide screen Live View Finder and free-angle LCD : The DMC-GH2 has a newly-designed Multi-Aspect Wide Screen Live View Finder, with an increased display area of 1,530,000-dot equivalent resolution and 0.71x magnification.
A palette of features to stimulate photographers' creativity
Panasonic makes it possible to enjoy high-quality shooting in 3D using the DMC-GH2, with the world's first interchangeable 3D lens4. This new compact 3D-capable interchangeable lens allows easier handling and instant 3D shooting with cameras without a special structure for 3D shooting. It produces 3D images without distortion or time lag between left and right images, even for moving objects. The 3D images, even close-up shots, taken with this lens offer enjoyable viewing on 3D televisions such as the Panasonic VIERA 3D TV range.
The DMC-GH2 has an array of features that let users either capture precisely true-to-life images or create their own beautifully expressive images. The camera features My Colour mode with a total of seven preset effects — Expressive, Retro, Pure, Elegant, Monochrome, Dynamic Art, and Silhouette, and Custom mode lets users manually set colour, brightness and saturation levels.
Advanced iA (Intelligent Auto) mode with new features
The DMC-GH2 has advanced functions that will satisfy experienced photographers, yet is easy enough for beginners to use comfortably. It's ideal for compact camera owners who want to step up to higher-quality photos — but without having to worry about technique.
Other iA features offered by the DMC-GH2 include:
Face Recognition 'remembers' faces from previous shots. When a familiar face appears in the frame, the camera will prioritise focus and exposure to capture it beautifully. This clever function makes it easy to get sharp and clear photos of loved ones in a group of people.
Intelligent Image Stabilisation comprises two features designed to capture clear, crisp images – MEGA O.I.S to prevent blurring from hand-shake and Intelligent ISO Control which takes into account that the subject is moving and adjusts the ISO setting.
AF Tracking locks focus onto any subject and keep it in focus even if it moves – making it easy to get beautiful, clear shots when a great photo opportunity suddenly arises.
Intelligent Scene Selector automatically detects the most common shooting situations – Portrait, Night Portrait, Scenery, Night Scenery, Close-up and Sunset, and switches to the appropriate Scene mode.
VIERA Link connectivity Both still images and AVCHD-format motion images recorded on SD Memory Cards are easy to view on a compatible Panasonic VIERA TV, Blu-ray Disc Player or Recorder simply by inserting the card into the SDHC/SD card slot. Alternatively, an optional mini HDMI cable can be used to output still and motion images recorded with the LUMIX DMC-GH2 directly to the TV for easy VIERA Link operation using the TV remote control.
Rich options for further expandability The Micro Four Thirds System products are joining today's Four Thirds System products to provide customers with even higher levels of performance in a digital interchangeable lens camera. In addition to LUMIX G lenses, the LUMIX DMC-GH2 and LUMIX G Micro System can use any interchangeable lens that complies with the Four Thirds System standard via an optional mount adaptor DMW-MA1 and with the prestigious Leica M/R Lenses via the DMW-MA2M or MA3R.
Included Software
The DMC-GH2 is bundled with PHOTOfunSTUDIO 6.0 BD Edition for easy organisation of photos and movies, the SILKYPIX® Developer Studio 3.1 SE for RAW file development and Super LoiloScope (trial version) for high speed HD movie editing.
Availability
The LUMIX DMC-GH2 will be available in Australia in mid-November from authorised photographic retailers. Colours are Black or Silver. For more information visit www.panasonic.com.au or contact Panasonic on 132 600
1 The time for focusing on the subject is measured with the DMC-GH2 and the LUMIX G VARIO HD 14-140mm / F4.0-5.8 ASPH. / MEGA O.I.S. (H-VS014140)* to move the lens to "2m" from "infinity" position. The zoom position is in wide range. Panasonic measurement method.*The firmware must be updated to Ver. 1.3 or later.
2 Full-HD (1,920 x 1,080) movies are recorded at 50i (PAL). HD (1,280 x 720) movies are output and recorded by the image sensor at 50p (PAL).
3 In-house comparison with the previous model based on the CIE 1976 UCS Colour Temperature Coordinate.
4 For a digital interchangeable lens as of Sep 21, 2010