Meet the Panasonic SC-UA7 Urban Audio multidirectional wireless speaker. This 2.1 channel audio system combines its unique hexagonal design with phenomenal power and performance, making it perfect for next-level home entertainment and parties. The UA7 even features Bluetooth, USB ports, 4GB memory and optical input for TV connectivity.
Hexagonal design marries form with function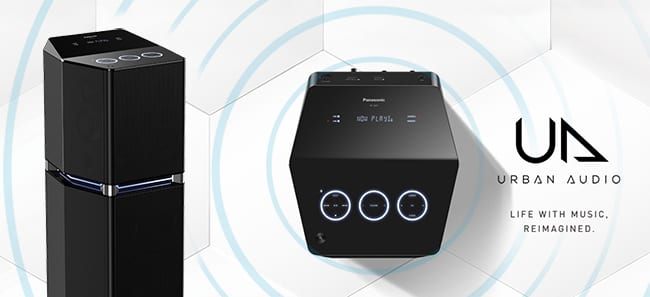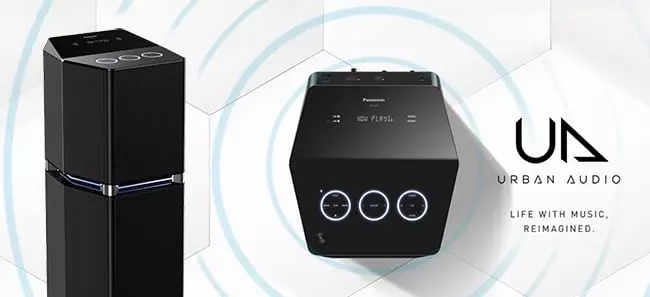 The UA7's stylish form offers an array of clever functions. The hexagonal one-box design saves space, while the multidirectional positioning of woofers and tweeters produces a widely-dispersed 180-degree sound. Touch-control sensors are housed within the mirror-finished top panel and illumination lighting enhances the speaker's sophisticated appearance.
Powerful sound you can feel with AIRQUAKE BASS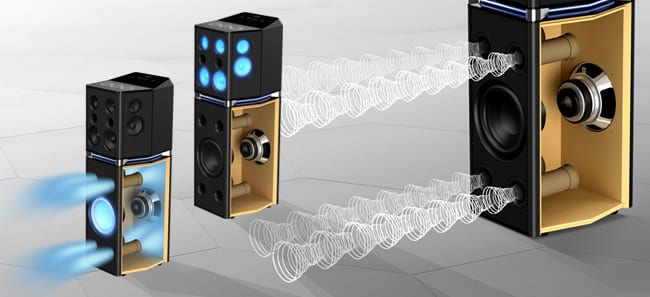 Robust bass can often mean the difference between a good audio experience and an unforgettable one. The UA7's 1,700W of power is complemented by our unique AIRQUAKE BASS to get your party pumping. This clever technology pushes sounds forward without losing the resonance of audio generated from behind the dual woofer units, amplifying the bass to produce extremely powerful sound you can actually feel when you're near the speaker.
Array of smart operation and networking features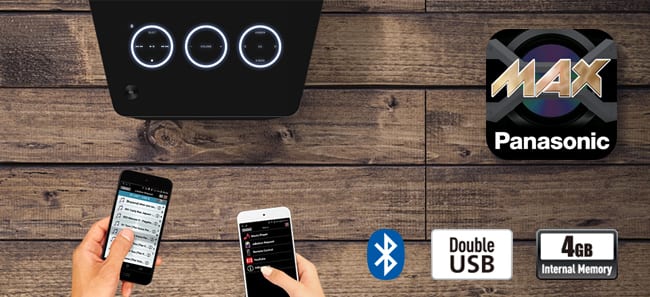 In addition to amazing power and performance, the UA7 also offers simple operation and a range of networking options. Bluetooth functionality means you can stream all your favourite tunes directly from a mobile device, and the Panasonic Max Juke app lets you compile playlists and perform basic operations such as volume, play, pause and equaliser settings. You'll also find two USB ports for music sharing and playback, and 4GB of internal memory to store up to 1,000 songs.
Next-level TV audio and karaoke party sound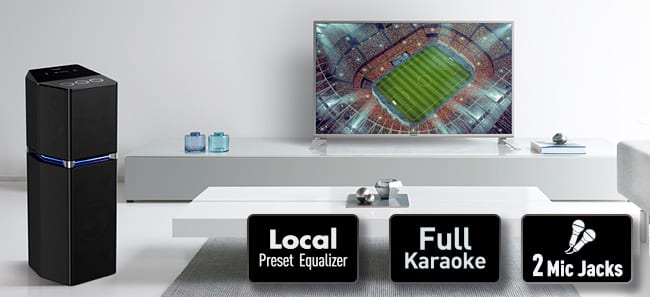 So much more than a powerful music system, the UA7 also loves your TV and karaoke parties. An optical input ensures simple and high-quality TV connectivity, enhanced by features such as the Local Preset Equaliser to maximise audio quality, and the newly-added Voice Expansive Mode to give the sensation of sound spreading naturally from the TV screen. If you're fond of singalongs, you'll also be impressed with the speaker's full karaoke function with mic input and jukebox.
SC-UA7 Wireless Speaker
Panasonic Hi-Fi Range