Panasonic's range of microwave ovens makes cooking delicious meals and tasty treats a breeze. Advanced Inverter technology ensures that when cooking or reheating, food is heated evenly and the texture and flavour is improved. Flatbed technology, meanwhile, removes the need for a turntable giving you more room and making the oven easier to clean.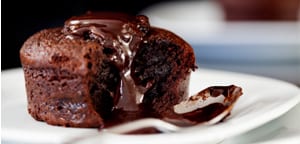 The culinary creations you can whip up are only limited by your imagination. Try this wonderful pear and chocolate pudding recipe which is guaranteed to make you very popular with family and friends.
• 25g butter
• 75g soft light brown sugar
• 4 ripe pears, peeled, cored and sliced lengthways
• 75g dark chocolate, cut into small chunks
• 25g cocoa powder
• 150g plain flour
• ½ tsp bicarbonate of soda
• 1tsp baking powder
• 2 medium eggs
• 125g soft light brown sugar
• 200ml buttermilk
Method
1. Place the butter and sugar in a bowl. Place on base of oven and melt on HIGH MICROWAVE for 1 minute stirring halfway. Pour into oven-proof dish and cover with the sliced pears.
2. Sprinkle the chocolate over the pear mixture.
3. Sieve the cocoa, flour, bicarb and baking powder into a bowl.
4. Mix together the eggs, sugar and buttermilk. Pour into the flour mixture and mix together quickly.
5. Pour the sponge mix over the pears. Place dish on wire shelf and cook on CONVECTION 200°C + SIMMER MICROWAVE for 15-18 mins.
Enjoy!