Panasonic launches smartest ever Compact Stereo, Home Theatre and Micro Speaker Systems
Delivering impressive sound quality, internet radio control and wireless streaming capabilities.
Compact Stereo Systems
The SC-HC57DB, SC-HC37DB and SC-HC27 combine state-of-the-art sound technology, and smart networking capabilities with a sleek, modern design. These sophisticated Compact Stereo Systems are perfect for any modern Australian home.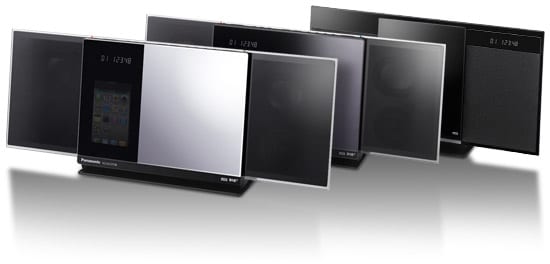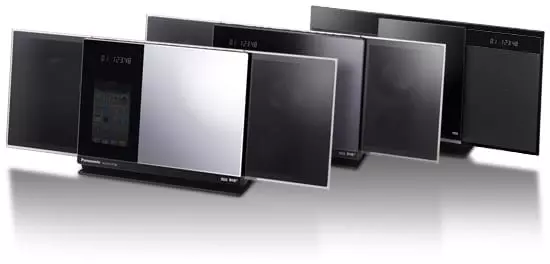 The SC-HC57DB features AirPlay® technology,[1] which allows users to wirelessly stream music from an iPad, iPhone, iPod touch or MAC/PC directly through a wireless LAN network, at the touch of a button[2]. AirPlay® provides a multi-room listening function, allowing up to six compatible units to simultaneously receive music from an iTunes library stored on a MAC/PC.

Enjoy hundreds of stations
Music lovers can enjoy the hundreds of stations offered by Internet radio using the SC-HC57DB or SC-HC37DB. By simply installing the vTuner[3] application onto their iPhone or iPod they will be able to search for stations and play music from a variety of sources including iPod/iPhone, CD-R/RW and FM radio.
iPhone or iPod touch as a remote control
An iPhone or iPod touch can also be used as a remote control for the SC-HC57DB with the Panasonic Stereo Remote Control App, available for download from the iTunes App Store now. A touch of the device screen provides one-step control of surround effect, volume and even gives users the ability to open and close the stereo system door.
The new HC Series models offer unique audio technologies such as Pure Direct Sound System, Direct-Vocal Surround and Nano-sized Bamboo Cone Speakers which allows users to enjoy a crystal clear listening experience.
With sleek, ultra slim designs, the new Compact Stereos can be set up in places where conventional stereo systems would not fit. The SC-HC57DB and SC-HC37DB can also be placed on a wall with the included wall mount bracket. All new models also feature low power consumption and are Energy Star certified.
The SC-HC57DB and SC-HC27 are both available in black and the SC-HC37DB is available in silver.

Specifications
SC-HC57DB (Available April 2012)
SC-HC27 (Available April 2012)
SC-HC37DB (Available April 2012)
Home Theatre Soundbar System
The SC-HTB550 Soundbar System features VIERA Link™ so VIERA Link compatible AV products can be operated with one remote.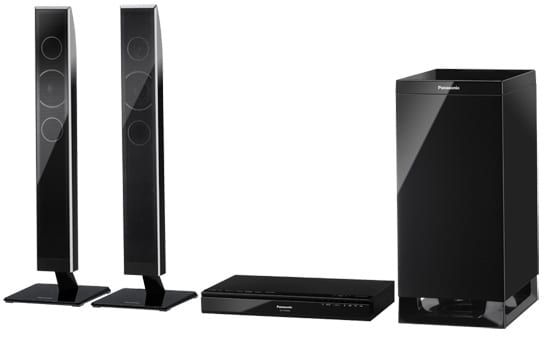 The Wireless Music Streaming with Bluetooth® function allows users to listen to their favourite music from Bluetooth-compatible devices without having to plug the device into a docking station or connect it to the sound system.[4]
The SC-HTB550 is also equipped with a wireless subwoofer so it can be freely placed anywhere in a room without clutter.

Anti-Jitter Digital Amplifier
The SC-HTB550 has high-quality sound thanks to an Anti-Jitter Digital Amplifier, which works by eliminating distortion, and clearly directs sound to produce pure, brilliant audio. With Clear-mode Dialogue, this Home Theatre System delivers audio that is crisp and clear, with precise linking of picture and sound from your TV screen. Auto Gain Control provides a smooth, automatic adjustment of volume between a movie or television show and commercials, reducing sudden volume changes.
Specifications
SC-HTB550 (Available April 2012)
Micro Systems
Complementing the expanded HC Series are two new Micro Systems, the SC-AP01 and the SC-PMX5DB model which offers excellent sound quality in its class as well as DAB+ (Digital Radio).

The SC-AP01 is dedicated to wireless audio with AirPlay® – allowing users to stream music from an iPad, iPhone/iPod touch or PC/MAC from anywhere in the home via a wireless LAN network, resulting in lossless transmission for high-quality audio playback.  A user's iPhone, iPad or iPod touch also works as the SC-AP01's remote control, for seamless music change from across the room[5]. In addition, the system includes a USB port to give Apple devices a quick charge.
The SC-AP01 is a wireless metal bar system crafted with high-quality metal net that offers clear and dynamic sound in a slim and stylish design. Featuring Nano-sized bamboo cone speakers to create audio with clearer vocals and crisper dialogue, the SC-AP01 also utilises Aero Stream Port to create rich and robust bass by controlling distortion and Direct-Vocal Surround to expand sound throughout a listening environment to mimic a concert hall.

High-quality sound
The SC-PMX5DB features a host of enhanced audio technologies including Full Digital Amp System, Anti-Distortion Structure Speaker Cones and an Anti-Jitter Digital Amplifier for high-quality, rich sound with minimal distortion on playback. It is equipped with a wireless subwoofer which means it can be neatly positioned anywhere in the home.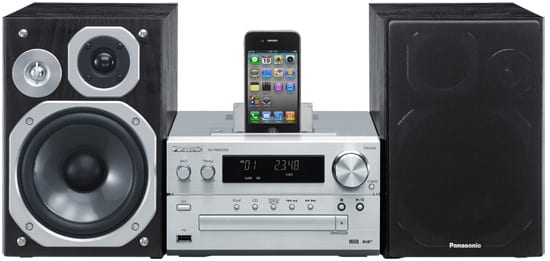 Integrated universal dock for iPod/iPhone
The SC-PMX5DB also has an integrated universal dock for iPod/iPhone plus an integrated USB connection for greater playback choice in the home. The Digital Music connection feature for iPod/iPhone means less data is lost through device conversion and transmission, resulting in higher quality sound.
Specifications
SC-PMX5 (Available April 2012)
---
[1] Wi-Fi connection required [2] AirPlay, the AirPlay logo, iPad, iPhone, iPod, iPod classic, iPod nano, and iPod touch are trademarks of Apple Inc., registered in the U.S. and other countries.  Made for iPod" and "Made for iPhone" mean that an electronic accessory has been designed to connect specifically to iPod, or iPhone, respectively, and has been certified by the developer to meet Apple performance standards. Apple is not responsible for the operation of this device or its compliance with safety and regulatory standards. Please note that the use of this accessory with iPod, or iPhone may affect wireless performance. [3] vTuner for Panasonic app must be purchased from iTunes. [4] The Bluetooth® word mark and logos are owned by the Bluetooth SIG, Inc. and any use of such marks by Panasonic Corporation is under license. Other trademarks and trade names are those of their respective owners. [5] Users must download the free Remote Control App from Apple iTunes store.