In response to the rising demand for 4K video content, we've just released a highly agile, handheld 4K camcorder that is perfect for shooting documentaries, sports and events. The Panasonic HC-X1 is a miracle of compact perfection, boasting a newly designed LEICA 24mm wide-angle lens with 20x optical zoom, a 1-inch sensor and a host of professional video functions – all packed into a body weighing just 2kg.
The new HC-X1 4K professional camcorder will be in stores from December 2016.
WATCH Panasonic 4K Professional Camcorder HC-X1
High-image-quality, high-sensitivity 1-inch 4K sensor
The 1-inch MOS sensor of the HC-X1 provides an excellent balance between image quality and functionality. The multitalented HC-X1 can record 4K video in Cinema 4K resolution (4096 x 2160 17:9) at 24p or 4K resolution (3840 x 2160) at 50p/60p, and Full HD (1920 x 1080) video at 50p/60p. Globe-trotting professional videographers will appreciate the flexible system frequency selection from 50Hz, 60Hz and 24Hz. Videos can be recorded in the versatile and easy-to-use MOV, MP4 and AVCHD file formats. With this variety of recording modes with selectable image quality, frame rate and bit rate settings, the HC-X1 camcorder easily lends itself to a wide range of applications from cinema production to online distribution.
New LEICA DICOMAR lens offering 24mm wide-angle and optical 20x zoom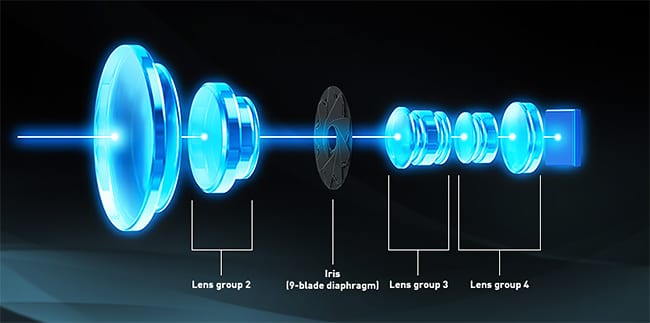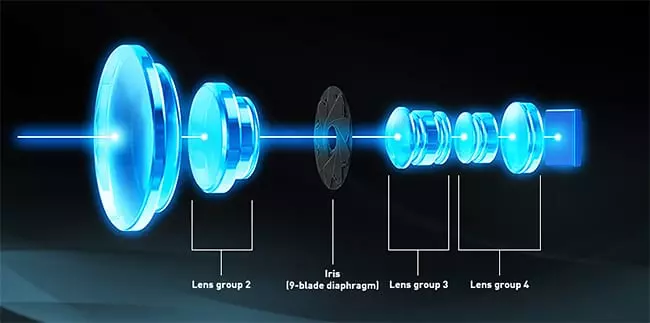 The newly developed lens system of the HC-X1 boasts an incredibly wide angle of 24mm (35mm equiv.). It allows low-distortion, wide-angle shooting without the use of a wide conversion lens, thus retaining image quality and sharpness. Combined with the 1-inch sensor, the HC-X1 lens system is able to provide 20x optical zoom in a compact and lightweight body. The 4-Drive Lens System individually drives each of the four lens groups to minimize the drive range for quick zooming between wide and telephoto.
Superb functions & design to support professional camera work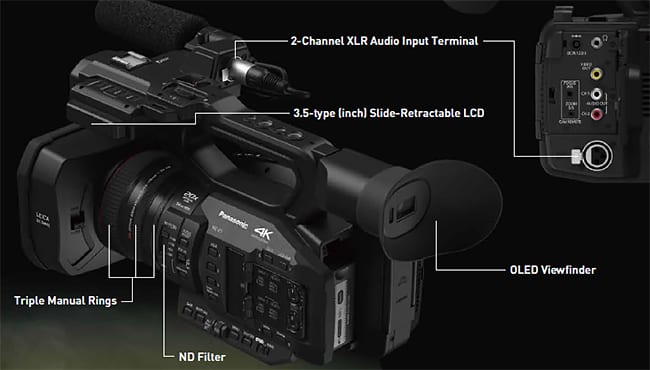 This tiny handheld camcorder packs a lot of punch, with a wealth of broadcast-style features designed and engineered to meet the needs of video professionals. The lens barrel features Triple Manual Rings for zoom, focus and iris operations. The camcorder also features 13 'shortcut' buttons (nine on the body and four on the LCD touch screen) that can be assigned to the user's choice of functions. The HC-X1's 3.5-inch LCD touchscreen monitor is built into the handle section and can be pulled out and turned 270 degrees vertically for high-angle and low-angle shooting. The EVF is a high-resolution (approx. 1,769,000 dots) color OLED display with superb color reproduction. For shooting video outdoors or in bright light, there is a built-in variable ND filter with 1/4, 1/16 or 1/64 settings. For professionals who need more control, Gain and White Balance settings can be changed in camera and the HC-X1 is also equipped with a wealth of focus assist functions to support quick and accurate manual focusing, such as MF Assist, One-Push AF, Expand/Peak, Focus Transition and Focus Area selection.
Professional interfaces for high quality production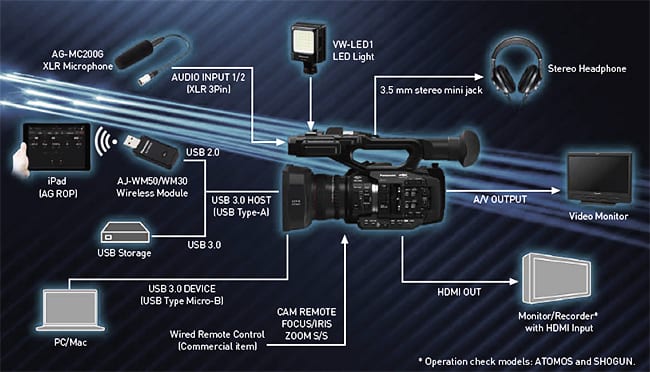 The HC-X1 is equipped with two XLR audio input channels with +48V phantom power and manual volume controls so users can connect professional microphones to record videos with high-quality sound. When mounted with the optional AJ-WM30* wireless module, the HC-X1 can be remotely controlled with an iPad and the AG-ROP app for even greater flexibility when shooting projects or working in teams.
The HC-X1 also has the capability for use in commercial video production, with features such as the wired remote terminal, OSD level meter, 1-kHz test tone output and headphone output (3.5mm stereo mini jack).
* sold separately
Dual SD Card slots to suit your workflow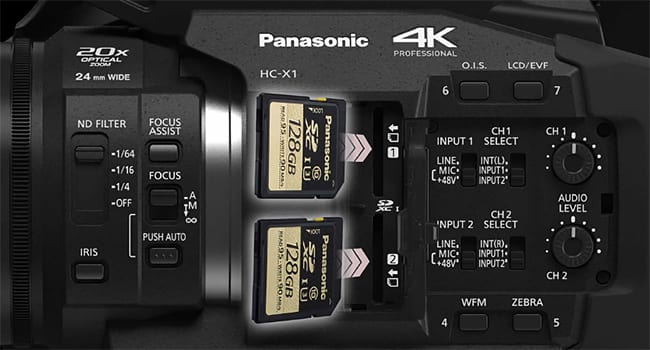 The HC-X1 comes with 2 SD Card slots to suit various recording scenarios depending on the user's workflow or project requirements.
Unlimited* Relay Recording: Video can be continuously recorded by hot swapping SD cards as they get full. When the SD card in one slot becomes full, the camera will automatically switch to the other card, allowing users to swap the full card with a new one and continue shooting.
Simultaneous Recording: This mode will record the same video data on both SD cards at the same time, providing a redundancy or a backup in case there are any problems with either of the cards.
Background Recording: The SD card in Slot 2 can be set to record continuously while the SD card in Slot 1 will only record video when the REC button is pressed.
Dual Codec Recording: Video can be recorded in different formats on to the different cards; for example, 4K video to Slot 1 and Full HD to Slot 2. This can help improve workflow for users who need to edit videos quickly or want to use the same video for different applications.
* Maximum file size that can be recorded over multiple SD cards is 96 GB. Recording will not stop even when the data size exceeds 96 GB.
LEARN MORE
– Read the press release.
– Check out the Panasonic HC-X1 product page.