What's your favourite workout song? Is it "Hung Up" by Madonna? It could be "Lose Yourself" by Eminem. Perhaps it's "Enter Sandman" by Metallica. Some might even prefer "Breakn' a Sweat" by Skrillex.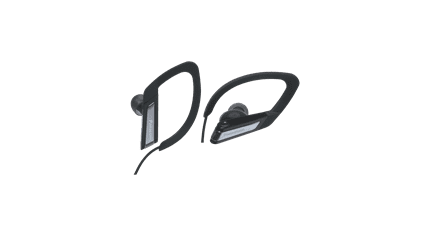 Whatever your taste, nothing inspires you to reach your personal best quite like your favourite high-paced anthem. Of course, as you're giving your body a workout, you're also giving your earphones a workout too. Is your current pair of earphones up to the task?
The RP-HSC200 Sports Canal Earphones are designed to give you ultimate comfort and sound quality under tough conditions. Sweat and water resistant, they can hold up to even the heaviest exercise while delivering all of your favourite tunes with crystal clear audio quality.
What happens when "My Heart Will Go On" by Celine Dion comes on? When you're in the zone, the last thing you want is a power ballad to break your stride. These earphones come with easy controls, so you can effortlessly switch to another track. Play, pause, skip and rewind your music with a few simple clicks.
Every exerciser knows how all that body movement plays havoc on ordinary headphones. Fortunately, the RP-HSC200 has a flexible elastomer hanger, which makes the headphones stay firmly and comfortably attached to your ear. Not only this, but the hanger works as an absorber to minimize the cord touch noise while running.
So when it comes to your next trip to the gym, it doesn't take a genius to work out that RP-HSC200 Sports Canal Earphones are the perfect choice.