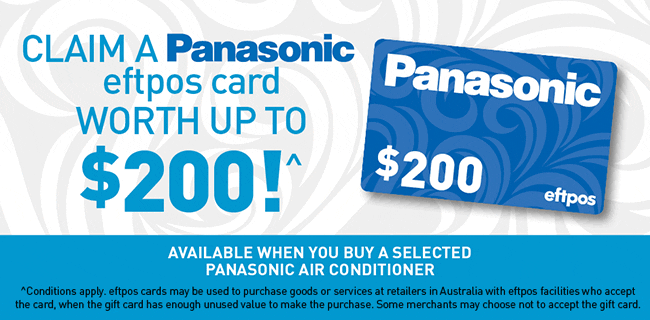 Instead of shivering and cursing the cold, you could be enjoying a long, lustrous winter in your toasty warm home with Panasonic air conditioning. Turning up the heat doesn't even have to break the budget, because our ECONAVI Reverse Cycle Inverter range uses leading technology to deliver huge energy savings.
What's more, if you buy now, you also get a Panasonic eftpos card worth up to $200* to use towards some great Panasonic products! You have until 31 July.
*Available when you buy a selected Panasonic Air Conditioner. Offer ends 31 July. Visit website for full terms and conditions.
A stylish, energy-saving solution for the winter ahead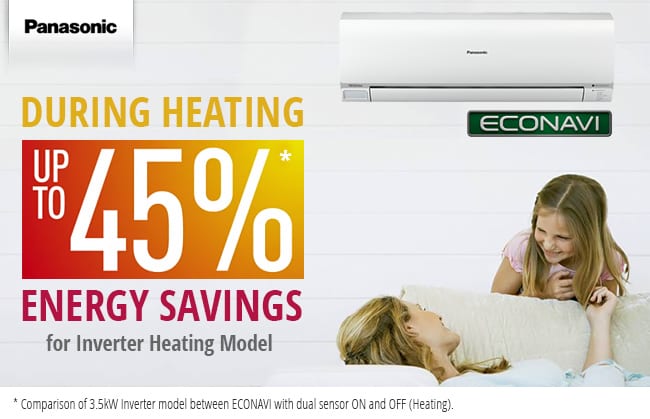 As the season changes and the temperature begins to drop, it's time to start preparing for the winter ahead with a stylish and practical new addition to your home. Our ECONAVI Reverse Cycle air conditioning range feature a sophisticated, slimline design, enhanced technology and intelligent features that will take you through winter feeling warm and comfortable.
ECONAVI sensors offer premium energy efficiency
Our consumers tell us they want to make energy savings in the home, so the entire range of Panasonic Air-Conditioners with ECONAVI technology are designed to help them do this. This smart technology senses when there are people in the room, how much activity is taking place and even the ambient conditions, and then automatically adjusts the temperature accordingly so less energy is used. Energy saving is as simple as the push of a button!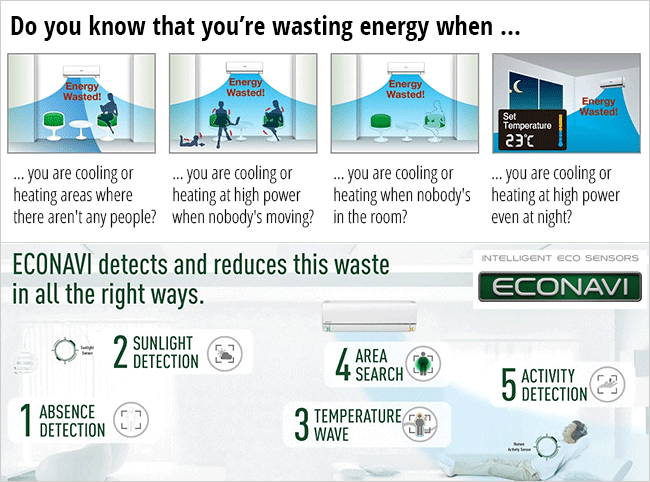 Read more about intelligent ECONAVI sensors.
Watch the video "Panasonic Air Conditioning | ECONAVI Intelligent Sensor Technology".
nanoe-G purifies down to the tiniest detail
Consumers also love the advantage of having an air conditioner and air purifier in one unit. Our nanoe-G feature is an active air purifying system that not only deactivates unwanted airborne particles, but now also surface based particles. nanoe-G air purifying removes 99% of airborne bacteria, viruses and mould as well as deactivating 99% of viruses and 99% of bacteria on surfaces for a cleaner, healthier home – it even works when the air con is off.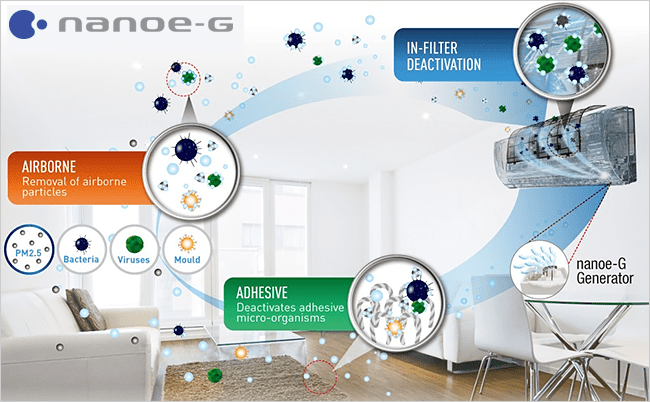 Read more about nanoe-G air purifying.
Watch the video "Panasonic Air Conditioning | nanoe-G Air Purifying System".
Put simply, Panasonic air conditioners are designed for maximum comfort and minimum energy use. No wonder consumers consistently rate our brand as Australia's favourite air conditioner.
Watch videos
 Related links
Check out our innovative and energy-saving air con range.
Read more about intelligent ECONAVI sensors.
Read more about nanoe-G air purifying.