Promotion now extended to 31st January 2010 see website for details.
Panasonic is offering consumers a fantastic Cordless Phone Christmas Bonus – just in time for summer.
With any purchase of selected Panasonic Cordless Phones, consumers can receive a bonus Shock & Splash-resistant handset, valued at $99.95rrp via redemption.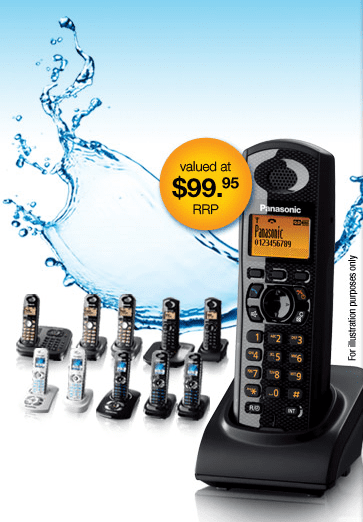 Consumers looking for the latest digital cordless phones to stay in touch with family and friends these summer holidays will find Panasonic's popular DECT cordless phone range has the right model to suit their family's needs.
From 1 November until 31 December 2009, simply purchase one of the selected models from Panasonic's stylish DECT range – including KX-TG8322ALB, KX-TG8322ALW, KX-TG8323ALB, KX-TG8323ALW, KX-TG7341ALT, KX-TG7343ALT or KX-TG6482ALT – from a participating retailer to receive the bonus Shock & Splash handset (KX-TG648ALT).
Valued at $99.95rrp, the new digital shock-, splash- and dust-resistant cordless phone handset is ideal for active Australian families and perfect for connecting with friends over the holiday season.
Thanks to its tough design, the Shock & Splash can go anywhere in your home, including the garage, kitchen, garden or even around the pool – so it's ideal for the busy, outdoor lifestyle.
This exciting promotion is perfect for the Australian market. Summer is a great time to catch up with family and friends, and enjoy the outdoors – so Panasonic's Shock & Splash cordless phone will make this easy!
Lisa Funnell, Product Manager of Home Communications at Panasonic Australia
For more information or to claim your bonus handset visit the website.