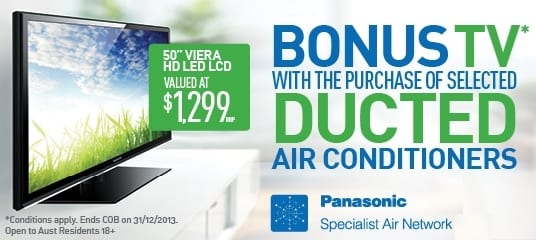 Purchase a selected Panasonic ducted air conditioning system* before 31 December 2013, and we will throw in an extra treat to make your home even more comfortable. For this limited time we are giving our customers a superb 50" VIERA Full-HD TV with every new ducted installation.
Free TVs aside, why should you install a Panasonic ducted air conditioning system? We went straight to the source and asked Shane Quinn, Product Marketing Manager – Air Conditioning, Panasonic Australia, what makes a Panasonic system superior.
Save on your power bill
"The latest generation of Panasonic ducted systems are the most efficient range we have ever released. Panasonic Inverter technology allows the unit to get your home to a comfortable temperature, and then only requires a very small amount of power to maintain this temperature," Shane said.
"What's more, Panasonic ducted systems can be zoned by your installer to target only the areas of your home that you are using to be cooled, eliminating any wastage of power and netting you great savings on your electricity bill."
Read more: Panasonic Ranked 4th in Best Global Green Brands 2013
Add value to your home
"What many people don't realise is that a Panasonic ducted system will add significant value to your home come sale time, as ducted air conditioning is one of the most sought after features by home buyers. Whilst the initial outlay for installing ducted may be considered high, the reality is that this purchase adds to the value of your home and will be recovered when it comes time to sell," Shane said.
Work with your climate
"When it comes to temperature range Australia is a pretty extreme country and not all air con systems are up to that challenge, but our systems boast an outstanding operating range. Cooling operation is possible even when it is a scorching 46C outside, which is perfect for Australia's hot summer days and the heating operation is designed to operate even when it's a freezing -20C outside, so even the coldest parts of Australia are covered," Shane said.
"Our latest range of ducted systems even feature a unique technology that reduces the unwanted 'cold drafts' that you might have experienced from other ducted systems when used for heating during winter."
The promotion: Bonus TV with the purchase of selected ducted air conditioners.