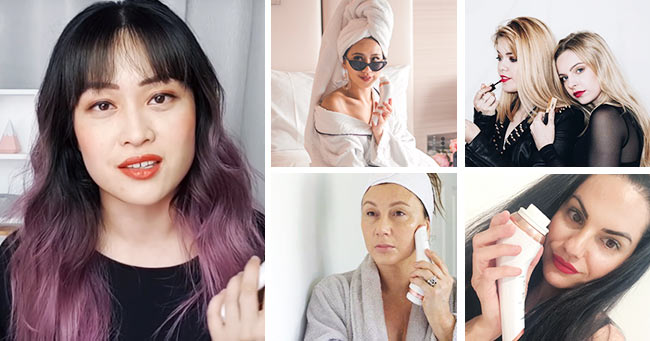 Science meets beauty with Panasonic's luxurious EH-SC65 Micro-Foam Facial Cleanser and EH-ST63 Ionic Facial Cleanser & Toner. Inspired by the daily, highly-precise skincare rituals of Japanese women who are renowned for the smoothness and quality of their skin, these salon-style tools provide the ultimate therapeutic experience by using advanced technology while tapping into your existing skincare regime to work in harmony with your favourite products. These facial cleansers are perfect for putting a high-tech twist on the nightly multi-step skincare regimen beloved by beauty bloggers across the globe for a more efficient and enhanced result.
READ MORE
Micro-foam & Ionic Multi-step Skincare Routine
Our dream beauty machines certainly set tongues wagging when we launched the range by collaborating with five influential beauty gurus around Australia. These social media queens (with over 110k followers combined) tested and reviewed both our products on their Instagrams, blogs and vlogs, giving nothing but glowing feedback! Take a look at some of the highlights here, then search the #PanasonicBeauty #SkincareBoosters hashtags to find even more gorgeousness.
Ion Boosted Skincare? Panasonic Skincare Tools
By Lab Muffin


I've been really curious about all the microcurrent devices for skincare that have been popping up on the market recently. So when Panasonic approached me to try theirs out and make a video on the science behind it, of course I jumped at the opportunity… I talk about two different Panasonic devices in this video, and show you how I incorporate them into my existing routine.
READ MORE
Lab Muffin Beauty Science
Home Facial with these Panasonic Skin Care Booster Heroes
By Fashionista in Suburbia


Sunday is time to spend an hour or so dedicated to ME-TIME. I do my nails, hide in a bedroom with a mag or a book, play with some make up and look after my skin. I was sent two Panasonic Facial Cleansing Devices and I incorporated the Panasonic Micro-Foam Facial Cleanser and the Panasonic Nourishing Ionic Facial Cleanser and Toner into my weekly facial routine.
READ MORE
Fashionista in Suburbia
At Home Facials with Panasonic
By Sydney Sisters


It's coming up to holiday time and if you're anything like us, you'll probably be looking forward to days at home where you can put on a facemask, turn on Netflix and pamper yourself. We have recently trialled Panasonic's new additions to their beauty range, and here's what we thought!
READ MORE
Sydney Sisters