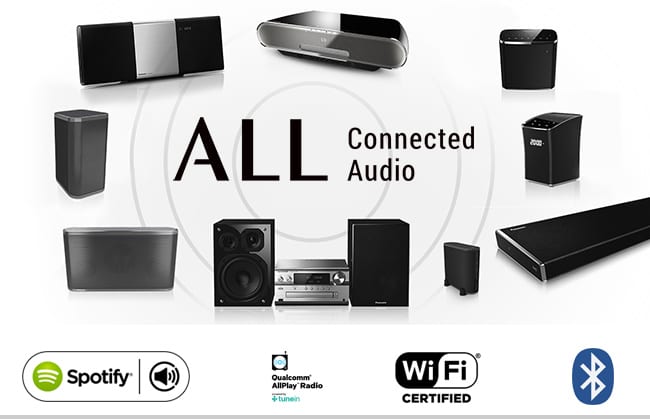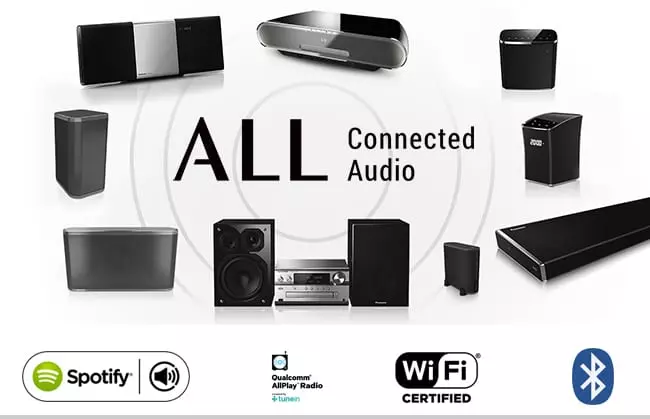 Imagine what it would be like to have your favorite tunes follow you from room to room, or for two people to enjoy their own music in separate rooms from the same networked system? This can be your reality with Panasonic's range of All Connected Audio hi fi systems, portable speakers, CD players and even sound bars, all controlled by The Panasonic Music Streaming App. This simple, intuitive App allows you to control each speaker from your phone or tablet. Set up is intuitive, customisable and it's easy to use. Simply choose your music source then send it to your speaker of choice. Grouping or pairing speakers is easy, just drag and drop, you can set different volume levels and multiple people can access the App at the same time. Controlling your music around the home has never been so simple.
No matter what speaker (or combination) you choose, you'll love being able to stream or re-stream to connected speakers from a range of audio sources including your smartphone, online music services like Spotify, ALLPlay Radio powered by TuneIn, DAB+ radio, Bluetooth, TV broadcast and even your CD collection.
Two new additions to our ALL Connected Audio range of networked speakers
We're excited to unveil the SC-ALL05 and the SC-ALL7CD; two new additions to our ALL Connected Audio range of networked speakers that make it easy to stream your music to multiple rooms from an array of different sources. The new SC-ALL05 has a waterproof design (IPX7/IPX5) and an 8.5hr built-in battery, so you can enjoy amazing quality connected audio in the bathroom or kitchen without worrying about splash damage. The SC-ALL7CD gives your network of ALL Connected Audio speakers access to a wide range of audio sources. In addition to re-streaming via the Panasonic Music Streaming app, you can also playback via CD, USB, radio or use the SC-ALL7CD's 4GB internal memory to record and play tracks from up to 25 of your favourite albums.
Go Hollywood with cinema-style sound
When you're looking to add some extra 'oomph' to your TV speakers, ALL Connected Audio offers great options for you to bring cinema-style sound into your living room. Let's start with theALL70T. This beautifully designed slim-line soundbar incorporates three integrated speaker drivers and a separate wireless subwoofer to play films and music with incredible power and clarity. What's more, because it's an ALL series speaker it can share music or the audio from your TV with other ALL Connected speakers all around your home, and it can become a full 5.1ch surround sound system by adding two wireless ALL2 speakers for rear channel duties.
Give your CD collection the star treatment
In addition to an extensive digital library, most of us still have beloved CD collections built and carefully curated over many years. That's where our CD-focused ALL Connected Audio products come into their own. Take the ALL5CD; this cutting-edge new product lets you stream your CDs to other ALL Connected speakers anywhere in your home, so there's no longer any need to copy them to a PC or network hard drive first. As an ALL series device, it can also play music from a variety of digital sources. Plus, the remarkably slim upright design of this model means you can place it in an attractive position on a shelf or hang it on a wall. In the same CD-capable category is the PMX100 – a product that truly unlocks the full potential of high-resolution audio playback. It corrects jitter and removes distortion to preserve a natural sound, so your music always feels nuanced with subtle depth and space.
Home configuration options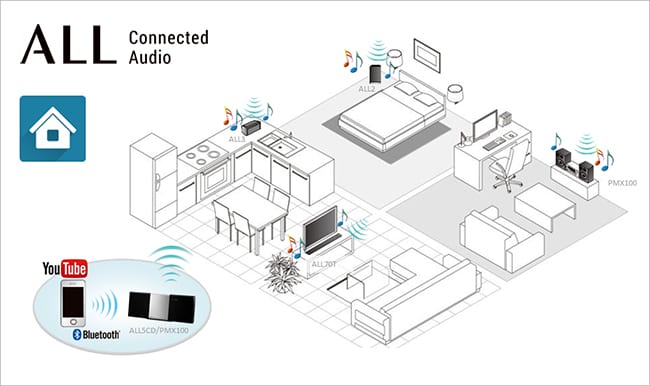 Each ALL Connected Audio model can stand alone as a sensational audio unit, or connect with other products in the lineup to create a dynamic sound system.Take a look at just some of the possible configurations you can enjoy at home with Panasonic ALL Connected Audio wireless speakers: http://bit.ly/ALL-Connected-speakers-home-configurations.
Smart multi-room streaming at your fingertips
Using an existing Wi-Fi network, you can quickly and easily set up a series of networked ALL Connected Audio speakers throughout your home and control them with our intuitive mobile app. The Panasonic Music Streaming App lets you stream music from a wide range of music platforms, including the likes of Spotify and Qualcomm ALL Connected Audio Radio powered by TuneIn. You can stream via Wi-Fi to any ALL Connected Audio device, and then with Panasonic's innovative Bluetooth Re-streaming feature you can share this music to other compatible speakers around the home.
Download the Panasonic Music Streaming App: