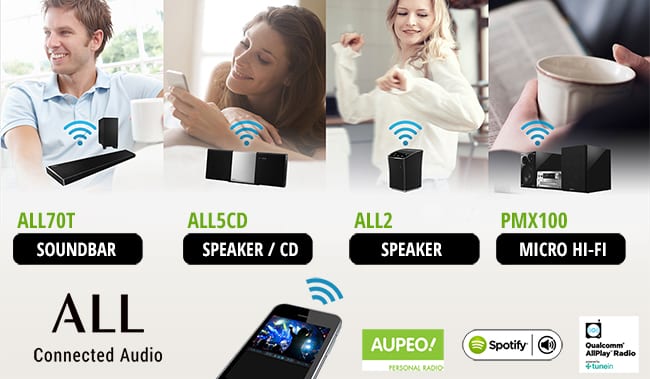 Last year we debuted a very well received series of networked speakers that made it easy to stream your music to multiple rooms from an array of different sources. This year, we've made some really exciting additions to the ALL Connected Audio range. So not only will you be able to stream music from room-to-room, we can now offer you a series of products that add something new and exciting to the story.
Our 2015 range is really an audio family in the most connected sense, comprised of the ALL70T home cinema soundbar, ALL2 speaker, ALL5CD all-in-one Hi-Fi and PMX100 high-resolution Hi-Fi. Each model can stand alone as a sensational audio unit, or connect with other products in the lineup to create a dynamic sound system.
You'll love being able to stream or even re-stream to connected speakers from a range of audio sources including your smartphone, online music services like, Spotify, AUPEO!, ALLPlay Radio powered by TuneIn, DAB+ radio, Bluetooth, TV broadcast and even your CD collection.
Go Hollywood with cinema-style sound

When you're looking to add some extra 'oomph' to your TV speakers, ALL Connected Audio offers great options for you to bring cinema-style sound into your living room. Let's start with the ALL70T. This beautifully designed slim-line soundbar incorporates three integrated speaker drivers and a separate wireless subwoofer to play films and music with incredible power and clarity.
What's more, because it's an ALL series speaker it can share music or the audio from your TV with other ALL Connected speakers all around your home, and it can become a full 5.1ch surround sound system by adding two wireless ALL2 speakers for rear channel duties. Speaking of ALL2, these speakers are more than just a surround sound add-on. This stylish and sophisticated model speaker functions as a powerful speaker, whether on its own or networking. It also sports both a clock and a music alarm, making it a perfect practical addition to any bedside table or kitchen counter.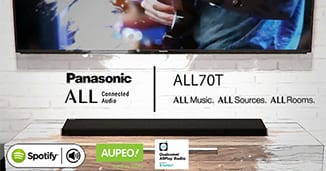 ALL70T Soundbar and Subwoofer
Incredible TV playback
Versatile music hub
Shelf and wall-mountable
ALL70T Soundbar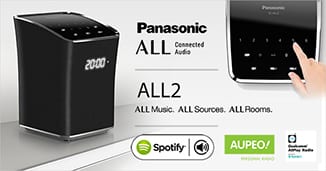 ALL2 Wireless Speaker
Standalone/networked speaker
Clock radio, 6 customisable music buttons
TV surround sound pairing
ALL2 Speakers
Give your CD collection the star treatment
In addition to an extensive digital library, most of us still have beloved CD collections built and carefully curated over many years. That's where our CD-focused ALL Connected Audio products come into their own. Take the ALL5CD; this cutting-edge new product lets you stream your CDs to other ALL Connected speakers anywhere in your home, so there's no longer any need to copy them to a PC or network hard drive first. As an ALL series device, it can also play music from a variety of digital sources. Plus, the remarkably slim upright design of this model means you can place it in an attractive position on a shelf or hang it on a wall.
In the same CD-capable category is the PMX100 – a product that truly unlocks the full potential of high-resolution audio playback. It corrects jitter and removes distortion to preserve a natural sound, so your music always feels nuanced with subtle depth and space. Naturally it also seamlessly supports multi-room playback, allowing you to steam and even re-stream music from yours smartphone, online music services like Spotify, AUPEO!, ALLPlay Radio powered by TuneIn, DAB+ radio, Bluetooth, USB and even your CD collection to other networked speakers.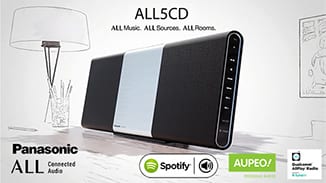 ALL5CD Stereo Speaker System
All-in-one CD hi-fi
Digital music streaming
Clear and dynamic sound
ALL5CD Speaker / CD Player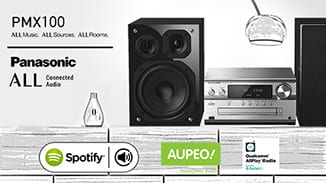 PMX100 SC Micro System
High resolution CD hi-fi
Super Sonic Tweeter
Easy multi-room streaming
PMX100 Micro System
Setting up the ALL system is ever so simple
All you need to set-up an ALL Connected Audio system is a Wi-Fi router and the Panasonic Music Streaming App, available on both iOS and Android. When you turn on a new ALL Connected speaker it will appear on Wi-Fi lists, you then give it a name (such as Kitchen or Bedroom), connect it to your Wi-Fi and that's it! You're now ready to stream your music. You can also use the app to easily pair or group speakers to create the perfect sound for your home.
Download the Panasonic Music Streaming App:
Watch videos
READ MORE
Give your fave CDs and radio stations the multi-room treatment with the ALL5CD.
Meet the micro system that loves your CDs and your digital music: PMX100.
ALL70T: this first-class soundbar can also morph into a surround sound system.
Enjoy powerful audio from a compact multi-room speaker: ALL2.