Let's talk about laundry: everyone does it. Most of us hate it, but it has to be done. It is actually one of the biggest housekeeping struggles most families face – and we can prove our point.
To celebrate the launch of our new ECONAVI washing machine range, we've lifted the lid on laundry and asked consumers to open up about their more unusual habits* and some of the results may surprise you.
Aussie laundry habits highlights
A third of Australians have either reworn their underwear for a second or third day, worn swimmers or 'gone commando' because they couldn't find clean alternatives
One in six Australians have used dishwashing detergent, shower gel or shampoo to wash clothes when detergent ran out
53% of Aussies do the 'sniff test' on clothes before re-wearing
1/4 confessed to using deodorant or refresher sprays on clothes to avoid washing them
24% wore wet clothes because they didn't have time to dry them
Check out our infographic for more interesting Australian laundry habits
Click on image to enlarge or click here for a PDF version (346KB).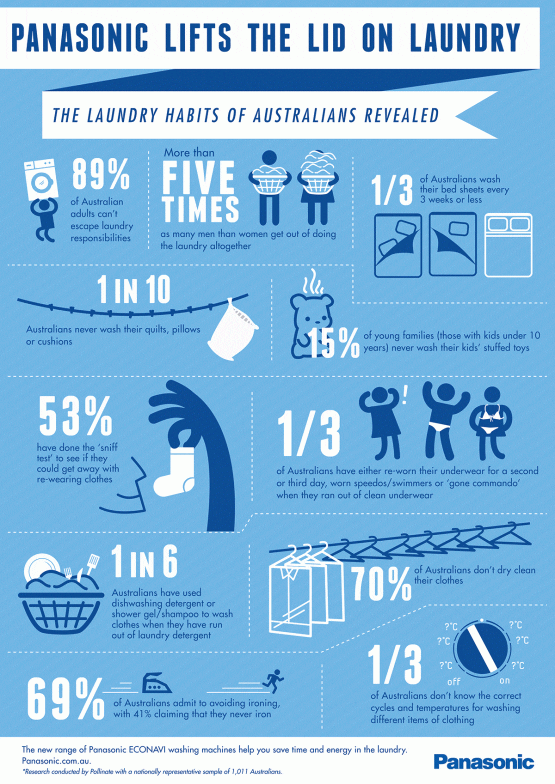 READ MORE
Full press release about Panasonic washing habits survey.
Save time and energy in the laundry with our new ECONAVI washing machine range.
*Research conducted by Pollinate with a nationally representative sample of 1,011 Australians.