The NN-DS592B provides the ultimate combination – an Inverter microwave plus steam and double grill cooking – all in one compact design. This 27L model even offers a Steam Cooking functionality; which maintains flavour, moisture, texture and nutrients to ensure meals are healthy and cooked perfectly each time.
When Hip Little One put the NN-DS592B through every one of its paces, our clever little appliance proved itself as an all-round kitchen essential.
Hip Little One Highlights
Microwave Capacity
"From the outside the glossy black unit looks modern, sleek and compact, a world of difference from my bulky old white microwave oven. But don't be fooled by its size, the Panasonic NN-DS592B actually offers a generous 27 litre capacity. Thanks to the flatbed design you can use rectangular trays and capitalise the entire space, in fact the cooking area is equivalent to a 44 litre traditional microwave with a round turn table!" – Hip Little One.
Ease Of Use
"Call it lazy but I usually leave instruction manuals to my husband, he (surprisingly) enjoys the read and gives me a quick demo afterwards which works well for both of us. Luckily for me the Panasonic Microwave Oven is designed to be quick and easy, it comes with 22 auto menus for all your family favourites like roast chicken, jacket potato, fresh pizza, steamed fish and more." – Hip Little One.

Auto Cooking Features
"Using the auto menu for roast beef a 1kg roast takes around 35 minutes, it's only a short wait and if you like your meat a little rarer you can be done even quicker. If you have hungry kids to feed the auto menu jacket potatoes are a guaranteed hit, so easy to make and they are delicious! This week I decided to make a batch of cinnamon rolls to test the super handy fermenting setting to help the dough rise (a life saver if you have no warm spots or sunny window sills) and it worked brilliantly, the end result was just scrumptious and the kids gave it the thumbs up too." – Hip Little One.
Ease Of Care
"One of the biggest plusses of the Panasonic NN-DS592B is how easy it is to clean. The interior of the microwave features a convenient wipe-clean, non-stick lining all around the sides and bottom, just grab a damp cloth and wipe it out."- Hip Little One.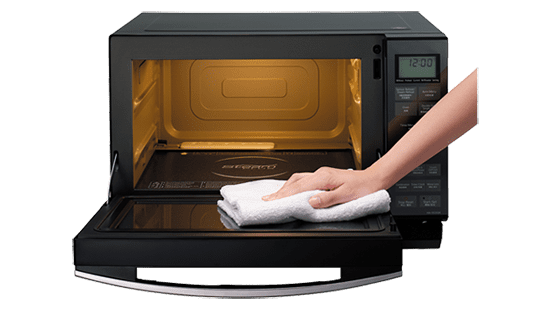 It's clear that the NN-DS592B Steam Combi Microwave Oven was a winner in the Hip Little One kitchen. Read the full review and find out how you could win a one of these multifunctional wonders.