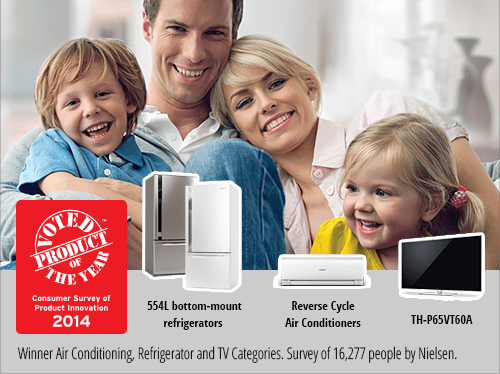 Panasonic cleaned up in three categories at the Product of the Year Awards 2014, taking out the top spots for Air Conditioning Product of the Year 2014, Refrigerator Product of the Year 2014 and TV Product of the Year 2014. Winners of the 2014 Product of the Year Awards were announced at a ceremony held last week Quay Restaurant at an event hosted by Channel Nine's TODAY Show co-presenter and regular jury panel member Lisa Wilkinson.
Winning in such important categories is a huge coup for Panasonic as Product of the Year is the world's largest consumer-voted award for product innovation; guiding consumers to the best products in their market and rewarding manufacturers for quality and innovation.
Richard Tassone, Director, Panasonic Consumer Electronics Group, said: "We're very proud to receive this recognition in key categories. Panasonic has a growing Whitegoods lineup, with our Air Conditioners and Refrigerators both featuring the company's unique ECONAVI technology, which matches the consumer's lifestyle patterns to save energy and provide efficient performance.
"Our award-winning 65-inch Plasma TV incorporates our innovative top-of-the-line Smart TV functionality, which offers a personalised experience in the home, allowing viewers to choose how they create, enjoy and share content. Consumers can also now enjoy this same experience in 4K – with the introduction of our VIERA 4K Ultra HD TV, the TH-L65WT600A, which delivers four times the resolution of current Full HD TVs."
2014 WINNERS AS VOTED BY AUSTRALIAN CONSUMERS
Panasonic Reverse Cycle Air Conditioner.
Panasonic 554L Stainless Colour Bottom Mount Refrigerator.
Panasonic 554L White Colour Bottom Mount Refrigerator.
TH-P65VT60A FHD 3D Neo Plasma TV.