Christmas movies are such a dependable pleasure with their comforting message that love and hope will always triumph over hatred and greed. Some show us the real meaning of Christmas, some show us how to tap back into our childhoods, and some simply show us that it's never too late to be a better person. Who could argue with such altruistic motivation?
Netflix have been a bit light on festive flicks for Australian audiences but all is forgiven because this year they're rolling out so many all-time classics we decided to curate a listicle showing 11 of the best. They're ranked in the order you should watch them to really build up to a crescendo of Christmas cheer!
#1 Elf
2003 │ Comedy, Family, Fantasy │ Starring Will Ferrell, James Caan & Zooey Deschanel
It's a scientifically proven fact that this joyful Yuletide comedy is impossible to hate and anyone who tries to claim otherwise is sitting on a throne of lies. Will Ferrell plays Santa's not-so-little helper with such glorious good cheer even the most hardened of hum-buggers would find hard to resist. Of course, the star-studded cast all turn in superb performances of their own, particularly Zooey Deschanel's incredible Christmas carol renditions. Make it a family tradition to play Elf when you put up your holiday decorations to really get a good dose of the festive spirit!
Rated PG, streaming on Netflix now.
#2 Mickey's Once Upon a Christmas
1999 │ Animation, Comedy, Family │ Narrated by Kelsey Grammer
A wholesome slice of cuteness for the little ones featuring Disney's biggest animated stars. Mickey, Minnie, and their famous friends Goofy, Donald, Daisy, and Pluto gather to reminisce about love, magic, and surprises in three wonder-filled stories of Christmas past. Six-time Emmy Award winning actor, Kelsey Grammer lends his smooth vocals to the narration of this charming holiday classic.
Not rated, streaming on Netflix now.
#3 Jingle All the Way
1996 │ Comedy, Family │ Starring Arnold Schwarzenegger, Rita Wilson & Phil Hartman
A hugely underrated 'Christmas commercialism' morality tale from Arnold Schwarzenegger's 90s comedy catalogue, Jingle All The Way is packed with the kind of slapstick comedy that reduces kids to helpless laughter. Schwarzenegger plays a workaholic father racing against the Christmas clock to win his son's love by procuring the hottest toy of the season. With the toy almost sold out and competition for the remaining items fierce, insanely escalating chaos ensues. It's a rare kid who won't cackle wildly throughout, and there's a lot to love here for adults who are fans of the 'so bad it's good' blockbuster oeuvre.
Rated PG, streaming on Netflix now.
#4 Bad Santa
2003 │ Comedy, Crime, Drama │ Starring Billy Bob Thornton & Tony Cox
This very dark comedy is low on schmaltz and fueled instead by cheap whiskey, greed and hatred. When the heroes are two deplorable conmen posing as Santa and his helper just to rob department stores on Christmas eve, you know this isn't going to be a misty-eyed holiday tale. But when a troubled kid comes into the picture, a kind of anti-redemption lifts this film into something vaguely resembling the Christmas spirit. Bad Santa isn't short on star power either, thanks to brilliance of supporting cast members like Lauren Graham, Bernie Mac and John Ritter. Obviously the terrible language and offensive behavior mean you shouldn't hit play if you have small kids around cramping your style.
Rated MA, streaming on Netflix now.
#5 BoJack Horseman Christmas Special
2014 │ Animation, Comedy, Drama │ Starring Will Arnett, Amy Sedaris & Alison Brie
If you aren't already on the BoJack-train, you really need to question your life choices. Stop reading this immediately and go get acquainted with the miserable, washed-up, horse-man-hybrid star of 90s TV show Horsin' Around. Then you'll be ready for this fantastic satirical take-down of network TV Christmas specials where BoJack's roomie Todd forces him to watch a Christmas episode of Horsin' Around to celebrate the holidays. Yeah, it's a Christmas special hating on Christmas specials via the main characters watching a Christmas special. Meta in every way.
Rated MA, streaming on Netflix now.
#6 Mariah Carey's Merriest Christmas
2015 │ Music, Musical │ Starring Mariah Carey, Lacey Chabert & Kelsey Grammer
Let's get real here, you're only going to appreciate this over-the-top diva spectacular if you love Mariah Carey without question, appreciate Mariah Carey ironically, or love to hate everything she represents with her all-pervading Christmas carol global takeover. So it's kind of a niche audience but if you fit into it, boy are you in for a treat. Plus, the whole thing is pretty much a super obvious clapback at the haters who panned her woeful Rockefeller Center Christmas live performance.
Mariah stars as the Queen of Christmas in her very own variety show and it's cheesier than a family-sized block of Bega but that's what makes it so great. She sings all her favourite holiday hits, including the horribly infectious All I Want for Christmas (Is You). She deadest promises a little girl that Santa Claus is coming because she knows him personally. She continues her obsession with Lacey Chabert. She sings a duet with Babyface. Kelsey Grammer is there (because of course he is) churning out a celebrity reading of The Night Before Christmas. This is everything you never knew you wanted from Mariah Carey and she's managed to pack it all into a brief 38 minutes. We hope you have as much fun as the fake live audience who never looked anything less than demented with joy throughout.
Not rated, streaming on Netflix now.
#7 A Very Murray Christmas
2015 │ Comedy, Music, Musical │ Starring Bill Murray & 90% of Hollywood
Still in the realm of Christmas variety shows, here's one that's actually good and not just good in an ironically hilarious cringefest way. For a start, who doesn't love Bill Murray? His ability to make quirky magic out of what, by all rights, should be cornball sentimentality has carried him through a long and prosperous career. But the best thing about A Very Murray Christmas is that you get Bill Murray AND a delightful cast of A-List guests who each add something fabulous to this sweet hour of holiday entertainment. In a show with a lot of highlights, the real scene-stealer is cult comedy icon Maya Rudolph. Prepare to pick your jaw up off the floor when she belts out a heartbreaking rendition of Darlene Love's Christmas (Baby Please Come Home).
Rated MA, streaming on Netflix now.
#8 Scrooged
1988 │ Comedy, Drama, Fantasy │ Starring Bill Murray, Karen Allen & John Forsythe
Esteemed film critic Roger Ebert only awarded Scrooged one measly star when the film premiered but 29 years have passed and it remains a firm cult favourite with legions of fans. You can't move a step during the holiday season without falling over an adaptation of Charles Dickens' A Christmas Carol yet this one stands out for its modern setting and darkly comedic plotline, along with the superb performance Bill Murray puts in as the selfish, cynical TV executive haunted by three spirits bearing lessons on Christmas Eve. Sure it's a supercharged 'bah humbug' ride through the worst of humanity but it somehow manages to convince the audience that anything is possible, that it's never too late, and that you can always change tomorrow if you try. What better Christmas message could we hope for in these often troubling times?
Rated PG, streaming on Netflix from 8/12/17.
#9 White Christmas
1954 │ Comedy, Musical, Romance │ Starring Bing Crosby, Danny Kaye & Rosemary Clooney
Throw your cynicism out the window and settle in for some frappaccino-sweet, all-singing, all-dancing, vintage holiday fare. White Christmas isn't going to challenge your thinking or profoundly change your life but it will give you a warm dose of the Christmas spirit. If you care about the plot: Bing Crosby and Danny Kaye star as a song-and-dance duo who become romantically involved with a sister act played by Rosemary Clooney and Vera Ellen. They then team up to save the failing Vermont inn of their former commanding general and hijinks ensue. The plot really isn't the point though; the charming musical numbers and general sense that 'everything works out in the end' are what make White Christmas so memorable.
Not rated, streaming on Netflix from 8/12/17.
#10 Miracle on 34th Street
1947 │ Comedy, Drama, Family │ Starring Maureen O'Hara, Natalie Wood & Edmund Gwenn
1994 │ Family, Fantasy │ Starring Elizabeth Perkins, Mara Wilson & Richard Attenborough
This enduring tale of the little girl and lawyer who must prove that a man claiming to be Santa Claus is the real deal is proof that schmaltzy Christmas movies don't have to be hopelessly hokey. This year, Netflix has been kind enough to deliver both the original and the updated versions of this undisputed classic, which is a real gift because they are both genuinely marvellous.
Travel back to 1947 and you get Natalie Wood being both adorable and wise beyond her years, plus Edmund Gwenn is such treat as Santa Claus that he won an Oscar for the role, and it's hard not to love the special timelessness that comes with a beautifully made black and white film. Skip ahead 47 years to the 1994 remake and you'll be treated to Mara Wilson at her most 'child star cute', Richard Attenborough as the jolly red fat man and splendid modern production values. Both versions are guaranteed to have you believing in Christmas again!
Rated PG, streaming on Netflix now.
#11 It's a Wonderful Life
1947 │ Drama, Family, Fantasy │ Starring James Stewart, Donna Reed & Lionel Barrymore
And finally we come to It's a Wonderful Life, one of the most cherished Christmas films of all time. You could do a lot worse than to make an annual tradition of gathering the people you love together to watch this beautiful tale on Christmas Eve. For seventy years we've been immersing ourselves in the bucolic fictional town of Bedford Falls to root for George Bailey (James Stewart), the man who dreams of shaking the dust of "this crummy little town" off his feet and seeing the world. We've felt George's despair when responsibility and circumstances combine to thwart his dreams. And of course, we've rejoiced when the citizens rally to save George from ruin and show him that if love and generosity are true wealth then he is the richest man in town.
Director Frank Capra didn't make just another Christmas movie here, he also created a lasting message that life is worth living and that every person makes a difference. We lose sight of that every once in while which is probably why it's so easy to get homesick for Bedford Falls.
Rated PG, streaming on Netflix from 8/12/17.
Netflix Made Easy with Panasonic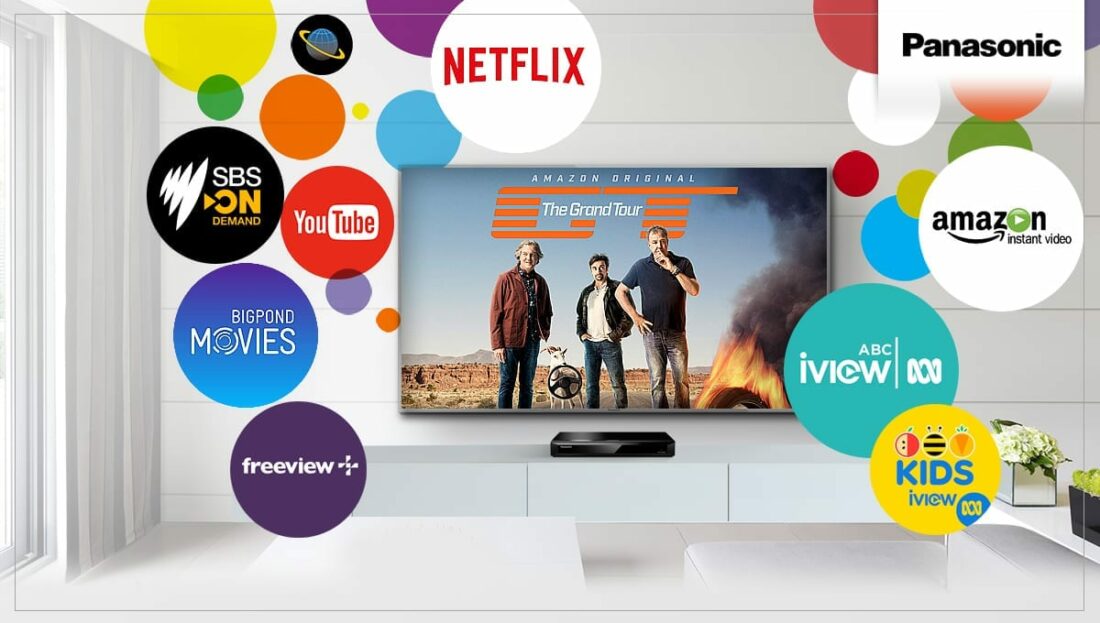 You can make your film festivals even easier with our stellar range of Netflix-ready Panasonic TVs, Blu-ray Players and Blu-ray/HDD recorders; all you have to do is sit back on the couch, press the Netflix button* on your remote and immerse yourself in a grand cinematic Hollywood experience at home.
Panasonic TVs
Panasonic Blu-ray Players
Panasonic Blu-ray/HDD Recorders
*Netflix subscription and internet connection required.