When we decided to 'lift the lid on laundry', we found out some very interesting things about the nation's laundering habits.
Many of you are wearing sniff-tested clothes right now
Our research* found that 89% of Australian adults surveyed can't escape laundry responsibilities and shoulder the task in their household. Over half (53%) of respondents even admitted to having done the 'sniff test' to see if they could get away with re-wearing dirty clothes.

There's an awful lot of wasted water and energy
The study revealed that only 7% of Australian respondents always use their washing machine at full capacity. One third of respondents said they don't know, or use, the correct cycles and temperatures to wash their clothes. With 75% washing their laundry at least once a week, this could indicate unnecessary use of water and energy.
SOME OF THE MORE 'UNUSUAL' FINDINGS

•  1/4  confessed to using deodorant or refresher sprays on clothes to avoid washing them
•  24% wore wet clothes because they didn't have time to dry them
• When respondents ran out of clean underwear,  1/3 have re-worn underwear for a second or third day, 'gone commando' or worn speedos/swimmers
•  One in six have used dishwashing detergent or shower gel/shampoo to wash clothes when they have run out of laundry detergent  (16%)
Aussies would really like to lighten their load

It seems Australians are keen to lighten the laundry load where they can, with more than five times as many men than women getting out of doing the laundry altogether. And 69% of those surveyed admit to avoiding ironing as much as possible, with 41% claiming that they never iron.
Make short work of dirty laundry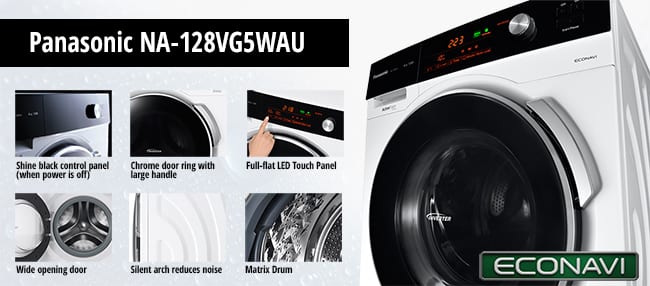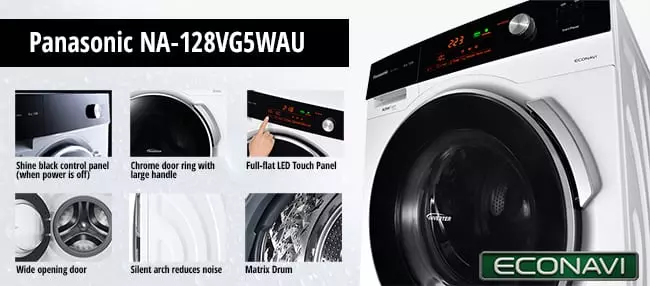 We've just released a superb 8kg ECONAVI Front Loader Washing Machine that features our powerful new ActiveFoam technology. Highly concentrated foam created in the detergent case boosts washing performance, while clever ECONAVI sensors reduce wasted water and energy by adjusting to the size and requirements of each load.
Learn more about the NA-128VG5WAU
Product webpage
Check out our infographic for more interesting Australian laundry habits
Click on image to enlarge or click here for a PDF version (346KB).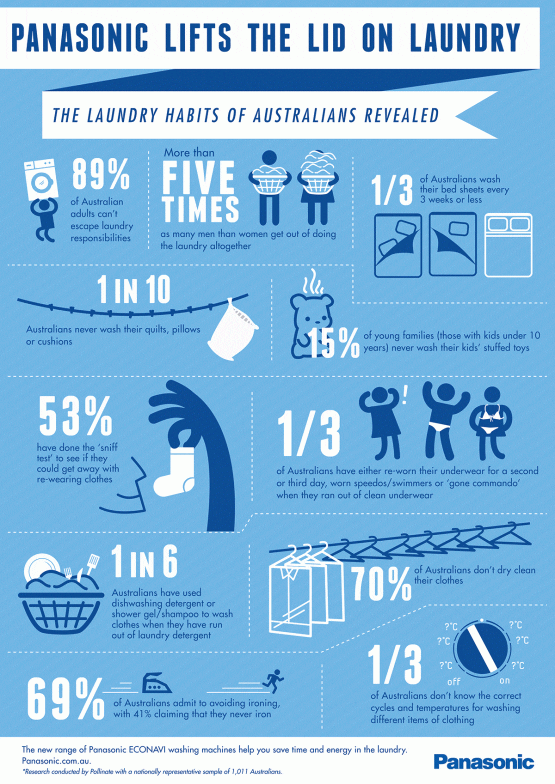 *Research conducted by Pollinate for Panasonic in September 2014, with a nationally representative sample of 1,011 Australians.