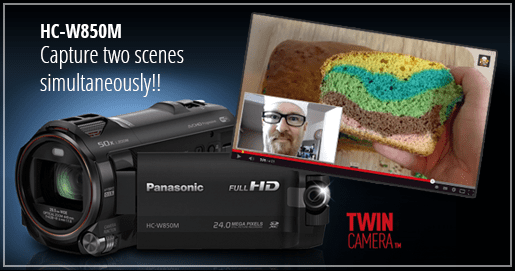 Here at Panasonic HQ, we are loving the SimpleCookingChannel's new video for Rainbow Ice Cream bread. Obviously! Because what kind of monster could hate on Rainbow Ice Cream Bread? It looks like Fairy Bread mated with a giant pillow of marshmallow and created a delicious multicoloured baby.
We're also pretty chuffed with the high praise the channel's creator gives his brand new video camera, which just happens to be the Panasonic W850 camcorder. Not only does he say it is the best camera he has ever had, he also talks about how much he loves the twin camera that lets him film his food and himself at the same time.
Thanks, SimpleCookingChannel. Maybe you could send us some of that bread…
SimpleCookingChannel's viewers were also impressed by the W850 camcorder
"Wow I love how that camera looks I'm definitely going to try that :)"
SweetNardz
"Omg thanks sooo much my friend has that camera but didn't know what it was called and I've been looking for it for ages and I found it XD"
Summer Hanley
"I knew you got a new camera before you said it! Anyways the editing, camera, recipe in this video was AWESOME!!!! :-)"
Lio Wang
"Always just always. Gotta have that picture of you enjoying stuff in your videos. Lol"
samantha zheng
"Awesome camera!! The quality is great & it can hear you much more than before!! Great work love the looks you get on your face at the ends, that's how everyone should be with food. Yummy. Thanks for the idea!!"
Eveyrwhere_IGo
Check out the HC-W850M Camcorder: http://bit.ly/HC-W850M.
Watch the video and learn how to make Rainbow Ice Cream Bread