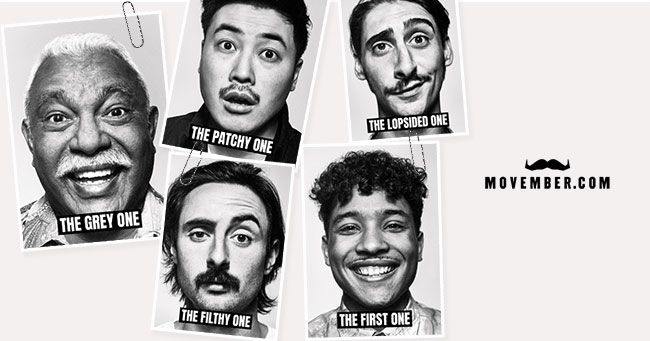 Are you all caught up with the changing face of Movember? This year's inclusive campaign encourages all men to raise awareness and funds whoever they are, and no matter the type or size of moustache they can achieve. 'Whatever You Grow Will Save A Bro' addresses the insecurities some men have expressed about their perceptions of inadequate facial hair, as well the male grooming changes that have occurred since Movember first asked people to grow for a cause.
Movember's Chief Marketing Officer, Juliette Smith, said: "The campaign aims to dispel these anxieties, demonstrating the ultimate importance of Movember; that the wider awareness of our charity and its causes; prostate cancer, testicular cancer and mental health, can change lives for better."
With that in mind, we've created the essential mo and beard guide to help you through the month whatever your follicular situation.
Even the most famous art started with a blank canvas
Follow the rules and start off with a smooth clean shave. You can avoid shaving rash, cuts, and stray hairs by using the right tools and a little expert know-how.
Keep things warm because the application of heat encourages hair to stand up and makes it easier to cut. Shave in a steamy shower (using a wet and dry model like the Panasonic ES-LV9Q) or by applying a hot towel to your face for a few minutes before shaving.
Ditch the soap and massage a good quality shaving gel or cream into to your face and neck to help the blades shave more easily around your facial contours, while picking up more hairs and releasing skin and hair softening oils, making for an easier shave.
Refine your technique and practice shaving like a pro. The best tip here is to shave with the hair grain for the first two passes of the shaver and go against the grain on the final pass for the ultimate close finish.
Don't skimp on the post-shave maintenance products
In the same way that it isn't weak to talk about your feelings or health, it's advisable to take care of your skin and beard. Newly exposed skin needs to be moisturised and your fancy new facial hair needs conditioning treatments. In fact, a soothing anti-inflammatory recovery balm or hydrating moisturiser is one of the major keys to an irritation-free shave. While your facial hair is in its infancy, use a beard moisturiser to strengthen the follicles, then towards the end of the month consider pomade, oil or wax to define your moustache and give it a nice shine.
Be the man with a plan and grow what you know
Plan according to the facial hair you know you can grow… Movember doesn't sprinkle a sudden magic that makes it possible to grow a bristling bush where a light fuzz usually goes. Instead of aiming straight away for the Tom Selleck or Burt Reynolds handle bar, look at the whole month as a style journey and strategise a progression. Go from a clean face to a natural looking 3-day stubble, then transition to a goatee/moustache combo, shape that into a designer stubble and finally, go for the big finish with an iconic moustache. A major benefit? While your friends are complaining about their 'disgustaches,' you'll be stylishly moving through a barber shop of classic looks and ending the month with a big reveal.
Natural Look 3-day Stubble
This is a favourite for both style and ease of grooming, with only two steps required – trimming and shaving, with no need for defining hard edges.
>> Full Tutorial
Goatee and Moustache
This is a classic look for men worn by famous actors and everyday blokes all over the globe. Plus, it's perfect for getting patchy facial hair to a uniform length.
>> Full Tutorial
Shaped Designer Stubble
It's hard to think of a facial hair style more suave than the shaped designer stubble beard, and the good news is that it's easy to perfect in just three simple steps.
>> Full Tutorial
Moustache Style Guide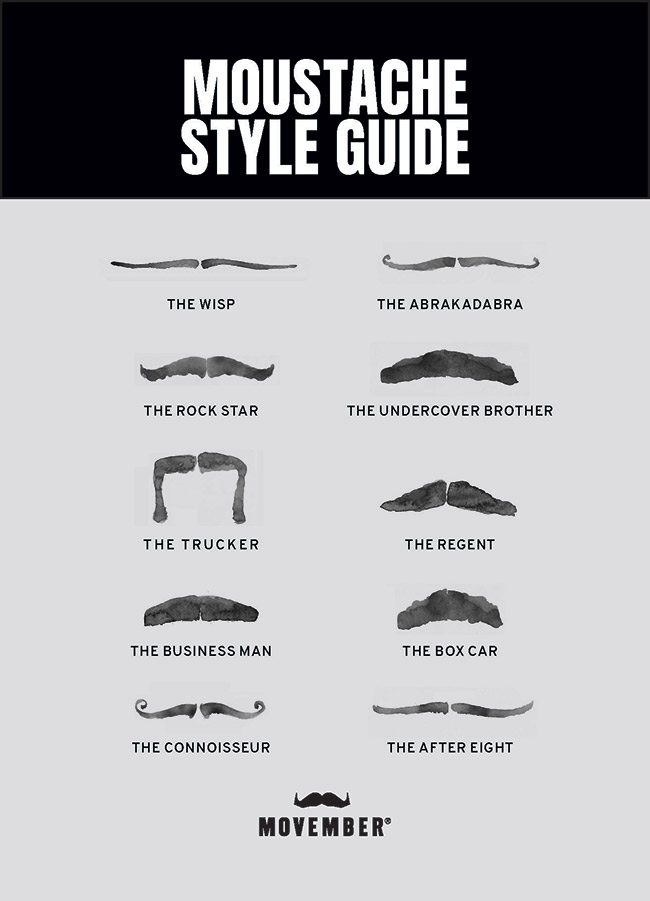 Now it's the moustache's time to shine! The men's health crisis calls for big minds, and big solutions. But there's a smaller, hairier solution to the men's health crisis. A solution you can grow yourself. It's sitting under your nose. Grow a mo this Movember, and you can stop men dying too young.
>> Grow a Mo, Save a Bro
Be kind to yourself and practice genuine self-care
Be patient and don't worry if your mo bros are hairier than you. It's all for a good cause, after all. And as much as this Movember is about having fun and doing some good, it will also raise a lot of questions and feelings. You're going to be exposed to stories about prostate cancer, testicular cancer, mental health and suicide prevention, so try to remember that it's okay not to be okay. If you find it's getting you down, you can access support at any time of day or night by calling Lifeline on 13 11 14.