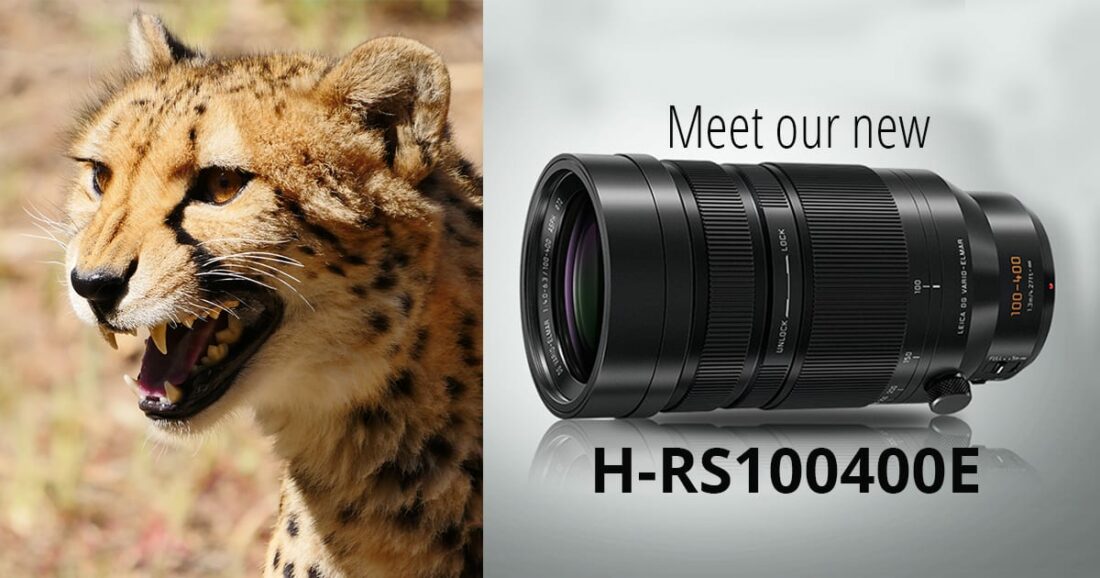 Our new LEICA DG VARIO-ELMAR 100-400mm F4.0-6.3 ASPH lens for the LUMIX G series is the first lens in any mirrorless system to reach 800mm. This telephoto lens offers outstanding performance with intuitive physical controls, such as zoom lock and a focus range switch, and Power O.I.S. that works with Panasonic's Dual I.S. system. It's also weather sealed, making it highly durable for long days in the field, and is significantly smaller, lighter and more cost effective than comparable SLR lenses.
"As the only 800mm equivalent lens in the Micro Four Thirds lineup, this is the model that enthusiast sports and wildlife photographers have been looking for."

Doug Campbell, Senior Product Manager, Imaging, Panasonic
Super-zoom telephoto magnification
Elegantly designed with a metallic black finish, the new lens provides superb image rendering across the entire zoom range. The lens' 200-800mm focal length (35mm equivalent) and 0.5x magnification capability provide highly detailed shots from a distance, as well as stunning close ups.
Premium lens construction enhances photography
The 100mm-400mm lens is also suited to a variety of photographic styles – with nine diaphragm blades providing a circular aperture to produce a smooth and beautiful bokeh. The LEICA lens is constructed of 20 elements in 13 groups and incorporates a number of aspherical and extra low dispersion elements to ensure high quality and avoid flaring.
Outstanding image stabilisation technology
In order to capture steady, vibration free images across the entire zoom range, the lens also incorporates Power O.I.S. to keep unwanted shaking under control and ensure that pictures look crisp and clear. When used with a LUMIX DMC-GX8 camera, you can even benefit from Panasonic's class-leading Dual IS stabilisation technology.
Mobile, rugged and very versatile
When compared with conventional super telephoto DSLR lenses, this latest addition to the LUMIX G line up offers outstanding mobility – weighing less than one kilogram – perfect if you're travelling and don't want to pack too much. The lens also boasts a durable, gapless construction so you no longer have to worry about unwanted dust or light rain damaging your equipment. Plus, a compact, two-part tripod mount has also been incorporated with a rotating collar to enable faster conversion between landscape and portrait orientation. The lens incorporates an integrated, hideaway hood to help you capture that perfect shot, without having to worry about sun glare, and is also supplied with a larger detachable lens hood.
4K video recording and photo function
Our new LEICA telephoto-zoom lens is perfectly suited for 4K video recording with its construction ensuring outstanding contrast and colors. Furthermore, the telephoto-zoom incorporates Panasonic's high speed and precise 240 fps AF-motor. The design allows filming to be conducted silently, without lens focus noises interfering with your video. With our innovations in 4K Photo and Dual Image Stabilisation, the new 100-400mm lens can be used with a 4K capable camera like the GX8 to capture high-resolution photos at up to 30 frames per second with amazing stability, at great distances.
H-RS100400E at a glance
Longest focal length for Micro Four Thirds
Power O.I.S. compatible with Dual I.S.
240fps AF Drive
Zoom ring lock
Weather sealing
Integrated quick shifting tripod mount
Focus limit switch
Minimum focus distance: 1.3 metres full/limit 5 metres
Integrated retracting lens hood
Check out the H-RS100400E