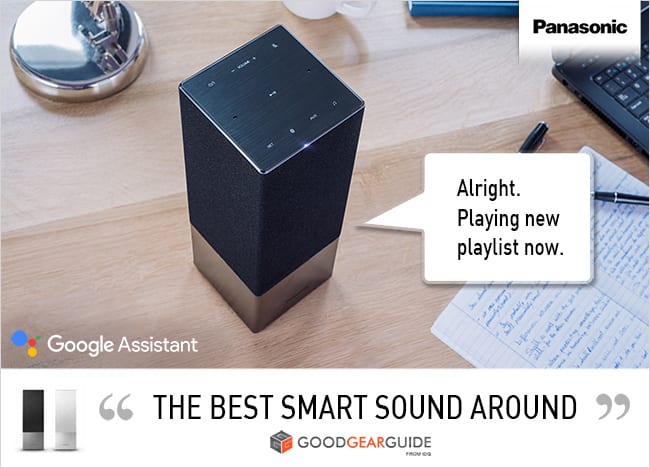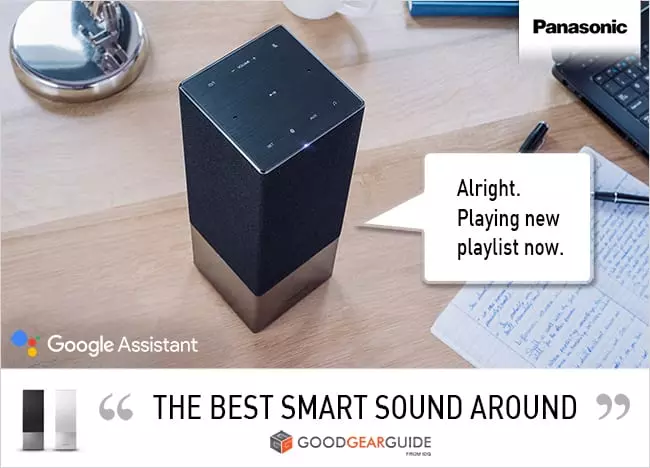 By a simple voice command, the Panasonic GA10 Speaker with Google Assistant can stream music, answer questions about the weather and even control other compatible integrated speakers and smart devices to provide a seamless, coordinated experience. What's more, Panasonic's premium audio technology has been fully incorporated to fill any room with impressive sound.
Good Gear Guide called the GA10 "the best smart sound around", Tech Radar hailed it "unequivocally one of the best sounding smart speakers" and Pocket Lint told readers the GA10 is "Google Home but better". The serious sound performance and full Google Assistant packed into the GA10 certainly impressed the critics – now you can head instore to see (and hear) what all the fuss is about!
Click on any image to open the gallery.
Good Gear Guide – 4/5 Stars
"The Panasonic GA-10 promises to leverage the smarts of the Google Assistant and put in it better hi-fi hardware. Unlike a lot of its competition, however, the Panasonic GA-10 actually manages to realise this promise. It doesn't just offer an alternative to the Google Home, it's a ready-to-go replacement for one.

Bottom Line: This might just be the best sounding Google Assistant you can buy right now."
READ FULL REVIEW
Gadget Guy – 4/5 Stars
"You can pick up a low-cost Google Home Mini if OK Google is all you want to do. You buy a Panasonic SC-GA10 to make music sound good."
READ FULL REVIEW
TechRadar – 4/5 Stars
"A great sounding Bluetooth speaker with an intellect to match, Panasonic's gutsy SC-GA10 combines the benefits of smart control, with a gloriously immodest musical performance.

Unequivocally one of the best sounding smart speakers."
READ FULL REVIEW
Pocket Lint
"The Panasonic GA10 is like a Google Home for people who want decent audio quality. Because it just sounds so much better. And while audio quality is front and entre, this is as much a living room speaker as it is a smart assistant."
READ FULL REVIEW
EFTM
"Speaking of audio, something that is often overlooked when it comes to smart speakers is whether or not the sound is actually "good". The GA10 packs 40W of power through a three speaker system made up of one woofer and two tweeters. The audio out of the unit is impressive for such a small device. The bass is richer than expected and the vocals are very clear and crisp.

What Panasonic have that many in this category lack however is flexibility of inputs, and for many that will be enough to sway their decision."
READ FULL REVIEW
Playlist | Watch the GA10 in Action
Cliche here to view the playlist on YouTube.
Companion Product | HC2020 Micro Hi-Fi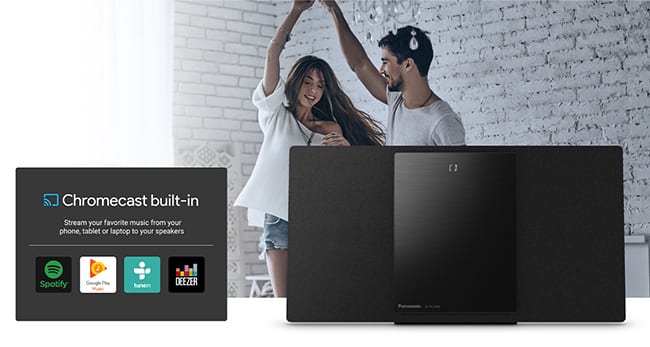 The GA10's multi-room audio function means you can combine it compatible audio devices – like our HC2020 Chromecast Micro Hi-Fi – to sync and control music playback through an array of speakers simultaneously.
READ MORE: Get more from your music with our HC2020 Chromecast Micro Hi-Fi.