The Panasonic range of healthy-lifestyle kitchen appliances has now expanded to include the MJ-L500SST Slow Juicer. This marvellous juicer features a stainless steel juicing screw and a powerful low-speed DC150W motor to create delicious juices and smoothies by preserving precious nutrients and enzymes. It also comes with a frozen attachment so you can make yummy icy treats.
"The new Panasonic Slow Juicer is perfect for the warmer months, catering for health conscious consumers by allowing them to enjoy the benefits of their favourite fruits and vegetables in a new, versatile way. Summer is when we're more conscious of eating healthier and leading more active lifestyles. Our Slow Juicer is the perfect accessory for those consumers who want to quickly whip up a fresh juice or a delicious frozen dessert," said Belinda Toner, Product Marketing Manager, Small Appliances, Panasonic Australia.
Slow Squeezing Preserves Nutrients
Our new Slow Juicer presses and squashes fruits and vegetables, which avoids damage to nutrients and limits the heat and air exposure that can be caused by traditional spinning juicers. This 'slow juicing' method ensures your juices maintain their natural colour and great taste.
Squeeze Every Last Drop
Featuring a stainless steel screw and a powerful low-speed motor, this clever model can squeeze every last drop from a wide range of produce; including frozen or harder foods such as ginger root which high-speed juicers are unable to process effectively.
Three Easy Steps to Frozen Treats
Freeze it > Drop it > Enjoy it
Simply by adding the 'frozen' attachment, you can run frozen fruit and veg through the slow juicer to make the most delicious sorbets, smoothies and icy confections.
Enjoy Our New Recipes at The Ideas Kitchen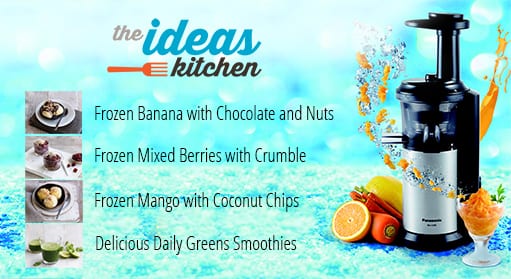 We've been hard at work behind the scenes creating recipes to help you make the most of the new Panasonic MJ-L500SST Slow Juicer. Check out the delicious Frozen Banana with Chocolate and Nuts, Frozen Mixed Berries with Crumble, Frozen Mango with Coconut Chips and even a Delicious Daily Greens Smoothie. Or make up your own yummy combination!
Check out the MJ-L500SST Slow Juicer product page