Our 4K Ultra HD VIERA TVs deliver four times as much resolution as Full HD TVs.
This massive boost in resolution pushes the boundaries of what we have to accept in the realm of picture quality. With 4K Ultra HD, you can see far more detail and texture on screen. Plus, colours look more natural and objects appear to be more solid and three dimensional, so this extra detail gives you a greater sense of depth.
Viewers describe the 4K Ultra HD effect as 'feeling more like looking through a window than watching a screen'. This reality-bending illusion is reinforced even further with Panasonic VIERA TVs, as the supercharged resolution is enhanced by the wealth of high-end picture quality features we bring to our 2015 TV range.
Read more: We've mastered the magic of light for true-to-life picture quality.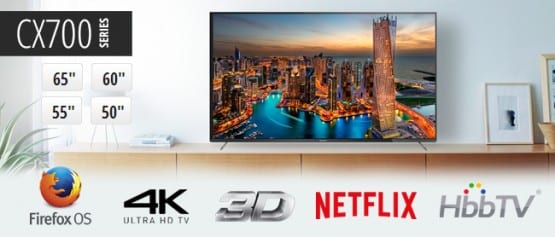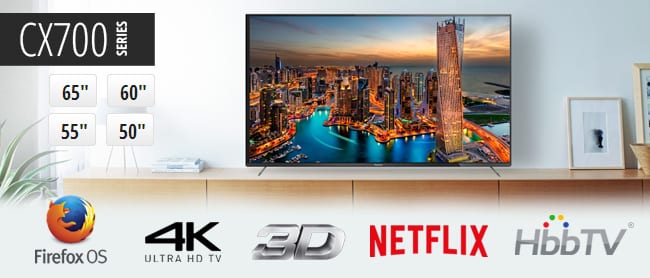 Proudly leading the charge in our 2015 VIERA line-up is the stellar new CX700 Series of 4K Ultra HD LED LCD TVs. Just what makes this series 'stellar', we hear you ask? Well, the models in this series are our star performers. They offer everything you'd want from a premium TV, from 4K Ultra HD picture technologies, to easy Netflix access, our new 'Beyond Smart' Firefox OS interface and a powerful Quad Core processor to support these super smart features.
Read more: Meet our premium new 4K Ultra HD VIERA: the stunning CX700 Series.
VIERA 4K Pro shows you images just as the director intended
With the CX800 series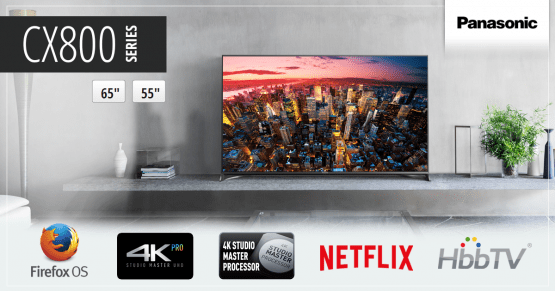 Our premium VIERA CX800 4K Pro Ultra HD TV series recreate the director's vision with perfect precision, ensuring you a most spectacular visual experiences right in your living room. Central to the picture quality innovations in the flagship CX800 series is the immersive 4K experience delivered with 4K Pro. It draws on the huge resource of Panasonic's picture processing knowhow accumulated from its reference-quality plasma TVs, its professional AV products, and Panasonic Hollywood Laboratory. Combined with the processing accuracy of the Wide Colour Phosphor Panels 4K Pro enables accurate colours, fine blacks and brilliant brightness.
Read more: Premium VIERA TV 4K Pro CX800 series debuts in Australia.